Save Women's Sports Act changes the game for Missouri's trans athletes
Save Women's Sports, a term coined by those who oppose transgender women competing in women's sports is becoming law. On March 2, State Senator Mike Moon of the 29th Senatorial District proposed the Save Women's Sports Act to the Missouri House, advancing the bill on April 13.
Moon proposed the act after concerned parents request that he forward the legislation, which prohibits transgender women from the middle school through the collegiate level from competing against cisgender women in the women's division.
"There have been some happenings, one in Republic, Mo., and the other in Marionville," Moon said. "Some parents advised me and asked me if I would file a bill this year, so I agreed."
While Moon introduced the bill in January 2022, this is not the first time the bill has been proposed.
"There was a bill filed two years ago. I [also] filed the bill last year. It was not heard by [The Education] Committee. I proposed the idea to the legislative drafters, and they put the language together in a matter of a day or two. [I also worked with] the parents, and we modified it this year," Moon said.
The Save Women's Sports Act is intended to ensure that solely biological women can compete in women's sports to eliminate any biological advantage trans women may have over cisgender women.
"Near middle school, or a little after, is when many children reach puberty, and that would be the point where changes physically and hormonally are occurring. The advantage for males competing against females would be seen predominantly," Moon said. "The goal [is] to protect young ladies and others who want to participate. For example, females and men have worked hard at their skills to develop them and to become proficient at whatever athletic competition they want to be involved in. Sometimes there are scholarships on the line as you get into the collegiate level. We just want to give them the opportunity to do that without any unfair competition."
The Missouri State High School Activities Association (MSHSAA) currently allows transgender women to compete in women's sports after undergoing one year of hormonal therapy on record. Parkway West Athletic Director Brian Kessler states that the school will continue to follow MSHSAA's guidelines.
"We have not had any [transgender students] come to me with interest in playing [with the gender they identify as]. The Missouri State High School Activities Association, our governing body, has rules in place already covering this. [They] set the guidelines for us regarding what sports different gender people play. Until those bylaws are changed or rewritten, we'd have to follow those bylaws," Kessler said.
While public schools will continue to follow MSHSAA guidelines, Moon's proposal will impact all middle schools, high schools, and postsecondary education establishments.
"We want to make sure that even in private schools, females are protected," Moon said. "Since MSHSSA does not govern private school athletics, this would ensure that they would know that this bill would cover those students."
The bill, which will be enacted on Aug. 28, has been noted as an attack on The LGBTQ+ community, not only in Mo. but in other states as well. Moon states that there was no malicious intent behind the proposal.
"
I don't want us to go backward. I don't want us to reverse all the changes that we've made and all the progress that we've made because that is really important progress to have people be accepted and have people live their lives. It's concerning that just being trans is going to be a large problem, [being transgender is] already controversial, but when it gets to the point that it's a problem it's worrying."
— Ash Herring
"It's not attacking transgender youth. The bottom line is [that] the sole purpose of Senate Bill 781 is fairness and competitive sport, and that's to ensure that we have fair competition among those women who want to compete against other biological women," Moon said. "If they were born a male, they still can participate in male athletics and participate in co-ed sports. We're not prohibiting them from competing, we're just saying that they would be prohibited from competing against females."
There are no plans to further legislation regarding trans athletes in sports following the bill. Moon supports the bill by citing professional transgender athletes who agree that transgender women should not compete with cisgender women.
"If we could enact public policy that would prohibit males, biological males, from competing against biological females, that should be sufficient. There are several who you might classify as transgender [people] like Bruce [Caitlyn] Jenner, [and] Mianne Bagger, who now identify as women and have come out talking about the unfair competition. They believe that having biological males compete against women is unfair, and I agree. I'm glad to see that they're in agreement, and I hope that we can work along the same lines, and it gets us passed in Missouri," Moon said.
Moon reiterates that The Save Women's Sports Act was not intended to attack the trans community but to defend cisgender female athletes.
"We're not trying to punish anyone, we're just protecting women who would like to participate in competing against other females, and I would hope that men and women alike would also join that effort," Moon said.
Though the bill was not created with the intent to attack or hurt anyone, members of the trans community and trans allies say that the anticipated effects of the bill restrict the rights of transgender women. Freshman Ash Herring is a transgender woman who vocalizes the struggles of being transgender in the United States.
"​​Being a trans woman in America is not easy. It comes with a lot of people that make fun of you or harass you for all different things, whether it be catcalling or name-calling. It varies, and it can take a very large toll on the psyche," Herring said. "I did experience quite a lot of bullying as a child for not even being trans or being gay, just being a feminine child. A lot of people [saw] this 5-year-old boy who liked to play with Barbie dolls, and for them, that was a problem. And that doesn't make sense to me. Just because this kid's gay doesn't mean your child is going to hang out with them and then turn gay, which, unfortunately, is how a lot of people think it works. It's not a disease that spreads via touching."
Regarding the bill, Herring, who has identified as a member of the LQBTQ+ community for years, speaks on the biological differences between female and male athletes.
"Saying that having a trans woman compete in female sports gives an unfair advantage isn't true because those trans women are already dealing with transitioning, then they also have to do the work of training [for] sports or just work as a team in general," Herring said.
Team sports not only revolve around a physical aspect of transitioning, but also a social and mental aspect.
"If it's a gendered sport, it can be very hard to find teammates that accept you, and sometimes, even if you're allowed to play the sport, you can't because of the people in the sport," Herring said. "I've found that even among [cisgender] people, having a trans person there can be beneficial to know their point of view and see how things are different because everyone is different. Most of the time, [they're] going to have varied differences, and they're going to have very different experiences in life, whether it be finding their sexuality or their gender it can be a very different outlook on things."
The varied voices Herring speaks of are removed from women's sports with the bill, which raises speculation that society is retrogressing rather than progressing with legislation such as the Save Women's Sports Act.
"I think [the bill is] stupid. Anyone should be able to do anything within reason, it's a sport. These are just people having fun. Even [on] professional levels, we've seen trans people at the Olympics, and they don't have an unfair advantage, they just train really hard." Herring said.
Though the bill has been proposed for three years, this is the first year it has obtained both House approval and passed the Senate Committee.
"Considering the bill, I understand to a degree because we should consider everything. But the idea of actually passing the bill is extremely concerning. We've put in a lot of work to get ourselves accepted in sports and society as a whole, and it can be very hard to see that all this work that we did is just being put right back into a box. I don't understand why [they're] doing this, [it's] punishment," Herring said.
"
"I feel that the legislators don't know the trans community. They don't get to know the people that they're affecting, and I think they need to get to know them. Because if you were to spend time with them prior to and after [the transition], they would be able to compare the prior to before the transition. You cannot see the results unless you're so close to them," Heinle said."
— Denise Heinle
Trans allies, such as school store secretary and transgender parent Denise Heinle, continue to argue against the bill's accuracy.
"They lose so much strength, especially going from male to female. [My daughter] couldn't open a jar anymore because she just wanted to look female," Heinle said. "If you were to compare a picture of my daughter when she was male, she was very muscular and really strong. Once she started transitioning with the hormones, once you start the medicine and the transitioning, you really are changing."
Heinle's daughter Skylar, now 29, first came out when she was 23 years old after completing two and a half semesters as a dance major at the University of Missouri-Kansas City (UMKC).
"Ballet, jazz, lyrical, she absolutely loved it. UMKC was difficult because she wanted to wear the tutus and tiaras, not the men's outfits. They had drag queen shows, which she did, and I think that encouraged her a lot to come out," Heinle said. "She is very happy now, yes, she had to give [dance] up when she transitioned, so she took a [different] job instead. She's doing great, and she looks amazing. You'd never know she was ever a male."
After transitioning, Skylar was forced to give up her major, as she didn't know how to dance as a female. This will become procedure in Missouri if the bill is enacted.
"It will be devastating for [transgender athletes]. There's so much legislation going on right now with the trans community; they're trying to take away so many things that we've advanced, and this is unfair. Why are we going 20 years back? Why are we stepping forward, but then we go backward?" Heinle said.
Heinle belongs to TransParent, a nonprofit organization created in St. Louis to provide support to parents with transgender children. TransParent has previously fought against anti-trans legislature.
"I think [the community's] going to fight back," Heinle said. "They're going to fight for their rights. [TransParent is] worldwide, and it's a chance to listen to other trans parents that are going through situations. I've gone, and it's very comforting when you are sitting in a room full of parents that are going through the same thing. That organization will fight for the transgender community, they will go and they will oppose it and they will fight to the end."
View Comments (1)
Your donation will support the student journalists of Parkway West High School. Your contribution will allow us to purchase equipment and cover our annual website hosting costs.
About the Contributor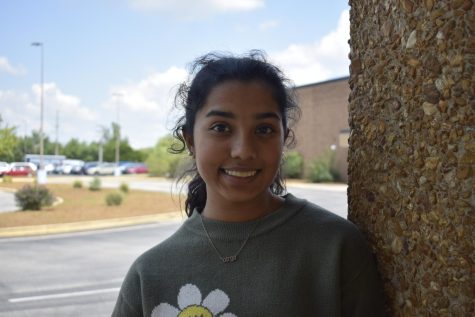 Triya Gudipati, Staff Writer
Pronouns: she/her

Grade: 10

Years on staff: 2

What was your favorite childhood TV show? Growing up, I was a huge Disney fan so either Liv and...