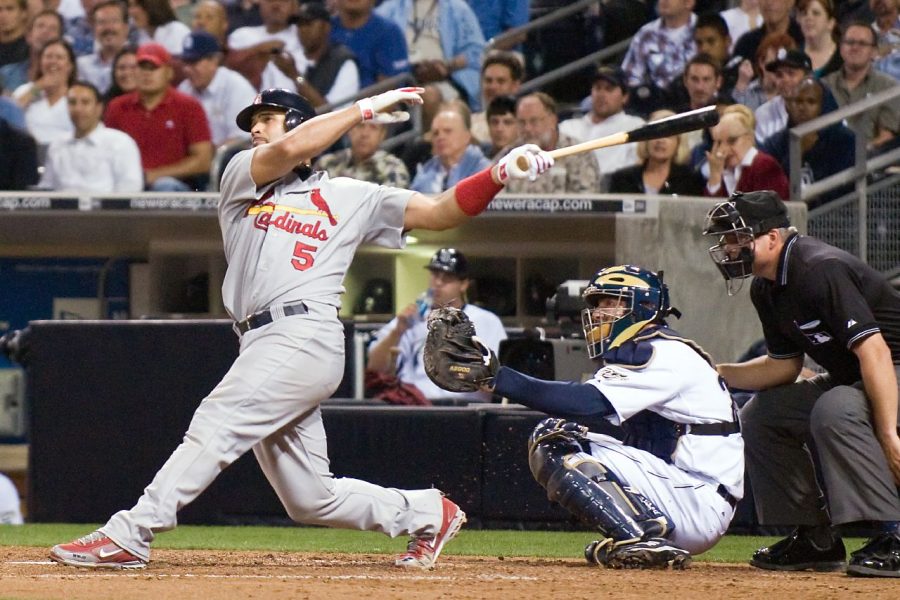 Albert Pujols and the Cardinals work to meet the expectations set for them
May 5, 2022
Having been away from the city where he started his MLB career over 10 years ago, future Hall-of-Famer Albert Pujols brought number five back home to play one final season at Busch Stadium. With many people having high expectations for what the Cardinals can do this year, we took a look at the pre-season expectations vs. the reality of how the Cardinals are currently doing. 
Pre-season
This year is significant for the Cardinals as it is the final season for Pujol's fellow teammates Yadier Molina and Adam Wainwright, who were drafted to the Cardinals in 2004 and 2005. This group was essential in the Cardinals' last World Series win in 2011 and are considered legends in the Cardinals' nation.
Lifelong Cardinals fan sophomore Kaeline Kerpash expects baseball to look more normal this year, almost like it was in 2011. 
"I think the Cardinals can find leadership in Pujols," Kerpash said. "I am also excited to see things go back to normal because last year, there was social distancing and masks, but this year it will be like how it was before COVID. So I think we can expect a lot of good things."
While the Cardinals have not had a World Series appearance since 2013 and minimal playoff runs in the time since many fans, including freshman Henry Wild, have high hopes with all of the familiar faces on the roster. 
"[Pujols, Molina and Wainwright] built up our franchise in the mid-2000s, so I think it's cool that we're gonna see them all play together again with Yadi and Pujols being best friends," Wild said. 
Being over 10 years since Pujols last wore a Cardinals uniform, many students, including senior Connor Gusky, feel the nostalgia of his return while looking forward to watching his final season. 
"I've been watching Pujols since I was a kid," Gusky said. "I went to the World Series when they were all together 11 years ago. It was amazing to see them united and get back together for one final run."
Leave a Comment
Mid-season
With the 2022 MLB season in full swing, Pujols currently has seven hits, two home runs, and four RBIs, which has helped propel the Cardinal's offense, as the team is second in the NL central. 
"Pujols has risen way above expectations," Gusky said. "Honestly, when we got him, I wasn't sure at the beginning of the season. I didn't expect much other than just like a morale leader in the clubhouse, but he's contributed quite a bit more."
With Busch stadium featuring a sold-out crowd for opening day against the Pirates, the Cardinals are currently second in the MLB for their 2022 attendance average. They are looking to increase that as the season goes on. 
"Pujols coming back to St. Louis has brought a lot of Cardinals fans out to the stadium to watch him play," freshman Henry Wild said. "I think the publicity it has on top of the way the Cardinals have been playing recently is good for the organization overall."
With the statistics and the attendance rolling in the Cardinals' favor this season, St. Louis's high spirits towards the team are ensuring their momentum continues.
"St. Louis is excited to see one of their best players come back and play," Kerpash said. "The Cardinals have found leadership in Pujols. We have seen a lot of good things from him so far, and the cardinals continue to improve as a team."
Leave a Comment