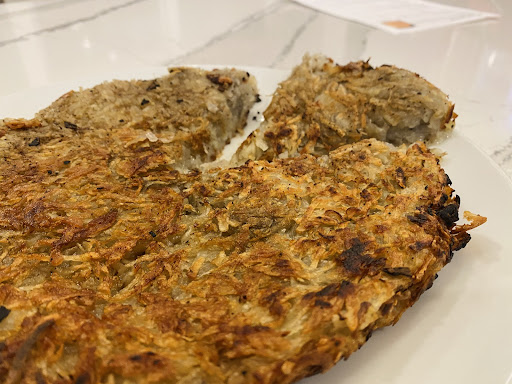 Rosti
Rösti:
Rösti originated in Bern's Swiss canton, or political region, as a simple farmer's breakfast, requiring only two ingredients: potatoes and butter. Like many comfort foods, the date and details of when it appeared are hazy at best. Yet, it is known to postdate the discovery of America as potatoes were not traditionally grown in Europe. It has since evolved into a side dish left up to interpretation, as people choose to add the occasional bacon, fried egg or other ingredients not original to the dish. 
Rösti was a fun first dish to make. It didn't take a long time, but it gave us an actual cooking experience. The recipe is something that could easily be experimented with if interested but is also great if you just want to stick to what's offered. It used very common ingredients and was not a laborious process. However, having two sets of hands was very useful (especially when trying to flip a cake-sized dish of potato shreds onto a pan).
Rating:
Taste: 6.5/10 For the taste, it was … different from expected, just because of how the recipe seasoned it. Moving forward, we would add more salt and use less butter and oil to add a better flavor.
Texture: 7.5/10 The grated potato was good, but we added more than the pan allowed for, so the middle was softer than we had hoped. With the right amount of potato, the texture would be amazing.
Presentation: 5/10 It looked appetizing, but unfortunately, due to the oxidizing of the potato, the shredded pieces turned off-white, so it definitely could have looked better.
Execution: 8/10 It was an enjoyable process to make Rösti. We struggled to flip the dish because of its size, but we got there in the end and it was worth it.
Ease: 8/10 (with 10 being the easiest) It wasn't a complicated recipe, it was straightforward.
Overall: 7/10