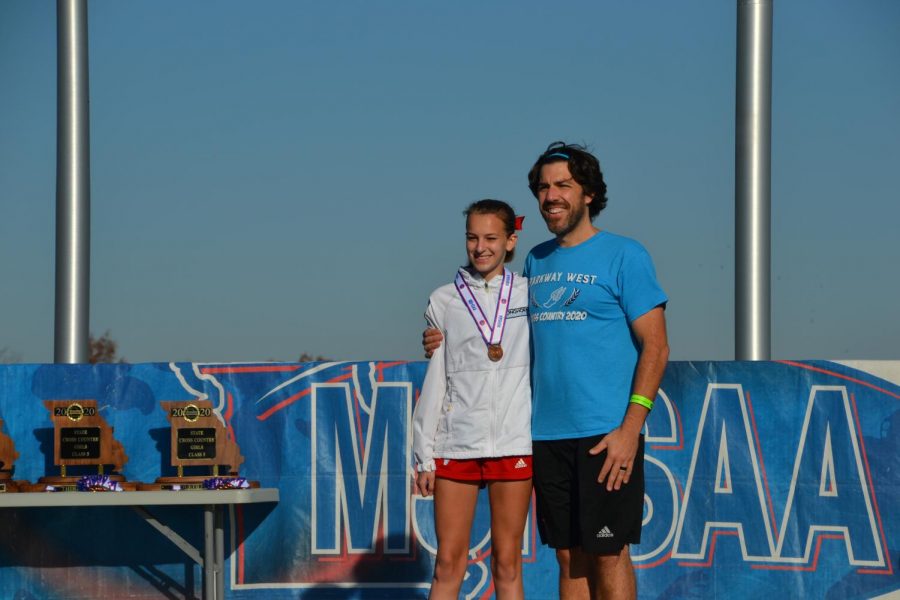 Photo Courtesy of Kathryn Yates.
Kathryn Yates
After realizing that her cross country coach, science teacher Charles Cutelli, had a class during her study hall, junior Kathryn Yates decided she was going to ask to help cadet teach. Although she hadn't taken Cutelli's Biology II, Yates felt that his class would still be interesting because she was close with her coach. She spends her class periods returning supplies to neighboring teachers, transferring information to worksheets and setting up labs for Cutelli's class. 
What is your favorite thing about cadet teaching?
"My favorite thing about cadet teaching was being able to set up the labs. It was fun looking back and seeing the labs that I used to do when I took Biology. My favorite lab I set up was a micropipette lab. Basically, I was refilling the substances that the class would be using during the lab. It was tedious because I was filling up a bunch of tiny tubes but the micropipette was fun to use and I was glad I could help out," Yates said. 
What is your favorite memory from cadet teaching?
"My favorite memory from cadet teaching was listening to Cutelli's jokes every day that he would tell the class. Although I wasn't in his class as a student, I could still tell that he made class interesting and fun every day, even on Mondays when everyone was tired," Yates said. 
Would you recommend cadet teaching to other students?
"I would definitely recommend cadet teaching or student aiding because it's a good way to put your study hall to use if you want something to do, and you get to see your favorite teacher if you don't have them in one of your classes. I'm glad I decided to do it," Yates said.