Students stand up against school board candidate Jeanie Ames
Students across Parkway have formed the group "Not on Our School Board" to protest school board candidate Jeanie Ames' campaign for a position on Parkway's Board of Education after controversy surrounding Ames' Twitter account.
"The people on this board are representing us, our beliefs and our values," freshman Ella Seigel said. "They have a lot of influence, and I don't want someone representing Islamophobia, or someone who's a self-proclaimed 'confederate' representing me."
Senior Mali Seigel was informed of the controversy surrounding Ames by her brother, Jack Seigel, a 2012 alumnus and community organizer. Along with other West students including senior Cheryl Ma and junior Gokul Venkatachalam, M. Seigel helped get the student-led movement on its feet.
"I was asking [J. Seigel] about the candidates, and he told me about Jeanie Ames. I was appalled. The more I looked at her Twitter and Facebook the angrier I got," M. Seigel said. "The bigger issue is the security Ames feels in posting her anti-Muslim views and declaring herself a confederate. She felt like enough people agreed with her that she would be elected with these messages of hate up on her wall and in her Twitter bio."
"
Parkway needs to prove that there's no way someone like Ames is able to be elected."
— Cheryl Ma
Students created an Instagram and Facebook account to spread awareness about Ames' policies and what they believe her election would mean for students. Venkatachalam and senior Haran Kumar were also recently published in the St. Louis American for an editorial they wrote to explain their motivation for protesting, specifically explaining the protest at the Islamic Foundation of Greater St. Louis during a candidate forum March 25.
"[This movement is] not necessarily about Jeanie Ames rather, but it's about the structure of white supremacy as a whole. What she stands for is a broader struggle against a large oppressive institution. If we oppose Ames, we're opposing that institution," Venkatachalam said.
Students have many different reasons for participating in the protests, such as Ma, who wants to make her school a safer place for her younger siblings.  
"The biggest thing for me is the fact that I'm graduating this year, and I have a lot of younger siblings. I don't want them to be raised in an environment of intolerance," Ma said. "Parkway needs to prove that there's no way someone like Ames is able to be elected."
Along with keeping Parkway safe, M. Seigel wants to ensure that the district continues to be tolerant to all students, regardless of race, religion or identity.
"This movement is comprised of students from Ames' district trying to make a difference, a more tolerant Parkway and a safe place for all students," M. Seigel said. "It is important that she will not be able to make any changes that reflect her hateful views."
Today, students are out at the polls to further promote their message and encourage voters to make informed decisions.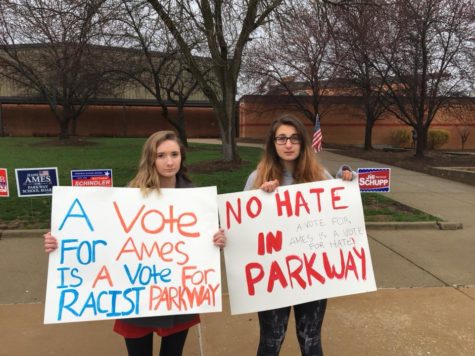 "School board elections are things that people don't really know that much about, so a lot of times not a lot of people vote. Even when you do vote, you don't really know what's going on," Ma said. "Generally people can agree that white supremacy is bad, but the hard part is getting someone to know that [Ames] is a white supremacist."
As the race winds to a close with polls closing at 7 p.m, the student group "Not on Our School Board" hopes to sway the election.
"We need to look in the mirror and try to not have this happen next year," J. Seigel said. "Instead of waiting until candidates file or until we find out shocking stuff about them, there are things we need to proactively do about white supremacy in West County."
With low voter turnout for most local elections, despite the students' personal opinions, they encourage all members of the community to vote and make an educated decision. Find the results on STL Today by tonight.
"If you can vote, I highly urge you to vote, regardless of who it is for. Just make sure that you're read up and informed on the candidates to ensure that what you're voting for is what you truly believe in," Venkatachalam said. "This [election] will affect your classmates, your siblings and the people that will go [to Parkway] for years to come."
About the Contributors
Sabrina Bohn, Managing Editor-in-Chief
Grade: 12

Years on Staff: 4 (yeehaw)

What's your coffee order? Tall iced caramel latte, extra shot, half sweet (AKA 1.5 pumps of caramel syrup)....
Carly Anderson, Conceptual Editor-in-Chief
Grade: 12

Years on Staff: 4

What's your coffee order? Hot chocolate, please.

What song describes you best? Magic Dance by David Bowie.

What...