Sophomore Maggie Lyerla dances through EDS
Passionate about dance, sophomore Maggie Lyerla has been twirling since the age of two. However, she faces a genetic disorder called Ehlers Danlos Syndrome (EDS), where joints are overly flexible, dislocate easily and that leads to bruised skin.
"My joints are more hypermobile than other people. My elbow goes back, my wrists go back really far and my knees [can go back too]," Lyerla said. "It can cause my joints to dislocate, like my shoulder–I can pop it in and out."
Although EDS is commonly mistaken for being double jointed, Lyerla's condition goes far beyond that.
"
I have to be a lot more conscious about what I do because a normal person would just be like 'Oh, I can go to this thing and stand the whole time.'"
— Maggie Lyerla
"I was just randomly waking up covered in bruises–my arms would be [completely] bruised. My mom almost took me to the hospital because that's sketchy," Lyerla said. "Waking up covered in bruises is not a healthy thing."
EDS runs in the Lyerla family; her triplet, sophomore Sissy Lyerla, was diagnosed with EDS through the Beighton scale hypermobility test which assesses the range of movement in joints, two years before Maggie.
"When I went [to the doctor], all they had to do was the Beighton scale, which is just like, 'Can you do this?' and 'Is your skin stretchy?' They were like, 'Sissy has it? You have it. Congratulations!'"
Lyerla attends her dance studio, Krupinski Academy of Dance, around three times a week and dances despite her condition.
"I like going [to Krupinski] and not having to worry about school," Lyerla said. "When I was younger I was really naturally flexible, so I stuck with it. I just liked it and kept going."
When packing her dance bag, she makes sure to come prepared with more than just ballet shoes.
"I have to wear knee braces when I dance because my kneecaps can move around a lot, and my tendon yanks my kneecap up so it's higher than its supposed to be. When I'm off stage I use rollers to loosen the tendons that pull on my knees to keep them from going out," Lyerla said. "My pelvis also gets out of line a lot because of dancing and the turn-out; when you turn your legs outward."
"
Waking up covered in bruises is not a healthy thing."
— Maggie Lyerla
Lyerla's experience at Krupinski has been largely positive thanks to her coach's display of understanding.  
"One of the teachers has [EDS] too, and all the Krupinskis' are related in some way, so they all knew what it was already, and I didn't have to explain it. Mark, the owner of the studio, is really understanding about it. He'll let me sit if I need to, and he explains it to the new teachers and stuff. It's nice."
If Lyerla is not cautious, EDS can leave her exhausted.
"Especially for dance, I get tired really easily because I have to use my muscles more to hold my joints in place," Lyerla said. "I have to make sure I ate enough and won't be exhausted. I work on pointe alone because I have to keep up my strength because my ankles are hypermobile."
Maggie was one of the 21 people chosen from her studio to represent Missouri at a Los Angeles dance convention.
"I went to Los Angeles for dance, and I didn't have knee braces or anything yet because I was just starting physical therapy. They didn't know if I had [EDS] badly or if it was mild," Lyerla said. "[In Los Angeles], both my knees kept shifting around while I was dancing, so instead of doing a whole week of intensives, I only did two days of it."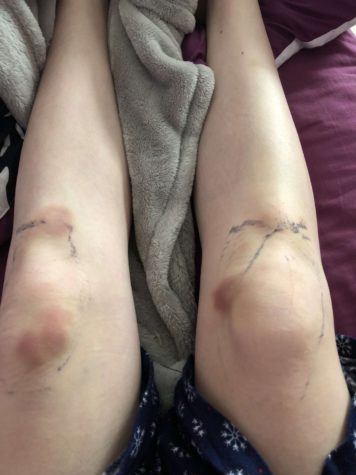 When on stage, Lyerla does not wear her knee braces due to their distracting appearance.
"My chiropractor tapes my knees, that way, I don't have black knee braces walking into a dance," Lyerla said. "When I'm on stage I'm not really thinking about [the braces]. I'm just focused on dancing."
Maggie's rare condition has made her more attentive to her health in her daily life.
"I have to be a lot more conscious about what I do because a normal person would just be like 'Oh, I can go to this thing and stand the whole time'," Lyerla said. "I have to think about how long I will be able to be there. Will I have to bring knee braces? Do I need to do anything preventive before?"
Despite her condition, Maggie is passionate about dance.
"Sometimes it may be hard, but I'm thankful my studio understands and lets me sit when I need to," Lyerla said. "When I feel like giving up, I know I'll regret it. I dance because I love it and it's fun to do."
About the Contributor
B Antonenko, STAFF WRITER
Grade: 10

Years on staff: 1

Life soundtrack: "lil' bit wrOng" - Maty Noyes

Most passionate about: I really hope to be a part of making a future...