Puerto Rico benefit concert surpasses fundraising goal
After holding a benefit concert to support the millions of people in Puerto Rico without clean water or electricity on Dec. 7, science teacher Amy Van Matre-Woodward´s honors environmental sustainability class helped raise $1213 for the cause.
The concert consisted of three bands, Rose, the Brink and Cats with Soup. Cats with Soup formed about three weeks before the concert and includes juniors Dani Fischer, Justin Cupps, Ryan Crowley, Noah Wright and Meghan Stanfield, as well as sophomore Nayeon Ryu.
"We were in [junior Harper Stewart's] basement at her Halloween party, and Justin and I were talking about music. Harper kind of jumped in, and said, 'I don't know much about music, but wouldn't it be cool if we put together a concert?' We all looked at each other and thought, 'yeah, that would be really cool,' and then it just kind of happened," Fischer said.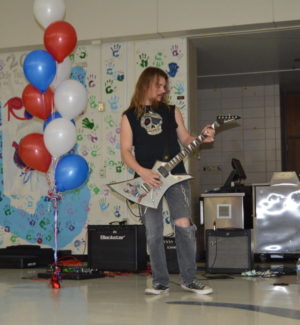 Stewart and Fischer worked together to organize and set up the event.
"Harper was very, very supportive in that when it came time for the actual event, she would not let me take on any administrative roles. She said, 'You're going to be stressed out when this happens because you also have your music,'" Fischer said. "When it actually came time for the concert, we started setting up at 2:30 p.m. and we had set up pretty much everything by 4:30 p.m. At that point, Harper told me to just go focus on the music."
Senior Luke Alonzo-Yague played guitar in the band Rose that filled in last minute for another band who had to cancel.  
"They asked us to play the day before but our band does that a lot so we just got together and figured out some songs that people were gonna like," Alonzo-Yague said. "It was cool to play and raise a bunch of money for a good cause."
Sophomore Ryan Egan, who has been playing guitar for seven years, is apart of the band The Brink, which formed about two years ago.
"I was really grateful and glad I could help out with the Puerto Rico event. It seems like a great cause and we raised a lot of money for it, so I was really glad I could be a part of it," Egan said.
Although the process of setting up and organizing the event was stressful, Fischer feels that everyone's hard work and practice paid off.
"Our goal was to just raise any money. For it to go off a lot smoother than I thought it was going to go and for all the sound to work and for us to remember the parts to the songs, was great," Fischer said. "When the final chorus of Sweet Caroline ended, all of a sudden, it was like I could breathe for the first time in two weeks. It was the first time I wasn't stressed for two weeks and I gave Harper a hug. I couldn't go to bed till 2 a.m. because of all the adrenaline."