Health careers field trip takes students to Mercy Hospital
Instead of sitting through periods two through four like your typical Friday morning, 15 students attended the Mercy Health Careers field trip along with dozens of other local high schools on Oct. 20 to learn about a variety of available health care careers.
"As soon as I walked in and saw the trauma gowns I got really excited because it reminded me of 'Grey's Anatomy'," sophomore Maggie Lyerla said. "But they had so many different careers on display. There was physical therapy, occupational therapy, laparoscopic surgery, an infectious disease area, OB-GYNs [Obstetrics and Gynaecology] and nursing."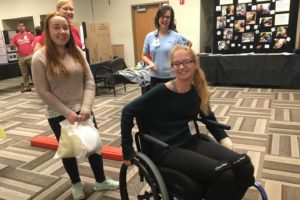 More than 16 booths were set up at Mercy Hospital St. Louis to engage and educate students with professionals and hands-on activities.
"My favorite part was doing a 'surgery' with a robot from across the room. I was able to put my fingers into loopholes and the robot was using probes and mimicking my motions," sophomore Mckenna Bendle said. "It was such a wake up call to see how far technology has come and how it is developing so rapidly."
Not only did the trip provide a space for students to meet and talk with professionals, but also make plans for summer volunteer work to help boost their interest and experience in the medical field.
"They talked about a program where you get to follow around different nurses and doctors and talk to patients during the summer if you are 16 years old or older, and since I want to be a trauma or general surgeon it seems like a really cool opportunity," Lyerla said.
Some students have already taken advantage of the opportunities and programs offered by local hospitals and schools.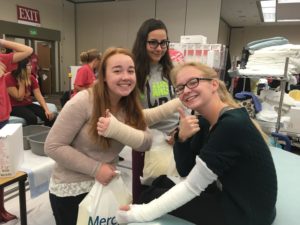 "Last summer I worked at Barnes Jewish Hospital for one eight-hour day a week. I spent half of the day in orthopedic surgery and the other half in the cancer center," sophomore Umeera Farooq said. "I am really excited to volunteer over the summer again, but this time for St. Louis Children's Hospital and Camp Cardiac and Camp Neuro at Washington University [WUSTL]."
Starting with the basics of day-to-day life working in the medical field, the Career Day trip also focused on the necessary steps students need to take to get there.
"I learned so much about what I am going to have to learn and what my education will look like, especially how much time and dedication I will be putting towards this career. I thought it was interesting how excited they were able to make me," Bendle said. "I've always wanted to be a pediatric surgeon and this field trip was just a reassurance to what I want to do."
About the Writer
Carly Anderson, Conceptual Editor-in-Chief
Grade: 12

Years on Staff: 4

What's your coffee order? Hot chocolate, please.

What song describes you best? Magic Dance by David Bowie.

What...