Varsity volleyball wins district championships
Flying into a giant dog-pile at the conclusion of the third game, the volleyball team was all smiles and happy tears as they won district championships against rival Parkway Central on Oct. 20.
"After we won the game it was just pure elation. We take so much pride in that district title and defending that was so much fun, especially against Central, who are arguably our greatest rival," senior Maggie Newberry said.
The longhorns lost the first game by a mere 2 points, further fueling what players called an "itch for revenge" sparked by a loss to Central on the West senior night, Sept. 28.
"We have a lot of hearts with a great desire to play and enjoy the game and fight for it. This time [after senior night] we were determined not to lose," junior Tess Allgeyer said. "This time every game went to 25 points and every point was fought for."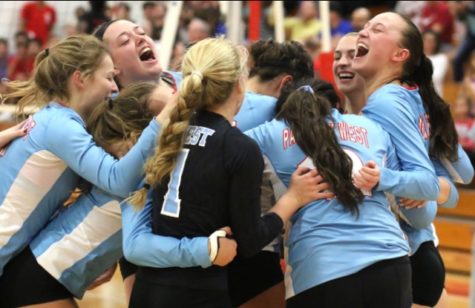 After gathering in a team huddle for a motivational speech, the athletes took away narrow overtime victory in the second match with 27 points.
"Going into the second game, we really had the mentality to come back and fight hard. We nearly lost the second game but it was a continuous fight and we really had to keep working for it," Newberry said.
Allgeyer says the team had much to make up for after losing a strong setter in the graduating class of 2017, but gained the aid of returning senior Caroline Shaw, who boasts the second highest assist average in the district.
"Without our setter we had to find a new star and luckily Caroline came back from Ohio. We really worked together to help her get back to volleyball culture at West, and all of us building that chemistry and connections," Allgeyer said.
Turning the game around, the team won the championships with a six-point victory over Central in the third game. Freshman Anna Pavlisin says this ability to volte-face in the face of adversity is largely due to the team's chemistry.
"We are really close as a team so we know how to treat each other. Some people do better when they're yelled at because they just respond to that better but other people like to be encouraged," Pavlisin said.
In the end, encouragement from coach Susan Anderson pushed the team to win the District championships for the second year in a row.
"We just take so much pride in that District title," Newberry said. "Our coach was really adamant on defending the title. She wanted us to remember that the title was ours to defend with our hearts and play like it was ours and we did."