Varsity water polo team heads to state
With a 26-5 record, the varsity water polo team will be heading to state beginning on May 5.
"I feel like this group really puts the team ahead of themselves this season," head coach Charles Cutelli said. "I've got 15 kids on varsity that all understand what we need to do, and they'll sacrifice individual glory to make sure that happens."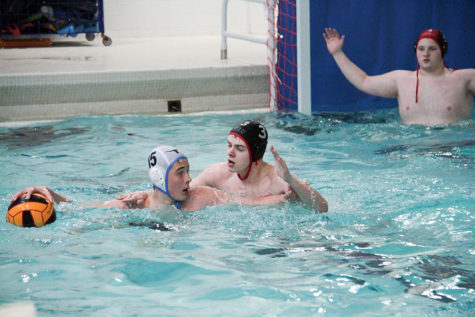 To prepare for state, the team has been focusing on their plays so that they are ready to face challenging teams.
"Right now, we're just running through the plays in practice and making sure we know what to do and where to go," senior Andrew Caplinger said. "I'm a little nervous for state because we're going to have to play SLUH (St. Louis University High) eventually, and they're a good team."
The team is also lowering the intensity of practices in order to save their energy for state.
"In a lot of sports, kids don't realize that the rest phase is really important for them to perform well," Cutelli said. "These past two weeks I've kind of pulled back how hard we're training because we want to be explosive and energetic for our individual games."
Although the team has won the majority of their games this season, they still faced difficulties along the way.
"Sometimes the team doesn't know the plays we have, and also getting in the lane has been difficult, which means basically getting in between the person and the ball, so that the other team doesn't get the ball," sophomore Zaide Johnson said.
In addition, they lost a defensive member of the team due to an unexpected injury.
"
We were kind of the underdog, so I don't think many people realized how good we were going to be."
— Charles Cutelli
"Andrew Wachter broke his ankle, and his job in a game is usually to guard the other team's best player. He's physical, he's loud, he's aggressive and never came out of the water, so suddenly the dynamic had to change," Cutelli said. "We've adjusted and have had other guys fill that gap, but that was a big challenge."
Despite Wachter's injury, they have made improvements from last year due to work in the off season.
"Last year, we were having some trouble with working as a team," Caplinger said. "Cutelli encouraged us to play with each other in the summer and winter, and it helped having that extra time together."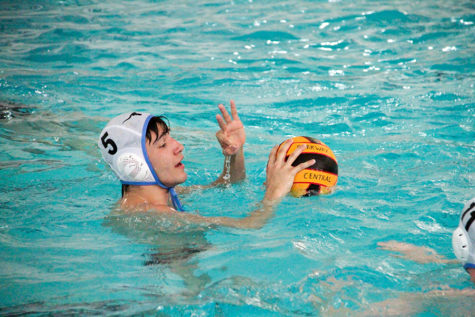 Senior Mitch Griffin was elected as a captain last year by his peers and took on the role again this season.
"I really just have to bark out orders and what plays were doing," Griffin said. "We've been able to work well considering we have several freshman on our starting lineup."
The Longhorns won the Founders Cup tournament against Ladue on April 30, scoring the winning points in the last few minutes of the game, putting them in the top four teams in Missouri.
"There was a lot of talk pre-season and during the season that Ladue was better than us," Cutelli said. "We were kind of the underdog, so I don't think many people realized how good we were going to be."
The water polo season will be wrapping up this weekend for the varsity team following the state games.
"[Even after] Wachter, one of our best guys, got hurt, we were able to adapt, and we're still playing incredibly well," Caplinger said. "As a team, I'm pretty proud of the fact that we've really come together.
About the Contributors
Carly Anderson, Conceptual Editor-in-Chief
Grade: 12

Years on Staff: 4

What's your coffee order? Hot chocolate, please.

What song describes you best? Magic Dance by David Bowie.

What...
Sabrina Bohn, Managing Editor-in-Chief
Grade: 12

Years on Staff: 4 (yeehaw)

What's your coffee order? Tall iced caramel latte, extra shot, half sweet (AKA 1.5 pumps of caramel syrup)....