The St. Louis Zoo offers an ocean conservation conference
For the first time, the St. Louis Zoo will be offering a Youth Ocean Conservation Summit (YOCS) to all students in grades six to 12 from Feb. 10-12. The goal of the program is to stimulate interest among midwestern students in creating and kickstarting their own nonprofit conservation projects.
"We want to build a new network by attracting people from outside of St. Louis, like Chicago or Kansas City. We're hoping for 200 people and currently only have 100 signed up," YOCS Campaign Coordinator Anna Conrades said.
YOCS offers a three day experience that will provide workshops, speakers, presentations and many other creative activities for just $30. The majority of the summit will focus on ocean conservation, but also want to teach attendees how to get involved through media, art, lobbying government officials and starting their own personal projects.
"[Even though we live far away from the ocean] pollution can travel down rivers and end up in the oceans, having a very negative impact on animals, because they can get entangled, eat it and starve themselves by filling up on plastic," Conrades said.
Starting on Friday, Feb. 10 from 7 p.m. to 9 p.m. YOCS will provide a free and optional icebreaker and networking event available to students attending the summit the following day in The Living World section of the zoo.
"Students will not be speaking with government officials during this summit, but learning how to successfully do so. The summit is more about learning and practicing the skills with like-minded individuals and mentors, and then taking those skills out into the world afterwards," Conrades said.
A keynote speaker by Patrick Chandler, the Education Director for Washed Ashore will present Saturday morning. Washed Ashore is an organization dedicated to building "aesthetically powerful art" to educate the world about the pollution contaminating our oceans and waterways.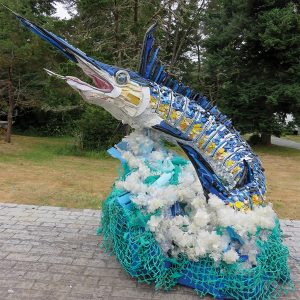 "We have an impact on the ocean, even if we don't live by it. You can be part of the solution.You can make an impact. One person switching [to reusable bags instead of plastic] can keep 500 bags out of the ocean a year," Conrades said.
"I feel like most students don't have enough experience outside anymore. There [used to be] that initial curiosity like, 'Oh I love camping! I want to take an Environmental Science class!' There are not enough kids with that experience anymore," Environmental Science teacher Anthony Piccinni said.
For $15, students will be served lunch and allowed to explore the park before heading to their previously requested workshops, which were picked out at registration. The first two sessions, run at 45 minutes each, allowing students to explore topics such as successful environmental messaging, using the arts to communicate, how to find volunteers and create their own non-profit organization. Each of the courses are made specifically to help students become more confident in their ability to involve themselves in non-profit programs effectively.
"We asked our teen volunteers to consider the question: 'What has prevented you in the past from taking action on an environmental issue?' and we then aimed to help remove those obstacles through our workshops. we hope [the workshops] will generate skilled conservationists down the line," Conrades said.
The third and fourth sessions, also around 45 minutes long, offer a new set of workshops for attendees to take, focussing on social media impact and leadership. Classes include data collection, networking and evaluations, organizational change and environment protection through law and policy. This portion of the program is directed more towards the specifics behind nonprofits, like how to attract a wide variety of community members to participate while complying with regulations and guidelines.
"I'd be curious to see the kind of interest [in YOCS from students] because in St. Louis the ocean is so far away. It's so far removed from day to day life," Piccinni said.
Participants have the option of spending Saturday night at the zoo, including dinner, a night hike and an additional art project for another $15 ($30 total.) They can either be picked up at 6 p.m. or stay until noon on Sunday for a photographic scavenger hunt. 
"We are focused on youth being the leaders to influence conservation, letting them know that age is no obstacle, allowing them to feel empowered, capable and be given the tools to do their own conservation project, whether it's in your backyard, school or community. You don't have to have a PhD to solve conservation issues," Conrades said.
About the Contributor
Carly Anderson, Conceptual Editor-in-Chief
Grade: 12

Years on Staff: 4

What's your coffee order? Hot chocolate, please.

What song describes you best? Magic Dance by David Bowie.

What...