Drama Club takes on Missouri Thescon in Kansas City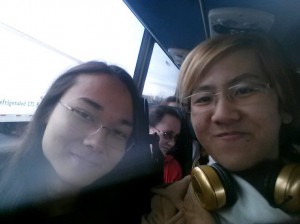 From costume designers to leading actors, thespians from Missouri came together Wednesday, Jan. 7-9 to compete and learn at The Missouri Thespian Conference. Theatre troupes from all over the state met in Kansas City for the annual "Thescon," including West's Drama Club.
At the conference, two schools put on mainstage shows for the thespians. The shows were "Hamlet," put on by Webster Groves High School from St. Louis, and "Much Ado About Nothing," put on by Raymore-Peculiar High School in Peculiar.
"I thought they were put together really well, especially for being Shakespeare put on by high schoolers," senior Sidney Baker said.
Various actors and technicians, including seniors Baker, Koel Branson, Tristan Johnson and Kathryn Harter, juniors Caroline Vogl, Maddie DeClue, Abby Karst and Kim Clyne and sophomores Ann Truka and Kennedy Brown, competed and performed during the conference in categories including monologue, group musical and lighting design as Individual Events and for Performance Scholarship Auditions.
"For my Independent Event, I sang in the category of Group Musical with Truka, Vogl and Brown. We sang 'Mama Who Bore Me' from the musical "Spring Awakening." We did pretty well and received decent scores," Baker said.
Five members of the Running with Scissors Improv Team, including Branson, Harter, Rapp, Zhang and Truka, competed in Improv Olympixs. The team was scored by professional improvisational performers.  
"Improv Olympixs went super well, and we ranked very well against the teams we were pitted against. We scored in the two highest categories consistently, which was far better than how I thought we did. I'm proud of our team for being able to work together as well as we did," Rapp said.
Many Drama Club members attended workshops to learn more about multiple facets of theatrics, including stage combat, hair and makeup, costume, improv, directing, acting, dance, singing, stage management and emotional discovery.
"I went to Unarmed Stage Combat, Finding Character at the Speed of Improv, Improv Olympix Rounds 1, 2 and 3, A Short Film Fight, Cliffdiver Improv, The Beginning of the End, Women in Improv, Best Frenemies and Other Relationships, Stage Combat," Zhang said. "I loved a short film fight and The Beginning of the End. In A Short Film Fight we had the opportunity to create a one-minute short film in the time period of an hour."
Zhang is one of three Running With Scissors Improv Team captains. As the sole junior, he will be the only returning captain next year.
"The workshop really help show the ins and outs of a movie from the scripting to the casting to the directing and shooting and the sound and so much more. The Beginning of the End was a session that I had gone to in hopes of improving the way that I improv," Zhang said. "However instead of just improving my abilities, the workshop completely changed the way I view improvisational acting and helped me redefine the structure of improv."
For Johnson, one of the four Missouri State Thespian Officers for 2015-2016, this is his last conference, and the realization brought up many emotions on the trip.
"This was my last time standing in front of over 2,000 of the most loving and caring people that I have ever known. The Missouri Chapter of the International Thespian Society has changed my life for the better, and I honestly can't believe my time being a Student Theatre Officer is at its end… As this door begins to close, I can't wait and see what happens next, and I will hold onto these relationships, these memories, and this love forever," Johnson said in an Instagram post.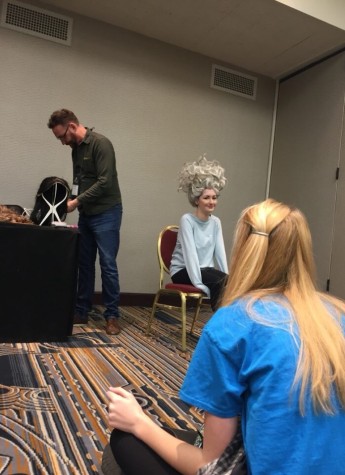 Junior Maddie DeClue is now a Missouri State Thespian Officer, elected for the 2016-2017 term during the Officer Conference in Jefferson City in September.
"I'm extremely proud of Maddie for getting elected, and I'm excited to see what her creativity and energy bring to the conference for schools and students all over the state," Rapp said.
For Zhang, the trip taught him about theatre as a whole, and about what it means to be a part of a production, mimicking the message from the Dreamworks classic, Shrek.
"Ironically enough, despite all of what I learned from the entire field trip; the one line that summarized the key point that I learned from the experience was on the road back while watching Shrek," Zhang said. "Theatre as a whole, much like an onion, has a lot of different complex layers that need to be broken down in order to best enjoy every bit of it. The cast, the production staff, the tech crew, those in costume and makeup and those in charge of lighting are all extremely crucial facets that need to be each handled meticulously in order to have an effective theatrical experience."  
Missouri Thescon is an annual trip for the Drama Club and will continue with the conference, held in St. Louis, next January.
"The very exciting element that I look forward to [for next year's conference] in terms of theatre as a whole is two-fold. One is to see our theatre department develop into an honors troupe through the diligence and rigorous workload of those who are in the department," Zhang said. "The other is to see those who went to the conference not only adopt but also to help teach some of the techniques that were learned from the professional actors and directors in order that they might be applied to our main stage."
About the Contributor
Kathryn Harter, Multimedia Editor
Grade: 12

Future / College Plans? Truman State University or Loyola University of Chicago

Swag level (1-10 Scale)? 12/10

Fun Fact: I can touch...