Wearing her grandmother's legacy
Have you ever dipped into your grandparents closet to add to your wardrobe? Probably not. But senior Kendall Welch has.
Towards the end of 2013, Welch's grandmother passed away.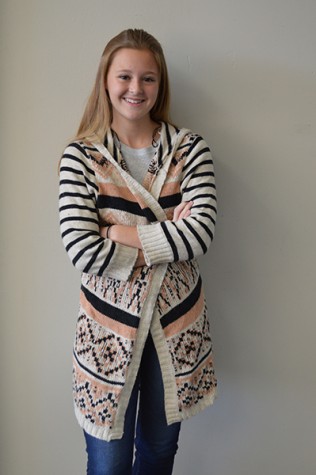 "At the time I outgrew a lot of my clothes and I needed more, but I didn't have any. So when we cleaned out her stuff, my cousin and I now had a way to get more clothes. I think it's really cute and for me, it's a way to have her around still. It's like she's a part of me and that she's with me," Welch said.
One of Welch's friends, senior Rachel Osborne, has admired Welch's bargain shopping since the beginning of their friendship.
"She's always wearing a new dress or shirt or shoes, and after I compliment it she tells me that she either bought in on a mega sale, or it was her mom's when her mom was in high school, or something like that. She gets a variety of cute clothing for relatively inexpensive, which is impressive," Osborne said.
Welch's clothes and her grandmother's are often similar in style, making them blend into her own wardrobe.

"To be honest, I can't differentiate what Kendall's clothing and what was her grandma's because they have such similar styles, and that's not because Kendall dresses like a stereotypical old lady. From what I gather, her grandma had a pretty awesome fashion sense. It's also good that all that clothing and those shoes aren't being wasted or left sitting in a box somewhere," Osborne said.
Focusing on comfort, Welch's fashion sense is based on functionality.
"I'm more preppy than hipster, but that's about as far as my fashion sense stretches. I don't like being uncomfortable. There is only so far I will go for fashion purposes," Welch said. "One of my favorites is the sweater-pullover-cardigans things and I like it because it's really comfortable, cute and easy to wear. They work if it is kind of cold and you can just take it on and off depending on the weather.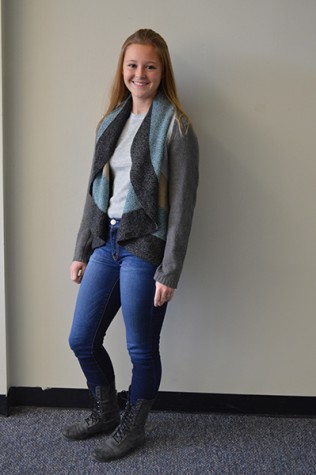 Fashion connoisseur and former clothing blogger, senior Bailey Rathert also approves Welch's clothing choices.
"It's really cool to see her incorporate her grandmother's clothing into her everyday outfits, and no one would know that they were her grandma's. I think it's really special that she can carry around a piece of her grandmother around every day like that," Rathert said.
Her grandmother has been one of Welch's biggest inspirations.
"I try to be more positive and channel her strength. She was a really strong woman. She had cancer and in the end it was really painful for her, but never once did I see her in pain," Welch said. "Even when we all went on a cruise toward the end of sophomore year, all her children and grandchildren went, and we had to leave the cruise a few days early because she got so sick but even on the way back, I know she was in a lot of pain, but she was strong even when she was throwing up."
Welch remembers her grandmother for humor and strength even in her battle with cancer.
"I like to think that we were both really silly. I mean, we liked to laugh. I enjoy laughing and I know she was always cracking jokes. I think she was stronger than me," Welch said. "I don't know what I would do in that situation, if I knew I was going to do die soon. I don't know if I would be the same, and be able to face it so head on like she did."

About the Contributor
Kathryn Harter, Multimedia Editor
Grade: 12

Future / College Plans? Truman State University or Loyola University of Chicago

Swag level (1-10 Scale)? 12/10

Fun Fact: I can touch...