Pearl Jam: "Deep" or outdated?
From being the first band to ever publicly protest in favor of the pro-choice movement on live television on MTV Unplugged in 1992 to hanging from 20-feet rafters at concerts to being the first band to attack TicketMaster, Pearl Jam has always been an unapologetic statement. Taking the world by storm in 1991 with their debut album "Ten," Pearl Jam became a part of the "Grunge Four" from Seattle. The "Grunge Four" — otherwise known as Nirvana, Alice in Chains, Soundgarden, and Pearl Jam — took over the music scene in the early '90s with their raspy voices and flannel shirts. Now being the only living Grunge band of the four, Pearl Jam is back with a new live album titled "Deep: Touring Band 2023," with 24-tracks that include some of their biggest hits throughout their three-decades-long careers.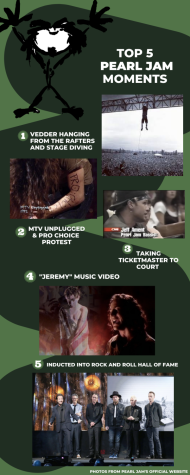 "Deep: Touring Band 2023" starts with the 1991 emotionally penalizing track "Release" from "Ten." During the last half of the song where singer Eddie Vedder belts "Release me" in response to his father's passing, listeners are swept away by the moving ballad. The first half of the song isn't bad by any means. It's rather more slow and personal; without the belt at the end, "Release" would just be another sensitive song in the band's catalog. "Release" became a staple piece in Pearl Jam's library when a video of a live performance from a show in Holland in 1992 got posted to YouTube. The last half of the song saw the emotional belt bring not only Vedder but also fans to tears. Decades later, fans expect the same emotion to be presented when performing. I was worried when I saw "Release" was the opening song on "Deep: Touring Band 2023," since Vedder's voice is worn down and can't hold notes the same way he could when he was 28. I sat in anticipation and was waiting to feel disappointed when listening to this track, yet Vedder hit every note and more. Though I could tell his voice was strained from the belt, the emotion he had from the pain of passing is still prominent and still rocked me to my core. 
After "Release," Pearl Jam performed some of their more underground songs like "I Am Mine," "Corduroy" and "Dissident." I instantly lit up with a smile when guitarist Stone Gossard's famous guitar riff to the iconic "Even Flow" came on during track 13. Being the second single for Pearl Jam to ever release, this track helped people identify Vedder's famous 'mush-mouth' voice. For 30 years, nobody has ever been able to understand the lyrics to "Even Flow," but it's just such an easygoing song and an enjoyable song to dance to that I don't mind. Because the lyrics are all performed so quickly in an almost rap style, it's hard to pick up the song verbatim until the melody — a pretty mutual sentiment among fans, since "Even Flow" on "Deep: Touring Band" features Vedder familiarly mumbling his way through the verses and getting a coherent word out maybe every fifth word. I don't love nor hate this performance, but the improvised guitar solo done by the wickedly underrated guitarist Mike McCready completely steals the performance. 
One of my favorite performances on "Deep: Live Touring 2023" is the song "Immortality" from Pearl Jam's junior album "Vitalogy" released in 1994. At this time, Grunge was announced dead when Nirvana star Kurt Cobain passed away. Cobain and Vedder didn't have the best relationship in the '90s, but when Cobain passed, Vedder wrote "Immortality" — a song about the mourning of a depressive and discredited person who just lost their will to live because there is no meaning or understanding in life — i.e., he wrote a tribute to Cobain. Every time I hear "Immortality," I just want to stare at my wall. Since Vedder rarely plays the underground hit,  when he does, the emotion he carried in the '90s is prominent. That passion is blazoned even further by the improvised guitar solo done by Mike McCready. The solo completely encapsulated the sound and tone, definitely counting as one of the best performances done by Pearl Jam.
"Black" is played right after "Immortality" and "Daughter," and those are emotional songs, but "Black" takes passion to a whole new level. Originally written for an ex-girlfriend, "Black" is one of the most beautiful and heartbreaking songs I've ever heard. The lyric, "I know you'll be the star in somebody else's sky/but why can't it be mine?" transitions into a painful belt from Vedder to a gorgeous choir adlib and then to a guitar solo done by McCready, which always takes my breath away.
A lot of fans see Pearl Jam as just Eddie Vedder, but Pearl Jam wouldn't be Pearl Jam without Eddie Vedder, Mike McCready, drummer Matt Cameron, bassist Jeff Ament and Stone Gossard. Vedder acknowledges this, and at the end of "Even Flow" Vedder says, "Mike McCready on the electric guitar and the second hardest working man in show business . . . the hardest working white man in show business, Matt Cameron on the drum kit," which was refreshing to hear. Not enough singers pay their respect to their band as they let their egos get to them. Vedder has never let his celebrity status impact him and is still widely involved in the protection of reproductive rights and fighting against TicketMaster.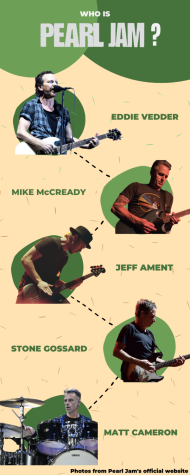 People are often more familiar with the whole Taylor Swift v. TicketMaster legal battle going on currently, and she often gets the most credit for rebelling against TicketMaster, which isn't right at all. Pearl Jam was the first band to call out TicketMaster, even taking them to a publicized court trial and tagging them as TicketBastard. Pearl Jam decided to start releasing a live EP for every concert they did after they lost the court trial, so fans who couldn't afford tickets could still experience the concert in a way. In my opinion, that is incredibly admirable and why I love all of their live albums: no other artist does that. 
In recent years, the meaning and sound of "Black" has changed intensely. In 2017, Soundgarden singer and Vedder's best friend Chris Cornell took his own life. Cornell and Vedder were both a part of the "Grunge Four" with their respected bands and supergroup, Temple of The Dog. Cornell's passing led Vedder to be the only living frontman from "Grunge Four" — the others all having taken their lives in some way. Vedder began dedicating "Black" to Cornell just weeks after his passing. The live performance of "Black" on "Deep: Live Touring Band 2023" is dedicated to Cornell, and in the closing minutes of the song, Vedder lets out a voice crack, which forces the listener to feel the raw and intense emotion he's enduring before letting out a scream that he had been keeping in for ages. This is all happening while McCready is performing a guitar solo and the crowd is singing the famous ad-libbed "Doodoo-doo-doo" ending. "Beautiful" is an understatement. 
The whole "Deep: Live Touring Band 2023" is incredible and breathtaking in its ways. In "Alive," "Yellow Ledbetter" and "Rearviewmirror" it's the musical production. In "Release" and "Black" it's Vedder's passion. Pearl Jam is just raw talent all around. Although the vocal ability sometimes falls short in some of the live performances on "Deep: Touring Band 2023," each performance is still filled with insane talent. Mike McCready, especially, manages to capture the intensity Vedder is releasing in his voice through his guitar tone, of which every note hit deep. 
Though I wish they would have performed some of my favorite songs like "Jeremy," "I Got ID" and "State of Love and Trust," I still adore this album because of its intense vulnerability with Vedder's voice and the band's ability to perfectly match Vedder's tone.
I know some people probably aren't going to like this release, mainly because of the vocal changes Vedder had to make in some of the songs, but he isn't in his 20s anymore. Vedder is 58 and is an entirely self-taught musician, so with age, there's going to be change. Even though Eddie Vedder isn't writing "ProChoice" on his arms, hanging from 20-feet rafters, or chasing bombastic octaves as easily as he once could in the 90s, "Deep: Live Touring Band 2023" is still a great listen.
The Pathfinder gives Pearl Jam's "Deep: Live Touring Band 2023" a solid 8.5/10. 
View Comments (3)
Your donation will support the student journalists of Parkway West High School. Your contribution will allow us to purchase equipment and cover our annual website hosting costs.