Florida rapper Rodarius Marcell Green — known professionally as Rod Wave — has become one the world's biggest music artists yet. Green defined the new genre of soul trap, a subgenre of hip hop that incorporates soulful melodies with contemporary beats. On Sept. 15, he dropped his new album "Nostalgia." In an interview with Apple Music's "Rap Life Radio" with Nick and Eddie, Green explained that the album was named as such because no matter what his fame brought him, he never forgot where he came from.
Addressing the lyrics 
The first track on the album is its eponymous song, "Nostalgia." In the song, Green says, "So I'm focused more than ever, been grindin' like we ain't winnin'. I was stuck inside that bottom with problems, gettin' evicted. Now it's back-to-back tours two summers for 60 million." After Green's parents separated and his father went to jail while he was in elementary school, his life changed drastically. He and his mother inched closer to poverty, and he turned to the streets. With this specific verse, Green addresses his detachment from the "trenches" — a neighborhood surrounded by drugs, robberies and illegal possessions of firearms, exploring the challenges of keeping up with the platform he built for himself as well as success and fame. 
The lyrics are emotionally impactful because so many people around the world relate to these impoverished standards. But the lyrics also motivate people to have the drive to work with what they have and not worry about what they don't have. Not only were the lyrics inspiring, but having a well-known artist like Rod Wave vocalize them so sanguinely is greatly influencing because of how he presents himself and his music to his audience. 
The second track on the album, "Long Journey," says "And I know the sayin', more money, more problems, nah. More money, more people with they money problems lookin' for you to solve 'em." At some point in time, being the wealthy person in a family brings chaos. Everyone wants a little taste of what the "rich life" feels like and, typically, people only seem to come to you when at times they need something. Green also mentions this situation initially in his song "Call Your Friends," because money creates distance in relationships. 
Green currently has a net worth of $9 million. However, the message isn't just referring to the wealthiest of people, but in general. The majority of people make a living off the standard job and can be perceived as a factor to provide for non-immediate family. But even so, money, fame and a platform means nothing if mentally and spiritually you feel no connection with anyone because you've only been valued based off what you can bring. The lyrics were truly moving because even without it being vocalized by a popular music artist, it's something that anyone could experience one point in their life. 
The sixth song, "Crazy," describes the journey to success and misconceptions people have about it. Green sings, "Ain't it fun? Ain't it fun? Livin' in the real world. What work for you might not work for me. I dropped everything, went and chased my dream." The lyrics reflect the idea that success can come in many different forms and what works for one might not work for the next. Greens emphasizes pursuing your dreams regardless of what others might think because not taking a risk is the biggest risk of all. It hits on a tenor to never shut down someone because you yourself couldn't accomplish something important to you or something they could.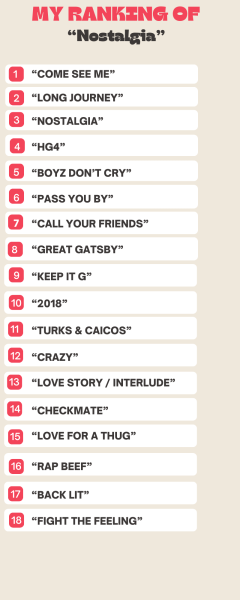 As Green points out, it's sometimes easier to be motivated cynically. You take a different approach on your goals and who you talk to about them. Ultimately, the lack of faith others have on your uprise typically makes a stronger mindset. It makes a person go from "I think I can do it" to "you said I couldn't do it, so I went and did it."  
What do the songs mean? 
The third track on the album, "Call Your Friends," represents Green's vulnerability towards his friends and family. He vocalizes the importance of checking up on significant people in your life and not just times when you need favors. Oftentimes, we forget that money does not equate to the value of those around us, but rather know that everyone goes through things even with the brightest smiles and a fortune of money in their wallets. And at some point, we start to degrade ourselves and need someone to be there just for the sake of our well being. Showing an upbeat and soft side of the album, "Call Your Friends" is by far one of the most attention-catching songs on "Nostalgia." 
The 12th track "Pass You By" conveys a message of encouragement to follow your dreams. In this song, Green reflects on his sacrifices and what it took to get where he is now. In this case, he influences his listeners to never let time pass by without accomplishing something and to never dwell on hard times. In the outro, he reinforces the importance of taking risks and moving forward because there's only so much time in life. Furthermore, it encourages listeners to be resilient and live life to the fullest because nothing is guaranteed, and tomorrow isn't always promised. 
The 13th track, "Great Gatsby," is a song about emotionally up and down relationships. In this case, Green expresses his painful separation for his woman who he mentally can not be with, mirroring "The Great Gatsby," the 1925 F. Scott Fitzgerald novel about self-made millionaire Jay Gatsby and his love for Daisy Buchanan, which did not work out no matter what he did to impress her. Additionally, this song conveys a message about disloyalty and betrayal but doesn't undermine the sentiment of wanting to make love work. Love is hard: it's a make or break for so many relationships. It can break a great connection between a couple, forcing them to become strangers in the end. This song is definitely worth listening to because it's the perfect combination of Green's process of learning and lessons he wishes to share. 
The 16th track, "Rap Beef," addresses conflicts regarding other artists. From what the audience knows, Green stays out of the drama in the music industry. He states this in the interlude of the song by saying, "I don't want no beef period, I don't want no jail time. I don't want none of that, I'm tryna get this, get these M's and live with these M's like these white folks, man, you know what I'm sayin'?" The song indicates that regardless of who is more successful amongst the rapping industry, bringing attention to your platform by degrading another artist proves nothing — especially if you're a step ahead. This song has more hopeful instrumentals to bring light to what Green is trying to promote. With that, it proposes a positive outlet to not only the album, but Green's platform in general. 
Rating
Overall, Green did an excellent job on the album "Nostalgia," incorporating the importance of remembering where you came from, regardless of the money or fame you obtained over the course of your success. Hard work pays off in the end and hard times never last forever. Each song brought the listener a different perspective of how life can either break you or make you. And although everyone's story is different, we all experience challenges and struggles because no lifestyle is perfect. 
For Gen Z, music is often a shared interest; it gives people that motivation to get up and chase your dreams. That's exactly what this album expressed. That said, get your Rod Wave "Nostalgia" tour tickets today. 
"Nostalgia" 10/10