Senior Cece Watts named St. Louis Post Dispatch Scholar Athlete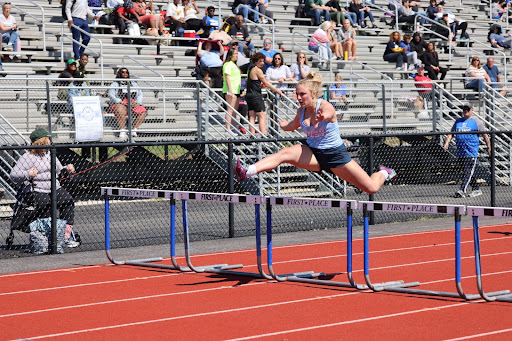 Senior Cece Watts was one of 18 students awarded the St. Louis Post Dispatch Scholar Athlete award this past Wednesday. In its 57th year, the program honors one student from every area school, the requirements being that they participate in athletics and excel in the classroom. Nominated by her teachers and coaches for the award, Watts has been a part of varsity volleyball and varsity track and field throughout high school, holding leadership positions on both teams.
"Being a leader means making sure everyone has a voice. As a team captain of the volleyball team, I constantly encouraged my teammates and praised them for their achievements. The best way to be a leader is to lead by example. A chain is only as strong as its weakest link, therefore it is up to the leader to make sure everyone fulfills their greatest potential," Watts said. 
As a member of the National Honors Society, National English Honors Society, Mu Alpha Theta, Spanish club, feminist club and mental health awareness club, Watts manages her time for athletics alongside academics, maintaining a 4.3 grade-point-average.
"Competing in any sport while taking multiple honors and AP classes is definitely a balancing act that I had to get used to quickly. I've spent many late nights cramming for a test or taking additional notes to succeed in all of my classes," Watts said. "I find comfort in the fact that if I receive a bad grade, I will always have my sports as an outlet. Working up a sweat on the court, the track, or in the gym has helped me immensely."
Watts has been involved in sports since a young age and has grown accustomed to a competitive and challenging atmosphere.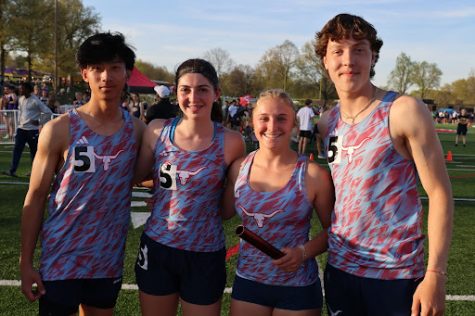 "There are so many people who would kill to be in my position, whether that be on the volleyball court, in a track event, or simply as a successful athlete. I am also motivated by my past successes and failures. Whenever I feel my drive weakening, I think about how I felt falling behind the other girls in the 2022 state championship 300 hurdles race. I think about getting second to Willard in the 2020 volleyball state championship match. In fact, when I feel nervous before a race, I think to myself that if I could serve-receive flawlessly in that volleyball state championship match with hundreds of eyes on my back, then I can do this too," Watts said.
With dreams of studying abroad in Madrid, Spain and going to medical school to become an emergency medicine doctor, Watts prioritizes health, her relationships and her future career. She plans on attending St. Louis University with a major in biology and a minor in Spanish. Watts strives to walk onto the SLU track and field team and be an active member of the community by joining clubs. 
"Maintaining good health is vital to my success in life. If I feel good about myself, then I can do anything I set my mind to. My relationships with family and friends are also just as important to me. A bucket full of first-place medals is nothing compared to a congratulatory hug from my parents, my boyfriend, or my friends. When you can't take care of yourself, it is crucial to have a strong support system," Watts said. "My future career in medicine is definitely [also] a top priority for me. I've always wanted to become a doctor because I love learning and I love people. The world can never have enough doctors."
"
"I would not be the person I am today without athletics. Being a part of a team, competing against other people, and most importantly, myself, has given me so much grit. I work out because I can and not because I have to. Every day I get to move my body is a good day, no matter how hard the workout is."
— Cece Watts
Watts believes her parents' support of her athletic and academic endeavors is the reason for all of her successes. From driving her to volleyball tournaments at the crack of dawn, to cheering her on for hours at track meets, Watts thanks and idolizes her mom, Mary Koboldt.
"My biggest role model is my mom. She went to the 1988 Olympics for field hockey and is the most competitive person I've ever met. Now, she is a successful saleswoman, one of the best in the country. Balancing work and home life like an absolute beast, I aspire to be as amazing as she is," Watts said. "Even with her busy career, she manages to make my meets and games. Her voice always comes out the clearest at my track meets and when I hear it, I know that I am supported no matter how I do."
Koboldt believes her daughter has always been focused and persistent. Prior to Watt's freshman year of high school, she set her four-year educational schedule, knowing exactly what classes she needed to take to get to the final classes she wanted her senior year, even if it meant doubling up in math classes.
"Whatever she sets her mind to, she never gives up until she reaches her goals. Athletically, it was amazing to see her play every position in volleyball. Here she is, at 5'3″, playing outside hitter and blocking successfully against much taller opponents. Watching her out-jump taller girls was always entertaining. She has always been a great student of the game and would actually make a great coach in volleyball because she has played every position," Koboldt said. "Watching her balance her athletic endeavors and heavy academic schedule has been amazing, and we couldn't be prouder of all of her accomplishments."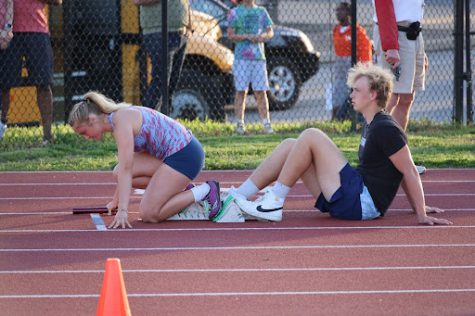 Like her mother, Watt's coaches applaud her drive and positive outlook. Varsity track coach Kristen Witt has coached Watts for two years.
"Cece's talent and willingness to support her team is unmatched. She is a confident leader who has a positive attitude and the dedication and determination needed to be a successful athlete. Cece uses her positivity to encourage and rechannel negative teammates. She is focused on the outcomes she wants to achieve and comes up with a plan to make it happen. She seeks out ways to push herself at practice and meets. On and off the track, Cece is constantly pushing herself to improve," Witt said.
Watts thanks her coaches for giving her the opportunity to win this award and challenging her since the start of high school. 
"They've been with me for four years, working tirelessly behind the scenes to give us athletes the opportunity to compete. I am forever grateful for the sacrifices they've made to see their athletes triumph. They have welcomed me into the Longhorn community and shown me West pride since day one," Watts said.
Leave a Comment
Your donation will support the student journalists of Parkway West High School. Your contribution will allow us to purchase equipment and cover our annual website hosting costs.