Students win honors at the 2023 Missouri All-State Band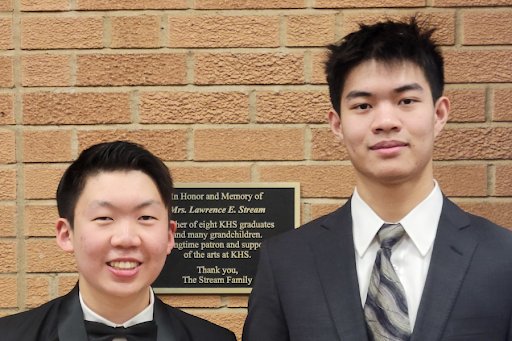 The All-State Band is an annual tradition featuring the top musicians at the high school level in the state of Missouri. Over 1,200 students auditioned for the 105-member 2023 All-State Band. A journey involving multiple auditions over a period of months leading up to the state honor. Students took turns performing a piece on their instruments in the 2023 All-State Band contest, which holds different competitions for different instruments. Junior Andrew Son received a gold medal for his clarinet performance, and junior Nathan Zhou received an honorable mention for his French horn performance.
ANDREW SON
For Son, this was not his first musical accomplishment. Son has won an award in either clarinet or piano each year since his freshman year, along with a gold star rating in both clarinet and piano in last year's competition.
"It [winning the gold medal] was a great moment! It felt great, and it felt like hard work paid off," Son said. "I like to think, 'quality over quantity,' so for me, [that means] I should practice more. But the effort that I put in, even during a short period is also very important, and this takes some work. It is amazing to know that every effort you put in [small or big] definitely pays off," Son said.
Son has played the clarinet since sixth grade when he joined the middle school band. 
"When I first saw the middle school band perform, I was pretty amazed. I [thought], 'Hey, I want to play in a band. That seems cool.' And then I came to high school, and I was deciding whether to do band or not, I looked at the high school band, and it sounded amazing. I was drawn to that sound, and everything about the band seemed [like] such an experience that only the person playing can experience," Son said.
Son has been participating in music competitions since middle school and feels that competitions help him. Similar to many other contests, there is an ongoing debate on students' attitudes toward music competitions. Proponents see contests as opportunities for motivation, discovering one's own potential and talent, and engagement in other concerts. Pitfalls they faced included the stress of preparation to receive a higher score.
"Although I pay attention to the [elements of the judges'] rubric, it is only for my own self-improvement rather than the score. Having participated in many competitions has helped me focus on my performance and on enjoying the moment rather than the ratings and the result," Son said.
Auditions are evaluated based on scales, tone quality and how well the excerpts are executed. Following school auditions, students go through district and suburban-level competitions, where Son was chosen as the first chair or the best instrument player. From there, students audition to get into the Missouri All-State Band. Although Son had to learn several excerpts of music to compete, he felt that the competition was more than about playing the instrument. 
"At the All-State, you meet a lot of cool people [that] you practice with and make friends with," Son said. "Finally, there is a concert where you play all the music you have prepared, learned, and finalized during that time."
At the Missouri All-State Band, students from all across the state spend three days at the Tan-Tar-A Resort in Osage Beach, where they collaboratively create, practice and perform original music. 
"Band is a community you want to join because you see these academic communities. The band community is where you can enjoy yourself while making friends and enjoying other people's company and have a great time," Son said. "And toward the end, when you have a concert or performance, that hard work and dedication pay off. That's what I like about the band community because you can persevere while others still support you." 
Part of the support in the band community comes from directors. Even though the contest is three hours away and is usually held early in the morning, directors are always there with the students. For Son, the support he received from his directors, from suggesting pieces to providing the accompanist, was invaluable.
"I like to give a shout-out to [band directors Brad Wallace and Jacob England]. They have been supportive throughout the years, always available before and after school," Son said. "Overall, the band community and especially the music community have been supportive. There's a lot of encouragement and support in the community."
Wallace started working with students in 2015, hoping to create a culture of excellence.
"I am always proud of student accomplishments; however, being chosen for the Missouri All-State Band is the top honor a high school band student can achieve. I am happy that these talented students receive recognition for their hard work," Wallace said. "There is no selection process, and I encourage all students to audition. However, the audition material is quite challenging. It cannot be learned in a week or two; it takes months of preparation."
Son reports being pleased with his performances and plans to pursue music beyond high school either by taking a minor in music in college or by joining a community band. 
"Despite coming from different schools, as a team, we performed well, and it is an honor to perform with the top student musicians in the state," Son said.
NATHAN ZHOU 
Zhou started his musical journey early in elementary school, where he played the piano and the violin. He then played for the orchestra in middle school before joining the band.
"I wanted to change things up. So, I decided to join the band for high school, meet new people and do something different," Zhou said. "Exploring different instruments and being part of both band and orchestra has helped me to be more confident in trying different styles and genres of music, in addition to making great friends along the way."
Although band is a school-offered class, students often practice after school to master their musical pieces. Since band took up significant time in Zhou's schedule, he had to resort to different methods to manage his time properly.
"More than practice, managing time well to make room for practice is tricky. A key thing is making good use of school time. So, making sure classes are productive, but also using free time during labs and other classes to complete pending work, so when you go home, you have time to practice," Zhou said.
The All-State Band contest requires students to play certain excerpts of music. Zhou believes he had to overcome hardships to reach perfection and succeed.
"The excerpts were pretty difficult. Overall, they had challenging passages; however, going through that slowly [and] not rushing that time was a difficulty. But the consistency of 'keep trying my best' really paid off towards the end," Zhou said. "The support I got from my band directors, who were always available before and after school, was a huge help." 
The process of auditioning is competitive, with judges only allowing an 8.75% acceptance rate for students attempting to enter the All-State Band. 
"It can be nerve-wracking at times, playing your piece not knowing how the judges are feeling about [the piece] until the results are announced," Zhou said. "I had callbacks and playing the same piece again with the same enthusiasm can be difficult, but the award is a statewide honor, and it is totally worth it."
To make the band and perform well on audition day, Wallace advises students to be consistent, organized, and focused on their plans and goals.
"All it takes for students to have a successful audition is consistent and focused practice. I encourage kids to schedule a time. Maybe it's before school, 30 minutes after dinner each weeknight, or something similar. You cannot wait until the last minute and be successful; it is a process." Wallace said. "Any student that wants to participate simply needs to have a plan. How much can I practice? Will I take private lessons? Then, it takes repetition and focused practice to get ready."
Beyond music, Zhou reported that the band community fostered new friendships and helped them socialize. 
"The band is more a community and mostly about building friendships and having fun. Instead of the pressure of wanting something, it's mostly just to enjoy oneself. And that's how I felt. I enjoy playing music more ever since I started the band," Zhou said.
Leave a Comment
Your donation will support the student journalists of Parkway West High School. Your contribution will allow us to purchase equipment and cover our annual website hosting costs.
About the Contributor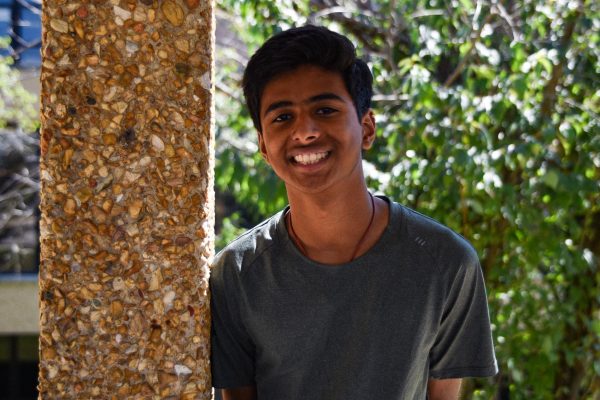 Raj Jaladi, Newsletter Editor/Data Analyst
Pronouns: he/him

Grade: 12

Years on staff: 4

What is your favorite piece of literature? "Harry Potter and the Chamber of Secrets."

Who is...