Memoirs, movies and mementos
A reflection on monumental masterpieces of women's literature
From Jane Austen to Suzanne Collins, Anne Frank to Margot Lee Shetterly, fictional characters to their profound writers, this list combines some of the most amazing tales told by women over time. Books with strong leading females written by real-life heroines have profoundly impacted how women view themselves and how they are treated in society. These women have impacted life in the workplace, women's rights, civil rights, mannerisms and societal expectations. Reflecting on Women's History Month now is the time to dive back into some of the classics written by historical women in literature. This collection of books is composed of a mix of classic literature, fiction novels, memoirs and nonfiction stories that have also all been made into movies for the non-readers out there, although the books are always better than their movies.
The Classics
"Little Women" by Louisa May Alcott — Elle Rotter
After reading "Little Women," I have found that this book has an inspirational female character for every young girl. Oldest, Meg is a people pleaser, but she is also vain, idolizing luxury and money; ultimately, she learns to prioritize love. Jo, the tomboy of the four sisters, is a rather blunt character who knows what she wants but will also sacrifice anything for her family. Shy and quiet, Beth is the house's peacekeeper and is always concerned about family matters; this old-fashioned heroine battles even her smallest imperfections. Amy, beautiful but self-conscious, is the youngest child who tends to manipulate others to get what she wants. Opposite to Jo, Amy acts like a perfect woman, but they struggle to fit into society and are loved for their flaws. They all have something in common: they combat and struggle to accept some aspect of society. 
Societal conflict, personal struggle, romance, character development, grief: this book checks all the boxes. There is a lesson to learn from all four sisters that can apply to girls of all ages. I loved reading about each March sister; each personal plotline flawlessly merged into the overall storyline. Considering the book was written in the 19th century, it is surprisingly still an easy and interesting read nowadays. Gaining popularity among girls of younger ages, there are also illustrated adaptations that make it easier for newer readers; I still have my illustrated copy of "Little Women" from my childhood that sits among my favorites.
The novella highlights multiple perspectives and has therefore led to the creation of multiple movie adaptations, including the most recent series on Netflix in 2022 and the most popular adaptation titled "Little Women (1994)" which can be viewed on Prime Video or Apple TV. Taking place during the civil war and published just a few years after the war ended, "Little Women" brought up novel ideas for its time and became known as a revolutionary piece of literature, mainly focusing on promoting ideas of gender equality in the 19th century. 
"Pride and Prejudice" by Jane Austen — Amelia Burgess
In most pre-20th century literature, marriage is an important concept that often propels the plot. "Pride and Prejudice," written by Jane Austen and published in 1813, is no exception to this rule. The novel follows a young girl named Elizabeth "Lizzy" Bennet, who has four sisters — who are all unmarried — and a mother who wants nothing more than to see her five daughters married off. Lizzy is a fiery main character with a tenacious spirit and an appreciation for her independence. Lizzy turns down multiple proposals throughout the book, including that of William Collins (Mr. Collins), her cousin with whom she would live very comfortably, and Fitzwilliam Darcy (Mr. Darcy), whom she despises. In the age of marriage, social status and money, Austen crafts a book showcasing the importance of a young girl's self-respect and independence. Although the book ends as a Shakespearean comedy, the reader learns valuable lessons about society and identity. An excellent "Pride and Prejudice" adaptation can be viewed on Peacock, Apple TV or Prime Video.
This book was one of the first classics I had ever read that wasn't assigned to me in class. When I initially read "Pride and Prejudice," I don't think I fully grasped the importance of not only the message of the story but the context of the decade in which it was told. Two years and multiple classic tales later, I see just how far ahead of her time Austen was. This book shows the importance of self-respect in that you should never settle for a man because of social standards. I enjoyed this book immensely, although the writing can be difficult to understand. It is a great entry point into canon classics, but will also hold resonance if you are a consistent enjoyer of literature. 
Women in the 19th century were often portrayed as people who not only wanted to get married but wanted to be homemakers and mothers. "Pride and Prejudice" set an important example for women everywhere that that was not always the case and normalizes women's rights to their freedom and decision. Although this is not a radical idea now, at the time of its publishing, Austen's novel was inspiring to many women and persuasive to society.
"The Diary of a Young Girl" by Anne Frank — Elle Rotter
In the nonfiction memoir "The Diary of a Young Girl," we follow the life of a 13-year-old Jewish girl, Anne Frank, who writes her way through the Holocaust in World War II. In the beginning, the entries are seemingly normal for a girl her age. But as the year goes on, the growing teenager faces the start of the Holocaust, hiding, isolation and loneliness at the hands of her distant parents, but continues to mature as we read more and more of her journey. She begins to question societal standards, mainly why Jews were treated unfairly during the war, but also confronting her own identity and what she truly believes in. As we reach the last page, readers are shocked to see that this is the end; the diary entries suddenly stop. In reality, the Frank family was arrested, and we are left to believe that Anne's life suddenly ended. "The Diary of a Young Girl" has adaptations on Netflix, YouTube, Vudu and Prime Video, including "The Diary of Anne Frank," "My Best Friend Anne Frank" and "Anne Frank: The Whole Story." 
The fact these stories are written in 'diary' form makes the storyline unique, more readable and drastically more emotional. When this book was assigned to me as a kid, I truly hated having to read it. But now that I picked it up and read it on my own — and now that I myself have also matured — I understand and relate to Anne much more than I did as a little girl. In her diaries, Anne wrote, "I want to write, but more than that, I want to bring out all kinds of things that lie buried deep in my heart." These aspects of the book helped me to relate to Anne on a deeper and more serious level.
We all have something to learn from Anne Frank's diaries: bravery, maturity, desire for change and optimism through despairing times. Anne has inspired millions of people who have bought her book in the last 70 years. Her constant positivity, ability to find silver linings, undying humility, gratification and dreams for the future have greatly influenced young girls across the country. We as a society have much to learn from her unconditional love and gratitude.
Non-Fiction
"Radium Girls" by Kate Moore — Elle Rotter
The shocking and heartbreaking novel "Radium Girls," tells the story of women working as dial-painters in the 1900s. These women painted numbers on watches with glow-in-the-dark paint, licking the tip of their brushes thousands of times every day to keep their details precise. As the first World War ended, everyone expected the deaths to stop, only for women to start dropping dead. The common thread: they all worked with radium. The novel makes an excellent attempt to humanize every woman who worked in the industry by giving each of them a story. Kate Moore's writing was also adapted into an equally devastating film in 2018. You can now watch this disturbing narrative on Netflix, Prime Video and Apple TV.
To be honest, I was worried about reading this book because it was labeled as non-fiction, but I was completely captivated in less than 10 pages. Although there was a crowd of characters to remember, I found myself interested in every character's storyline and how their lives progressed after working as dial painters; I was also deeply saddened by every repetitive death. 
In light of Women's History Month, this tragic story highlights the deaths of 30 women and denotes how fellow women stood up for their rights in the years following their deaths. These women went on to fight and win a major lawsuit that had a significant impact on health and safety rules in the workplace. Specifically, the actions of a few saved thousands of women who worked with radium in the 1900s, making this non-fiction novel the perfect story to read while celebrating Women's History Month. 
"Hidden Figures" by Margot Lee Shetterly — Elle Rotter
Amidst the civil rights movement, this nonfiction bestseller tells an emotional journey of African American women proving themselves in the workplace. Specifically, "Hidden Figures" highlights the journeys of four women who worked as mathematicians for the National Aeronautics and Space Administration (NASA) and played key roles in the space race. Working under the title 'human computers,' these women worked under segregated working conditions with pencil and paper to help calculate the way to the moon.
If you like nonfiction reading, I would highly recommend this book. This book is very factual, with little narrative aspect given. Though it was harder for me to read, I feel I learned a lot more from reading this book than I did from any of the other books on this list. The movie adaptation from this book exhibits much more of a narrative and delves more into these women's lives and character development. The movie can be accessed through Disney Plus, Apple TV and Prime Video. 
"Hidden Figures" highlights the ongoing fight for women's rights and African American rights through the civil rights movement, focusing on the impact of women and minorities in science, technology, engineering and mathematics (STEM) careers. The book and the movie share the novel story of African American women in NASA working in different areas of STEM and how their work not only made an impact in STEM and NASA but also on women's rights. 
Contemporary Fiction
"The Vanishing Half" by Brit Bennett — Elle Rotter
"The Vanishing Half" covers many different book genres. From historical fiction to coming of age to — dare I say — a psychological thriller, this mystery has a slow start but holds you captive once you pass page 50. This book masterfully covers multiple perspectives and periods. We smoothly float from the 1940s through the 90s with flawless transitions that are difficult to formulate. We are provided with flawed characters who struggle with race, education and identity, leaving us pondering what is real and what is not. 
Some books are painfully hard to read; this is a perfect example. Murder. Abuse. Abandonment. Together, these obstacles break our hearts for the characters, primarily the twins, but Bennett also makes it easy to know and love the side characters. Additionally, Bennett masterfully juxtaposed the twins' personalities, making for drastic examples of conflict and change. 
Addressing motifs of family heritage, racial passing and identity, we explore the growth of the twins and why people are pulled to become someone different than themselves. "The Vanishing Half" is a window into the lives of characters who struggle with the unjust society we live in while trying to find a place to fit in. Amid the myriad of things "The Vanishing Half" addresses is the inherent strength women possess. Despite facing impossible odds and battles not supposed to be won, the women in this book persevere. This perseverance sets an example for young women everywhere, especially young women of color. 
"Hunger Games" by Suzanne Collins — Addie Gleason
Set in a deadly dystopian society, "The Hunger Games" follows the main character Katniss Everdeen in her journey to survive the government's "Hunger Games," a televised competition in which two children from every district — amounting to 24 total — fight and live in a wilderness arena until only one is left standing. Katniss was raised in District 12, the most impoverished district in their society, with an emotionally absent mother and a deceased father. We see Katniss breaking the law to hunt and provide for her near-emotionless mother and vulnerable younger sister, Primrose Everdeen, or Prim, every day. While this action in and of itself shows immense fortitude, Katniss goes even further for her family, volunteering to take Prim's place in the Hunger Games. Throughout the plot, Katniss holds onto her tough nature to overcome adversity and survive for Prim. When her situation becomes life-or-death, Katniss decides to fake her love for Peeta to survive and gain more sponsorships. This action-packed novel truly never gets old, as Katniss's strength of character grows more apparent with each read.
Considering this is my go-to book for long road trips, I'd consider myself well-versed in the so-called "love triangle" between Peeta, Katniss and Katniss's friend from home, Gale. The timeless "Are you team Peeta or team Gale?" question never fails to arise in every discussion about this book, and yet, Katniss's individuality of courage and intelligence is rarely considered. I view Katniss as one of the strongest female main characters written in modern literature. When faced with a situation where many would turn void of human emotion, Katniss brought a loving perspective to those who died in the games. Additionally, Katniss thought quickly on her feet, always adapting to and overcoming every single obstacle thrown at her without fail. Katniss is the heroine we didn't know we needed, inspiring women across the world to find inner strength and determination in the face of immense hardship.
With such a compelling plot, it's no wonder that this book also has a movie adaptation, which is available on Netflix, Apple TV and Prime Video. Whether in reading or watching this story, the power of Collins' writing is clear: women have the power to survive and succeed in any endeavor they must conquer.
View Comments (1)
Your donation will support the student journalists of Parkway West High School. Your contribution will allow us to purchase equipment and cover our annual website hosting costs.
About the Contributors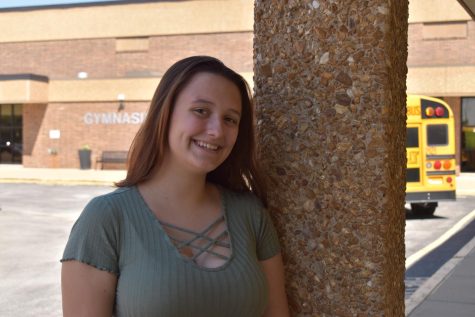 Elle Rotter, Deputy Conceptual Editor-in-Chief
Pronouns: she/her

Grade: 12

Years on staff: 4

What was your favorite childhood TV show? My favorite childhood TV show was Liv and Maddie!

What...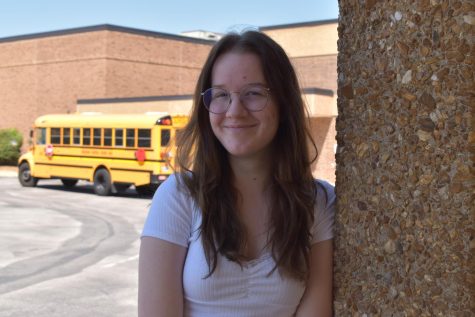 Addie Gleason, Managing Editor-in-Chief
Pronouns: she/her

Grade: 12

Years on staff: 4

What was your favorite childhood TV show? Hannah Montana

What is your favorite book? "They...