Believe in your shelf: librarian Lauren Reusch wins Teacher of the Year award
Dec. 9, school librarian Lauren Reusch was sitting at her desk when principal John McCabe and student photographer junior Abbi Vanvalkenburgh walked into the library, holding balloons and an edible flower arrangement. McCabe picked up a microphone and got the attention of everyone in the library. That was the moment she knew she was going to be the Teacher of the Year. Students across the library stood and applauded her as she talked with McCabe and received her award.
"I was extremely surprised and also very honored," Reusch said. "Going up against two teachers, [Jeff Chazen and Tom Herpel,] who have been here so much longer than I had and who do such great things, it was a shock. It also made me feel really good about what we do here in the library." 
Reusch has been a committed teacher at West for eight years. Now, she co-teaches classes, sponsors Book Club, Crafting for a Cause and co-sponsors Women of West. In addition, she is always looking for ways to make the library interactive and relevant to students.
"I wish I could say I felt like I've done something groundbreaking and amazing. I hope that I have reached a lot of different teachers and students through helping [with] lesson plans as well as working with classes [and] trying to make the library a welcoming place for anyone; a place that if you don't feel like you have a home at West High, the library will welcome you and we have something for you," Reusch said. "I've also tried to do a lot of things with mental health. I feel like more and more kids are struggling with that. I've tried to make it a zone where kids can come to relax, and I have activities that can be brain breaks or stress relievers to help break up their stressful days." 
After getting a degree in elementary education, Reusch found herself as an elementary school librarian in a couple of different schools before becoming a high school librarian. 
"I thought I would be in elementary forever until we moved to Kansas City, Mo., and the only job available was a high school library job," Reusch said. "I took it, not realizing what I was getting myself into, and I just kind of fell in love with the 'in the moment' feel [of the job]. I love [Young Adult] literature. I love interacting with the older kids, and I found a home, and once I started it, I knew I'd never go back to elementary." 
But no matter if she is working in an elementary or high school, she has always viewed being a librarian as an opportunity to get people involved in reading and find their place in school. Reusch loves working with the high school age group and according to senior and library student aide Amelia Burgess, there are a lot of things that Reusch does that go unnoticed by the school: creating contests to get students involved in the library, investing in craft supplies, games and new books and making sure the library Instagram account is updated with the latest news. 
"She works with a lot of different students. She is not teaching just one kind of class or one kind of subject because she is working with everyone together. She gets really animated when she teaches and you can tell she really enjoys it and cares about what she is talking about," Burgess said. "She puts a lot of time and energy into the [social media account] and she tries to make reading fun for people because a lot of people don't like to read. She brainstorms and tries to come up with ideas and be innovative." 
Reusch also assists with developing lesson plans with teachers, helping find new resources for the library and teaching students in different types of classes. Reusch teaches lessons in the library on anything from how to research, to how to interview and start a podcast. 
"
A lot of people assume that most of what we do in the library is check books in and out, and maybe play around on the internet. But most of the time I am trying to seek out new fun ways, engaging ways to do the things that we teach, adding an exciting element to it, reaching out to teachers with resources and things that I feel like they might be able to use in direct instruction. While it doesn't take up all of my time, it takes up a good amount of time just directly working with a class, teaching them new skills,
— Lauren Reusch
Along with working with other classes, Reusch works to make the school more inclusive for all students and get people engaged in reading, crafting, puzzling, creating and other creative contests or activities she has made for the library. In the end, this is why teachers nominated and voted for Reusch to receive this award: she is passionate about her job, thinking about student needs and always looking for ways to improve the school. 
"So often, classroom teachers are the ones who are recognized for Teacher of the Year, so being not in a traditional teacher role and also being recognized was really nice and made me feel great," Reusch said. "I try to make it a place where everyone can see themselves and everyone belongs and can find a place [where] there's no one set of ideals. [The library should be] a place where students feel safe and welcome, where they respect each other, where their voice can be heard, and where they feel represented."
Leave a Comment
Your donation will support the student journalists of Parkway West High School. Your contribution will allow us to purchase equipment and cover our annual website hosting costs.
About the Contributor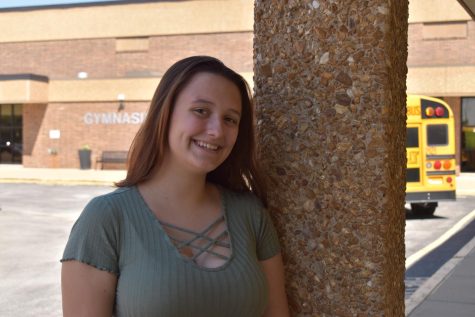 Elle Rotter, Deputy Conceptual Editor-in-Chief
Pronouns: she/her

Grade: 12

Years on staff: 4

What was your favorite childhood TV show? My favorite childhood TV show was Liv and Maddie!

What...