A cross country porta-potty perspective
Disclaimer: "Potty" words are mentioned.
Six total toilets:
>Parkway Quad
>Stan Nelson Invitational
>Paul Enke Invitational [Sioux Passage]
>Dale Shepherd Invitational 
>Patriots/Statesmen Classic [Webster]
>STL Suburban Conference Championships
If you have ever been to a cross country meet, you know they are often in the middle of nowhere, which means the only option for bathrooms are good ol' porta-potties. Unfortunately, these porta-potties — while they are a gross necessity — are often an overlooked part of the meet experience, which usually includes snacking, racing and cheering. Though people typically have an adverse reaction towards porta-potties, I'd like to shed some light on their importance because when you gotta go, you gotta go. Therefore, this is the Parkway West Cross Country program's official review of the 2022 season's porta-potties, with review criteria including porta-potty quantity, smell, wait time and hand sanitizer or hand-washing stations.
Stan Nelson
With 29 different schools attending the Stan Nelson Invitational, one might think there would be more than five porta-potties for everyone. However, having stood in line for nearly an hour and almost missing the race, finding a private bush sounded like a better option. Not to mention the porta-potties themselves were revolting — if not devastating — to the lungs. Stan Nelson's porta-potties were the least favorite for many, including sophomore Sally Peters, who gave the experience a score of 2.5 out of 10.
"My friend [sophomore] Sydney [Etchason] and I had been waiting in line for at least 20 minutes. One of the porta-potties was on red which meant it was occupied, but we had seen no one come in or out of it. We're [thinking], 'this is ridiculous.' We're gonna see if there's anybody in there [or] if they fell asleep. So I knocked on the door, and nobody was in there. I opened it up; it was pristine, hadn't been used the entire cross country meet, and I got to skip the line because I figured it out," Peters said.
Webster
Webster — held at Blackburn Park — had public restroom facilities and a couple of porta-potties, with the girls set up near the facility and the boys near the porta-potties. The restroom near the girls' tent needed more ventilation for the poop smell, had a weird timer sink and there was always a line out the door. However, I would like to shout out the "secret" bathrooms senior Celia Freed showed us that had no line and were much cleaner. That being said, since we hadn't used the porta-potties, it was a shock to hear about the boys' horrible experience with them.
"The worst one was easily Webster because there was poop stuck on the wall. It smelled awful," sophomore Emmett Vernon said. "I went in there, and it smelled like a gas bomb went off. I walked out, and I said, 'dude, do not go in the right porta-potty.'"
Things went very wrong with this — allegedly — flushable porta-potty, resulting in an overflowed porta-potty conundrum. 
"There were two porta-potties [total]. The other bathrooms were under a concourse area and were always used. We set up by the two porta-potties. There was a hand lever to flush the porta-potties, and they got clogged. They smelled really, really bad. [Also, the] toilet paper was crap," senior Grant Patten said.
Sioux Passage
Arguably one of the hardest courses, with hills named "man maker" and "confidence breaker," one could wet their racing shorts at Sioux Passage. But because we try to avoid that, let's talk about their porta-potty situation. There were plenty of porta-potties in a designated flat area. However, despite the quantity, there was always a line. These porta-potties were a little worse than average because they had the usual foul odor but had neither hand sanitizer or sinks. Freshman Nikki Paquette, fortunately, did not have to pee during the race but agreed that longer porta-potty lines make them difficult to use quickly before racing. 
"The Sioux Passage porta-potties had a lot of waste inside. That's not the porta-potties fault, but it made the experience a lot worse," Paquette said. "If there were more [porta-potties] and the line wasn't as long, it would have been more helpful. We ended up using the public bathroom before the race, [which] was worse than the porta-potties."
Parkway Quad
The Parkway Quad was the first meet of the season where all four of the Parkway schools exclusively competed against each other. Nothing stood out about their porta-potties, so they remained mediocre across our rankings. The Quad had around five porta-potties. With only four schools, it was manageable, stayed relatively clean and smelled only the normal amount. This meet generally had fairly average porta-potties, as Etchason can attest. 
"They were mid; they weren't very memorable. I remember that they didn't have hand sanitizer, and I had to get my own. I think they had a mirror, [but] it was a little crusty," Etchason said. "There were just enough [porta-potties] where there was no line, but not all of them were open all the time."
Conference
The Conference meet had many positive reviews for their long, double-sided rows, sinks and relatively fine-smelling porta-potties. Senior Kennedy Whitaker has run cross country for four years now and knows her way around porta-potties; some could even go so far as to nickname her the "porta-potty expert." Whitaker strongly believes that the Conference porta-potties should be ranked higher than Dale Shepherd. 
"The best [porta-potties] were at Conference because there were two [rows of] bathrooms. They had hand sanitizer, a sink outside [and] no line at all. They were very clean, and they weren't smelly. It was a very nice experience. They were inviting. I wanted to go in there and go to the bathroom," Whitaker said. "It's very close, but Dale did not have sinks, some of them didn't have hand sanitizer and they were right behind the starting line, so it was a little hectic over there."
Dale Shepherd
West hosts the Dale Shepherd Invitational annually, and we have great porta-potties. Dale Shepherd was voted a clear winner amongst the other meets' bathroom situations. West's porta-potties landed on top due to the long row of porta-potties that resulted in low wait time and the clean smell that remained throughout the meet.
"My best porta-potty experience was Dale Shepherd because the wait time was very low. The porta-potties were clean and didn't smell a lot. Other people say the best porta-potty experience was Conference, but I disagree because there was a stench," Peters said.
Despite differing opinions and reviews of this season's porta-potties, every athlete interviewed said they were beneficial to their running, or at the very least, they didn't mind them. Porta-potties helped cross country runners such as Patten get pre-race jitters out.
"It helps you get all the nervousness out. You're confined to an area alone for a couple of minutes, and it's just you and the door in front of you. You have time to think and prepare mentally and physically for the race," Patten said.
In addition, going to the bathroom before a race improves performance. Otherwise, one might be uncomfortable while running or risk having an accident during the race. The bottom line is that these porta-potties are helpful and important. 
"[No matter] how bad I have to go, they help with running in general. We always have to go to the bathroom during meets. That's what they're meant for, and I would rather not wipe my butt with a leaf," sophomore Brenden Porter said.
Thoughts and unpopular opinions
"Porta-potties [are] the best invention ever. You can go to the bathroom wherever you want with privacy," Vernon said.
"I'm like, 'yay!' I'll be coming back for you, porta-potty,'" Whitaker said.
"Not all porta-potties are created equal," coach Charles Cutelli said.
"I don't use them because they're disgusting. I will go before and after the meet, but I do not go while we are at the meet," coach Kristen Witt said.
"The blue [exterior] color [of porta-potties] is better than the green color. I have seen the green color porta-potties, but the blue ones are more standard these days. I remember the green ones back in my day, but I don't know why they changed the color," Patten said.
"Hand washing stations are grosser than hand sanitizer because I'm pretty sure they just reuse the water. Where is all this water coming from? Is there a well down there? No, they must be reusing it," Peters said. "You're using somebody else's poop water to wash your hands. I usually use hand sanitizer; a lot of the time, they have it in the porta-potties." 
"Never sit down on the toilet seat," Porter said.
As we're laughing about this season's porta-potties, I can conclude that this light-hearted topic was more complex than I imagined. Listening to opinions and emotions about porta-potties, ranging from excitement to disgust, proved that. Personally, I cringe at their smell yet find them funny, but to each their own. And that's the porta-pot-tea.
View Comments (3)
Your donation will support the student journalists of Parkway West High School. Your contribution will allow us to purchase equipment and cover our annual website hosting costs.
About the Contributor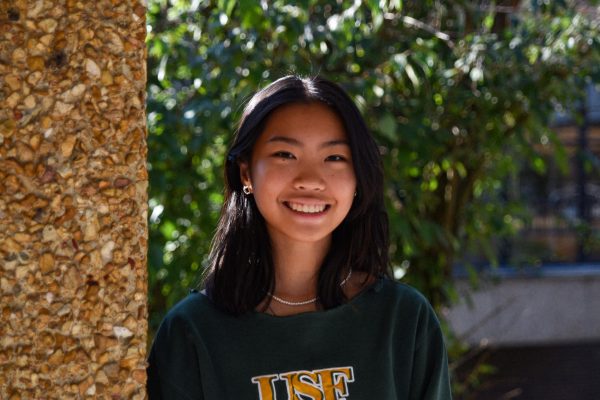 Cindy Phung, A&E Editor
Pronouns: they/she

Grade: 11

Years on staff: 3

What is your favorite piece of literature? "The Perks of Being a Wallflower" by Stephen Chbosky.

Who...