Student suffrage: How to register to vote
As thousands of Missourians prepare to vote for the 2022 midterms, 18-year-old students have the opportunity to join them. 
With midterm elections on Nov. 8, the deadline to register to vote is Oct. 12. Eighteen-year-old students can ask librarians Brian Welch and Lauren Reusch for a registration form. The form requires identification to confirm the student's address, age and identity. After students fill out the form, it will be mailed to their local election authority. Although the deadline to register for midterms is soon, students can register throughout the year for future elections.
"[Students have] to realize that [they're] a part of this generation and [their] generational voice is only going to be as much as [they] put out there," social studies teacher Melvin Trotier said. "I have always encouraged my students to register. Voting is the one thing citizens can do to change who is in government to represent us and should be taken advantage of by all citizens." 
Although she won't be able to register until next year, junior Kashifa Farooq looks forward to being able to vote.
"I think [everyone who can] should register to vote, regardless of political beliefs. Everyone has a right to vote, and in some countries, elections aren't fair. So I feel like if you have the opportunity, why wouldn't you take it?" Farooq said. 
Unless a person has moved, changed their name, has not voted in the past 4 years or wants to update their political affiliation, they do not have to re-register to vote. 
"When students come back and tell me they've voted, it is great to see them excited about participating in the election. I hope that feeling continues throughout their lives," Trotier said.
Students not old enough to vote but who want to get involved may have the opportunity to work as poll workers. They may earn service hours or money working the polls for a day. Trotier and social studies teacher Jeff Chazen can help students interested in this opportunity.
"[The students'] response has been positive in the sense that they're glad they got to see how voting works. What election polls are, how the system works, all those kinds of things. I've never had a student say they would never do it again. They always say they liked the experience," Trotier said.
Leave a Comment
Your donation will support the student journalists of Parkway West High School. Your contribution will allow us to purchase equipment and cover our annual website hosting costs.
About the Contributor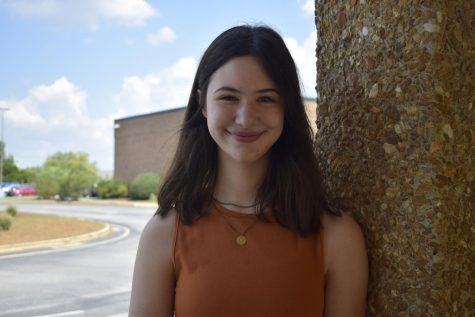 Anna Claywell, Staff Writer
Pronouns: she/her

Grade: 11

Years on staff: 3

What was your favorite childhood TV show? Jessie

What is your favorite book? Little Women

What...