Top hits: The publication staff's favorite songs leading into fall
From the announcement of Taylor Swift's 10th album "Midnights" to the revival of Kate Bush's "Running Up That Hill" on the charts in the aftermath of Stranger Things, the summer of 2022 was record-breaking for the music industry. Songs change with the seasons, and the Pathfinder staff avidly listens to music, covering many artists and genres, ultimately creating The Publications Staff's Top Songs playlist.
Top genre
Competing against genres such as rock, R&B and country, pop is the most popular genre, making up 38% of the staff's favorite songs. Tears for Fears, Crash Adams and BTS, are all pop artists included on the playlist, along with songs like "Year 3000," "I Ain't Worried," "7PM" and "Alejandro." With high-tempo beats and fun rhythms, pop is well-loved, and not just for songs on the playlist.
Top artist
With her name in the headlines and her songs topping the charts, it should be no surprise that Taylor Swift is the top artist of our playlist. Eight of her songs from six different albums are featured: "Fearless (Taylor's Version)," "Speak Now," "Red (Taylor's Version)," "1989," "Lover" and "Folklore."
"Folklore" was released in 2020, and the track "august" quickly became a favorite among her fans, such as sophomore Sabrina Urdaneta. 
"I can relate to the lyrics of it. My favorite [line] from the song is when she says,' Back when we were still changing for the better, wanting was enough, for me, it was enough,' because sometimes you want to try something out, but the other person doesn't, and we could have worked it out if [they] would have been willing to try," Urdaneta said.
Also, from Swift's discography, "All Too Well (10 Minute Version) (Taylor's Version) (From The Vault)" is the longest No. 1 hit on the Billboard Hot 100 chart at 10 minutes and 13 seconds. The 2022 VMA for Best Longform Video was also given to the song's short film. Sophomore Ava Griswold was introduced to the song through her sister and viewed it as one of her favorite songs.
"[My sister and I] talk about her music a lot, it's a way we bond. I love a lot of pop music, and [when] I talk with my sister, she'll give me little quizzes [on what we're listening to]," Griswold said. "[Swift is] someone I've listened to growing up. I'm not one of the huge Swift fans, but I like her music, and the song is therapeutic. I can relate to it, and it's brain candy."
Multi-hit wonders
This category is for artists who have been included on the playlist multiple times for different songs. Besides Swift's eight songs above, three other artists are included.
"As It Was" and "Late Night Talking" by Harry Styles are from the 2022 VMA Album of the Year "Harry's House" and are both featured on the playlist. "As It Was" was suggested by senior Hayley Hubert and is currently first on the Billboard Hot 100.
"It brings back a lot of good memories with my dog. A week before my dog [Brutus] passed away, my sister, Brutus and I went to Starbucks to get him a Puppuccino. We had the windows down, 'As It Was' popped up on the radio and we were jamming to it while my dog was wagging his tail and stuck his head out the window," Hubert said. "It's weird because now it keeps popping up like on the radio when I'm heading to school, heading to cheer or late at night, but it's been always popping up [as a reminder of] so many great memories with him."
Also contributing two songs is the queen of rap herself, Nicki Minaj, for her hits "Super Freaky Girl," which is currently third on the charts, and "Bang Bang." Though the songs were released eight years apart, Minaj proves why she's kept her crown all this time — she never falters in the quality of her music. Her upbeat melodies and impeccable timing, make it much easier to be a "barb" than to not.
The last artist in this category is country music star Morgan Wallen. "Dangerous," "Sand In My Boots," "Wasted On You" and "Whiskey'd My Way" are all included on the playlist. "Dangerous," sophomore Danica Gatchel's summer song has won numerous awards, including an iHeartRadio Country Music Award and an Academy of Country Music Award.
"My whole family likes country music for the most part, but my dad really likes it. So whenever my dad picks me up and rolls the windows down, he'll play [Dangerous]. It ties all my memories together because I spend a lot of time with my dad listening to it — it's our song. I like how [the beat is] slower but upbeat. It's a good mix between pop and country," Gatchel said.
Top song
Finally, although pop was the top genre, our top song of the summer comes from the alternative category. "Bad Habit" by Steve Lacy was the most popular song nominated, though its success measures far beyond our staff. Rising to second place on the Billboard Hot 100 chart, Lacy's hit is the first to top both the Hot R&B/Hip-Hop Songs and Hot Rock & Alternative Songs charts. Junior Eileen Meara is one of several staff members who decided on "Bad Habit" as their summer song.
"It puts me in a happy-go-lucky mood, and since it became popular during the summer, it reminds me of summer. I listen to it in the car while driving with my friends because when I first got my license, it gave me these good memories of driving with the windows down, singing loud and laughing a lot," Meara said. "[My favorite lyric is] 'I bite my tongue, it's a bad habit,' because we all have bad habits, and it's in the song's climax."
Leave a Comment
Your donation will support the student journalists of Parkway West High School. Your contribution will allow us to purchase equipment and cover our annual website hosting costs.
About the Contributor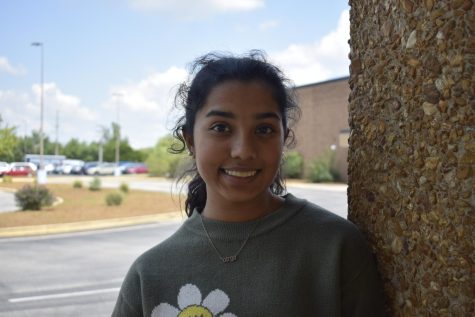 Triya Gudipati, Staff Writer
Pronouns: she/her

Grade: 10

Years on staff: 2

What was your favorite childhood TV show? Growing up, I was a huge Disney fan so either Liv and...