The semicolon is more than punctuation
Students battle depression and suicidal thoughts. Disclaimer: Topics such as suicide, depression and other mental health issues are discussed in this article. To protect the identity of students, fake names have been used.
In modern society, many people's bodies are decorated by flowing curves of ink, carefully tattooed into intricate designs. Certain tattoos have deep, sentimental meaning, whereas others are simply for fun. However, one tattoo holds a valuable place in the hearts of many: the semicolon. Whether it be on the arm or ankle, decorated with flowers or turned into a butterfly, the semicolon holds a deeper meaning than just ink on skin.
Amy Bleuel created the semicolon movement in 2013. After her father took his own life, she wanted to create a way for people to share their stories about mental health and depression. In writing, the semicolon is used when an author could have ended their sentence but chose not to. Likewise, the tattoo represents a person who could have taken their life, but chose to keep fighting. Junior Sawyer Peterson has depression, anxiety and ADHD, and they have struggled with suicidal thoughts in the past.
"It's a really cool symbol for when a person's story could have ended, but didn't. It's definitely something that's been a positive thing for a lot of people. For me personally, it's been something that's just there. I've never put too much thought into it," Peterson said.
Definition and symptoms of depression
Depression can come in many different shapes and sizes, along with having many causes. Factors such as home life, seasons, other illnesses, environment and genetics can all play a role in developing depression. Other identities and the struggles that come along with them also heighten the risk for depression. One example of this is the LGBTQ community, with a suicide attempt rate four times higher than a cishet teen. Being in the LGBTQ community and having depression, anxiety, ADHD and PTSD, junior Irene Thompson relates to this personally.
"Because of the stigma around being a part of the LGBTQ community with parents and society not always being supportive, I don't think depression helps at all. Especially if someone's trans, then they've got that on top of it. It definitely has a big impact," Thompson said.
The reasons for depression and suicidal thoughts are referred to as risk factors, some of which include traumatic events and bullying. On the other hand, protective factors are conditions that better prepare people to deal with stress and hardships. One big protective factor is access to a support system, such as a therapist, group of friends or family. Senior Alan Graham, who has depression and anxiety, built a support system of friends.
"Honestly, my friends just listen to me rant about things that upset me and give me advice when I want. They help me figure myself out as well," Graham said.
Risk factors combined with large amounts of schoolwork create struggles for depressed people. According to the Center for Disease Control, around 6% of teens aged 12 to 17 experience depression. Additionally, around three-fourths of children with depression also have anxiety.
"[School] just adds more you have to do, that you know you should do but you just don't. It can be really stressful. I get mad at myself because I don't understand why I can't just get up, but I feel stuck," Thompson said. "I was involved in a bunch of things; I had three sports. Then I started struggling with [depression] more and more, and I lost all motivation. It wasn't like I didn't want to [do those things] anymore because I did, it's when I thought about doing it I got nauseous. I just felt like I couldn't do it anymore."
Depression is often accompanied by a variety of symptoms. Although mental illness presents itself in different ways for everyone, a few typical symptoms of depression include loss of interest in activities, changes in appetite, irritability, sleeping troubles, lack of energy and increased restlessness.
"It is a debilitating mental illness, so it shouldn't be treated like this great thing because it's awful to deal with. I know for some people, the portrayal of depression as a romanticized thing makes them not want to get better. There's the comfort in not being okay," Peterson said. "I don't know what it's like to experience stuff like a normal person would. I've never had that experience because I've always had some kind of issue, some kind of thing that has been present in my life. I've always had ADHD, and I've had depression for a good portion of my life. It's not like the world is gray and bland and colorless, it's like I don't have the energy to care."
Having so many symptoms present, some people with depression do not remember life without it. This being said, depression is not limited to external symptoms. Internal depression symptoms can involve thoughts of self-harm and feeling like a burden. On one end of the spectrum, a depressed person may have a constant feeling of sadness. On the other end of the spectrum, a person could feel completely numb.
"Depression is more present to me at some times than it is at other times. I'm more aware that it's there. There are times when I am really happy; those two things can coexist. It's just not as happy as I think I could be at the highest points, and the lowest points are pretty rock bottom for me, I don't even want to get out of bed," Peterson said.
The real experience
Even though there are thousands of articles and studies about depression, actually experiencing it is very different. Depression has the capacity to impact every aspect of a person's life. Media does not always portray depression in a truthful way, which can cause harmful stereotypes and stigmas surrounding mental illness.
"You see all this stuff about depression [on] social media, but when it's you, you don't think about it that way. It's almost sensationalized. The media portrays depression as a very specific thing," Peterson said. "It would be great to have a really popular show that handled [suicide] without portraying it in a positive way. It is a tragedy, so it shouldn't be portrayed like the character was the hero in the end."
"
It's not like a constant sadness, but it's an over-expression of negative. If I feel a negative emotion, I feel a negative emotion strongly. I don't just feel somewhat sad."
— Alan Graham
Living with depression is more than just feeling sad. Oftentimes, depression makes it difficult to gain motivation for simple tasks. Brushing hair, cleaning and making food are all examples of seemingly simple tasks that are made harder by depression.
"For me personally, [a depressive episode] feels like I'm out of control. I don't want to do anything, I sleep for 14 hours a day or not at all, it depends. I get impulsive. It's really weird, [the depression] feels like it's sitting on me. Your own thoughts work against you. I'll stare at something that I need to do and still not do it even though I know that I need to," Thompson said. 
Additionally, some people who have depression and suicidal thoughts have to deal with daily triggers. A trigger could be any type of situation or thing that increases anxiety or causes an unwanted emotional reaction. They can cause panic attacks, depressive episodes and other negative responses.
"My depression is typically triggered by social stuff, especially if I mess up in conversation with friends, that's one of my main triggers for it. I just start thinking about what I could have said better and why I'm bad at conversation," Graham said. "It's not like a constant sadness, but it's an over-expression of negative. If I feel a negative emotion, I feel a negative emotion strongly. I don't just feel somewhat sad."
Helping loved ones with depression and suicidal thoughts
With all of this in mind, there are ways that society as a whole can make life with depression easier. One way to help friends and family through their battles is to support them while still giving them space to make their own choices for recovery. Understand that there is no quick solution to depression, but it may get better through progress over time.
"Be there to listen. Sometimes it's just nice to be able to talk without thinking about the person judging you. It's nice to get advice, but sometimes it's nice to be able to rant with no input," Graham said.
There are also nationwide organizations that advocate for mental health awareness. The American Foundation for Suicide Prevention (AFSP) has a chapter in Missouri with programs, events and volunteer opportunities. The National Alliance on Mental Illness (NAMI) has a website with resources for awareness and educational articles. The Anxiety and Depression Association of America (ADAA) assists people in learning about getting help and treatment plans.
"Going online, you're definitely able to get a lot of the information but you're not going to get that personal aspect of it. Going to someone who has actually experienced it is usually a lot more helpful," Graham said.
As suicide rates steadily increase throughout the years, one step you can take for prevention is to be aware of the warning signs and reach out for help if someone is exhibiting them. A suicidal person might suddenly have a very happy mood, seemingly out of nowhere. They also may give away important possessions to loved ones and friends.
"How does [depression] not affect my day to day life? It affects every part of my life, it's a mental illness. It's not something that just goes away. I'm not like 'oh I failed a test I'm feeling so depressed now.' No, it's a constant thing always in the back of my mind," Peterson said. "It's been there so long that I can't really remember what it's like to be without it. This has been going on for me since middle school, at least middle school is when I became aware of it. It [comes] in waves."
Reaching out for help can be hard for a depressed person. Discussions about feelings with family members can seem daunting, which plays a part in higher suicide rates. According to NIMH, the National Institute of Mental Health, men's suicide rates were 3.7 times higher than females in 2019. Stereotypes about masculinity play a large role in the stigma of getting help.
"For people who don't fully fit in the gender roles it can be really hard to talk to people about feelings. At least the group I'm in is a very accepting group. In less accepting groups, it's like I don't want these people to dislike me because of me being myself," Graham said. "[Without mental barriers it] would be a lot easier to go out and talk to people without that fear of messing up and hating yourself for it."
While bringing up discussions about mental health, there are plenty of resources with advice on how to talk to parents and friends about depression. Going into the discussion prepared with talking points is one way to make talking less anxiety-inducing.
"[My parents] sat me down to talk about school because I wasn't doing well. They were really mad and yelling at me. I had to sit there and wait so I could talk to them about how I was feeling because I couldn't do anything. In order to get medication and therapy I had to open up to them," Thompson said.
From a parent's perspective, one of the steps you can take in a discussion is listening to your child's concerns seriously. Experts say dismissal of a teen's feelings frequently puts them in a deeper depression and a position where they feel as if they can't reach out for help. In order to combat this, you could work together with your child to figure out the best route to take so that both parties are informed and happy with the decisions being made.
"It would be pretty hard to bring up because you look up to your parents and do not want them to think less of you as a person for feeling that way. Even though it's completely irrational and they don't care, it's still a thought that's there," Graham said.
However, as much as teens wish all parents could be supportive, sometimes that's not the case. When parents are being unsupportive and dismissive, it is vital to build a support system of friends and other trusted adults. If this option is unavailable as well, there are a variety of hotlines and online chat spaces created for those who are in mental health crises.
"I feel way closer to my friends because I can open up to them, they don't just dismiss it," Thompson said. "It's mostly just understanding because when people try to help and try to fix it, it makes it worse. Trying to cheer [me] up doesn't really help."
Nevertheless, remember that you are not solely responsible for your loved one's well-being. Do not blame yourself if your efforts seem to be unhelpful. Reaching out and being supportive is often enough to show you care about your depressed loved one.
"I understand the feeling of blaming yourself, but also sometimes the person just gets into that state and cannot get out of it. Sometimes when attempts don't help, you shouldn't blame yourself if you can't help them. Just knowing the fact that people care about you enough to reach out and try to help is help in its own right, even if what they're actually doing doesn't help," Graham said.
Although it may seem like getting better is impossible, Project Semicolon is proof that there are people who have recovered. Through a simple mark on a wrist, millions are united in their struggles. The semicolon is not just punctuation, but a symbol for hope, perseverance and a happier future.
"It's a way to unite people because you can see that person understands or they're supportive of it. I was going to give myself [a semicolon tattoo] on my pinkie. It's a safe space because if you see that then you know you're good there," Thompson said.
View Comments (1)
Your donation will support the student journalists of Parkway West High School. Your contribution will allow us to purchase equipment and cover our annual website hosting costs.
About the Contributor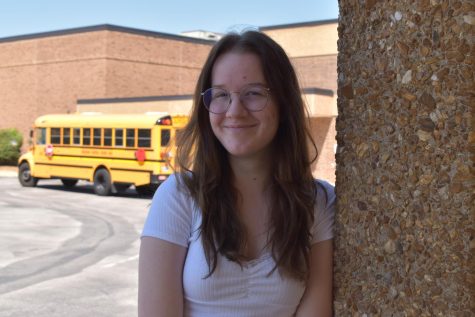 Addie Gleason, Managing Editor-in-Chief
Pronouns: she/her

Grade: 12

Years on staff: 4

What was your favorite childhood TV show? Hannah Montana

What is your favorite book? "They...