Sisters separated: sophomore Lia Emry discovers biological sister
After she was abandoned at birth, sophomore Lia Emry was adopted from China when she was just nine months old. At the age of eight, Emry took a 23andme DNA test to learn more about her ancestry and this past summer discovered her biological sister.
"[I] wanted to know my ancestral background. We don't know my biological parents or any of my biological family. [I] took it because we wanted to see what my heritage was," Emry said. "I found some distant cousins. We didn't really think that I was going to find [an immediate] family member. I kind of expected to have a sibling, but we never expected to find them. We think that I probably have more."
23andme analyzes a sample of saliva in order to determine information about an individual's ancestry and genetic characteristics. The site also helps users to learn about their ancestors and connect with living family members. Several years after Emry took her DNA test, her sister, Jadyn Duczman took one as well. After Duczman received her results, Emry received a notification that 23andme had found a biological relative. Two weeks before the school year started, Emry's mom received a notification on her phone displaying the word 'sister.' 
"She handed me the phone, and it said, sister. I didn't scream or anything, I was just like 'what.' I thought it was a joke. I was speechless. I wasn't crying or sobbing, it was more like 'oh my gosh, this is crazy," Emry said. "People always ask me, 'are you excited?' When I first found out, I was more speechless than anything. It wasn't bad news, it was good news. I've always been an only child, so to find out that I could be an aunt or have a family biologically related to me is pretty cool."
Like Emry, her mother was excited by the prospect of Emry having a biological family. 
"My mom was beyond excited because she really wants me to have a [biological] family. That's pretty important to me because I don't know anybody biologically related to me. I think she was just thrilled and she was really speechless too," Emry said.
Emry's sister, Jadyn Duczman, reached out to her through 23andme. Shortly after, the sisters began to communicate through Snapchat. At first, Emry says the connection was mostly surface-level, and the girls compared things like height and favorite colors. Emry learned that Duczman was 18 and lived in Canada. Through their ongoing communications, the sisters began to connect. 
"It's kind of hard to talk because even though we're biologically related, we've never known each other. I definitely think that we have a little bit of a connection because we're sisters, but it's not like we've been best friends for life since we just met each other this summer," Emry said. "When Jadyn and I were talking, we were comparing how we were found. Jadyn said that [when] she was found, she was emaciated and in really bad shape, which I wasn't."
Emry believes this experience has helped her reflect on her ancestry and consider her culture.
"I didn't know any family. I was abandoned at birth. When my mom got me, I was still pretty young. So, I definitely don't have a lot of culture. My family is white. I don't use chopsticks. I'm very in with the white culture. [Finding my sister has] definitely made me think about who I am and where I'm from," Emry said.
Emry is considering traveling to meet her sister next summer. 
"I definitely want to meet up with her. I want to get closer with her because she is my sister. I've always been an only child, so it's really good news to find out," Emry said. "I think it would be awkward at first, but I would be super excited and I feel like we would end up really getting to know each other."
Emry feels like this experience has changed her. 
"I think more about my background and ancestry because sometimes I feel, not that I'm lost, but that everyone around me is not Chinese or Asian. It's definitely made me think about my biological parents because that's definitely a touchy subject for me," Emry said. "I haven't changed as a person, but I've definitely thought more about where I came from and my culture. It was good to think about where I came from."
Leave a Comment
Your donation will support the student journalists of Parkway West High School. Your contribution will allow us to purchase equipment and cover our annual website hosting costs.
About the Contributor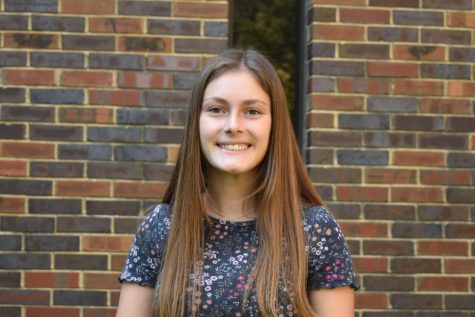 Leah Schroeder, Managing Editor-in-Chief
Pronouns: she/her

I am a senior this year, and it will be my fourth year on staff. The Pathfinder has pushed me out of my comfort zone, made me more...