The show must go on
Theatre department makes a comeback after pandemic strikes
"A really long time ago, I realized that this is how it's going to be—if it was for the safety of my peers and my family, then that's how it was going to have to be, and I accepted that. But it was hard. It was really difficult to cope with that," senior Arden Dickson said. 
For a few weeks at the beginning of the school year, Dickson struggled with accepting that she wouldn't be able to put on a final performance in her last year of high school.
Needless to say, the COVID-19 pandemic has shaken and disrupted the lives of many, especially the entertainment world. But there's one group that often gets overlooked in the scheme of things: theatre. 
The Drama Department is made up of four different sections: Funsize Films, the Film Club, Longhorn Sports Productions & News, Parkway West Dramatics Company, which does the after-school musicals and plays and Running With Scissors, the Improv team. Due to the core need of an audience, alongside a strong cast and crew, the drama department has not been able to perform normally since March 2020. 
Running With Scissors
Senior Clare Weaver earned an Improv Captain role after three years of participating in Running With Scissors. Due to the pandemic and concerns of safety, four Improv shows were cancelled last semester and the very beginning of this semester. 
"We weren't able to do anything at the end of last year, because nothing was happening at the end of last year. First semester was all virtual, so you know, there was a lack of people," Weaver said. "And then we tried to do stuff this [semester], but again, it was really hard to gather people to justify doing practices. There's still a reason to practice, the reason to cultivate and harness the skills, but to what end goal?"
The Improv team practices by playing games and going over ways to improve their skills. 
"We get new people coming in to act, we get to meet new people," Weaver said. "It's a very close-knit community and it's very easy to bond because you're with them for hours a day. Improv is really fun and it's really unfortunate that I wasn't able to do that this year, especially in a leadership position. I was really excited. The Improv shows are very different from mainstage. In the way that – you know, Improv is Improv. It's inherently going to be different than a scripted show. They're very fun, jovial, one might say."
As an Improv Captain, Weaver organizes and helps oversee auditions. A few attempts of putting practices together over Zoom have happened but none have come to fruition. Usually, the group is able to build up a decent-sized cast, but with quarantine and distancing, Improv has had trouble getting participants, especially from the freshman class.
"I was also really excited because … as we lose seniors every year, we get new people. And I was really excited to get a lot of new people, especially because the freshman class was so big. But we haven't had as much opportunity to try and publicize the auditions and to get people in, so it was disappointing," Weaver said. 
Senior Directed One-Acts
Although Improv has been put on hold for the time being, two remaining productions––the Senior-Directed One-Act plays and the spring production––will return this spring in the fourth quarter. Unlike previous auditions and performances, the process will look a little different to keep up with the needs of the students.
Senior Rishita Nannapaneni is one of the three directors of the One-Acts, along with seniors Vince Knight and Paulina Taranda. There are major changes being made to the production, including turning the previously-stage-based plays into a digital experience where they will record, edit and add in sound effects to present to an online audience.
"Because of the pandemic, we weren't sure if we were allowed to do anything [totally in-person], even with social distancing, so we decided to make it digital to make it as safe as possible," Nannapaneni said. "[Another] reason is because the class ends much faster than it would have, so we were trying to finish everything by the time the quarter ended. Also, just having that many people trying to be coordinated in [those few] rehearsal days, that would definitely take a lot longer. It's definitely unique to try to have everything [filmed] in one hour [each day] but it's definitely also because of time reasons."
However, both Knight and Nannapaneni are experienced in the world of filmmaking, as they have been taking film-oriented classes such as Screenwriting and Cinematography. 
"For me personally, this is something that I want to do. I want to be a film director so I wanted to take this class to help me get there, even though I knew it was going to be play-directing," Knight said. "But because we're now virtual, I actually prefer it this way because it resembles what I want to do in the future. So I'm really excited to get started with filming and the editing process and putting it all together."
In comparison to previous years, this year's One-Act will not have an opening night nor will there be an audience to perform in front of. Despite the difficulties that the pandemic and the uncertainties its repercussions brought, Knight will keep her role as director and editor, making it the first One-Act in two years.
"It's definitely not what I had hoped for, or anticipated," Knight said. "But we're doing the most that we can and I think that's really all that matters. So I can still be a part of it, I can still do what I like to do. So that's really amazing to do."
Spring Production
Dickson is a seasoned actor, who has been involved in theatre even before she attended high school. She has acted in theatre all four of her high school years and participated in 10 productions.
"We've just gotten the greenlight to do a spring production, alongside the digital one-acts. We finally got that yes," Dickson said. "It's a sigh of relief, really." 
Theatre sponsor Amie Gossett teaches 13 different classes dealing with acting, directing and cinematography. She has sponsored the department for the past 18 years. This year, auditions were adapted to fit the guidelines of social distancing.
"
For me personally, this is something that I want to do. I want to be a film director so I wanted to take this class to help me get there, even though I knew it was going to be play-directing.
— Vince Knight
"We will be doing the audition process in-person like we always have, but it will be more individualized and will be held more like a movie call to where students will be performing cold readings with a reader and not a partner standing up with them," Gossett said. 
The theatre department has no "governing body" which means that it is overseen by the director and sponsors, but there is no collective overall group that sets guidelines. Unlike sports, which are regulated by MISHAA, theatre has not had the resources or stability to put on performances. The show will still have some restrictions, along with the natural consequences of being in a pandemic. 
"It is a little tough because we do not have the stamina or routine put into [the] play that we have had in the past," Gossett said. "With school restrictions, no after-school buses for activities and the inability to be together as much as we would have been in the past due to social distancing requirements, [we do not have as much participation]."
The spring production will have the ability to market to younger students in elementary and high school to gain more participation in the future. Although the season has been disrupted, Gossett's goal is to keep theatre students both safe and happy.
"I am all about changing and growing and doing what we have to do to be able to have the membership, dedication and devotion of the student involvement," Gossett said.
The theatre department will be following guidelines for rehearsals and shows along with live-streaming the performance online. Dickson had previously accepted the fate that there was not going to be performances for the safety of the cast, crew and audience, but now she is excited to go back to her found family.  
"At the beginning of COVID[-19], it was really tough. I'm a super extroverted person and I love being around people so that beginning shot was really hard for me," Dickson said. "But we're finally able to get back to our art, get back to our community that we love so much. The community that's so important. I know so many kids who have theatre as their safe space, where they have people who they know who will really support them. People look at it as something different from sports teams for whatever reason, but it really is that same kind of comradery that you'd find in any other activity."
View Comments (2)
Your donation will support the student journalists of Parkway West High School. Your contribution will allow us to purchase equipment and cover our annual website hosting costs.
About the Contributor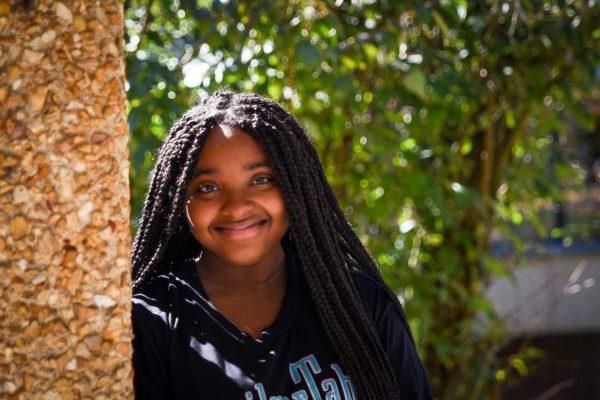 Elizabeth Franklin, Editor-in-Chief
Pronouns: she/her

Grade: 12

Years on staff: 4

What is your favorite piece of literature?"Roll of Thunder, Hear My Cry" is such a classic piece...