Nalbandian Nosh: January Review
Happy New Year Nalbandian Noshers! Entering 2021, we hoped to finally have the chance to sit down and eat our meals at a restaurant, but as this is still not a safe option, this month we picked up Mexican food from Charro. When we are traveling in areas known for great Mexican, we always seek out the locals' favorite spot. Here at home in St. Louis, great Mexican food is not hard to find: there are numerous Mexican groceries and restaurants all along Cherokee street. We have some great spots even in West County, including one featured on a Food Network show hosted by a spiky haired and flip-flopped bedecked host. For this month's "Nosh" we chose a Mexican spot in a location central to the local community. We were dying to try Charro and we know you're dying to read our thoughts, so here is our review of a few of their Mexican dishes.
The Herbivore's Meal
Veggie Fajitas, $12.99
As I've mentioned before, vegetarian meals at certain restaurants tend to cater more towards palateless rabbits. However, I was glad to see that Charro had at least a few options and went with Veggie Fajitas.There were a few delays to actually getting the food. Picking up the food meant a longer than expected wait. Not a travesty by any means, but disappointing nonetheless.  When we got home, we discovered that Charro had switched my dish with another one. Now, unlike you boomers out there, I do not get mad at service industry workers when they make a mistake, as my anger-prone father demonstrated on the phone with Charro. Fortunately, they were very generous and informed us that my dish was ready, so I made my brother go back and get my correct meal. 
When I finally got to dig into my meal, I was pleased to see that they had not already assembled the fajitas. While this might seem like an annoyance, in reality, pre-assembled fajitas leave a lot of risk for devolvement through the takeout process. So, a fresh set of vegetable filling, beans, cheese was exciting to behold.
I always enjoy a wide variety of vegetables, and here, they provided a nice crunchy base for the fajita, supplemented with refried beans that added a softer texture. The overall taste was solid, but I wish it would have been spicier. I've been building up my spice tolerance slowly and steadily, so I felt like I could have handled more. Still, I can't deny that I loved the taste of their vegetables and savory flavoring combined with beans.
Overall, I thought the meal was a tad basic and lacked any powerful flavor; it would probably have disappointed Guy Fieri. And though I have defended tofu so vehemently in the past, it is nice to have some alternative proteins in a vegetarian meal, along with other tasty ingredients. I hope to try Charro again and maybe sample another vegetarian dish, hopefully in-person.
The Carnivore's Meal
Chile Colorado, $10.99 
Queso Fundido, $6.99
Before we dig in there is one thing that must be clarified: Mexican food MUST be eaten immediately, as it is at its best when fresh and hot from the kitchen. (It just doesn't sit well for very long). As any good parent does, my wife and I made our kids drive to pick it up as soon as it was ready. When they came home we noticed that the Vegetarian's order was missing, so we had to send our in-house driver back to get that. They were very nice and apologized while offering free chips and salsa to accommodate us—they must be readers of this column. Next we noticed that my entrée had been packed into the bag sideways, as shown to the right, so the food was all sloshed together on one side of the serving tray. So instead of Chile Colorado I got ChileRefriedSpanishBeansandRicewithCheese–not my favorite. With a rocky start, we'll move onto the food!
Queso Fundido is one of my favorite appetizers, as I love Chorizo Sausage. It is a spicy Spanish sausage that is mainly cured with pork— but can be made with other meats— and spices including salt, cumin and primarily cured and smoked Spanish Paprika. In Mexico, this sausage will forgo some paprika and will substitute local dried and ground red peppers and will not be smoked, so it'll need to be cooked before adding to dishes or serving. Here it was added to a variety of melted cheeses, like queso Oaxaca. We needed to reheat this one and the chips were a little greasy, which happens if they are not stored in a warmer with a little ventilation to allow for drying. The flavors of the sausage came through and it was the star of the show.
The Chile Colorado is a Mexican all-meat stew named not for the state, but rather for the Spanish word which means 'color red.' It is made by slowly stewing meat in a sauce made from the reconstituted combination of three peppers. In Hispanic cooking, peppers of many varieties are dried and sold for use later, making the storage and transportation easier. In this dish the three main peppers are Ancho, a dried version of Poblano, Arbol, a skinny, red and very hot variety from southern Mexico, and Guajillo, a medium heat red from the Zacatecas region. The meat would be sliced into chunks and then added to a sauce so that the meat takes on the flavors while allowing the simmering sauce to reduce, creating a thickened meat stew served with Spanish rice and refried pinto beans. 
Unfortunately, due to the condition of the dish as it arrived–sad and sideways– it was difficult to discern and appreciate the flavors of the entree. So for me the highlight was the appetizer and let's be honest, sometimes all we really want is to eat appetizers, am I right or am I right? While my favorite Food Network star may have chosen right in featuring a different St. Louis Mexican restaurant on his show, we still enjoyed our meal at Charro.
Leave a Comment
Your donation will support the student journalists of Parkway West High School. Your contribution will allow us to purchase equipment and cover our annual website hosting costs.
About the Contributor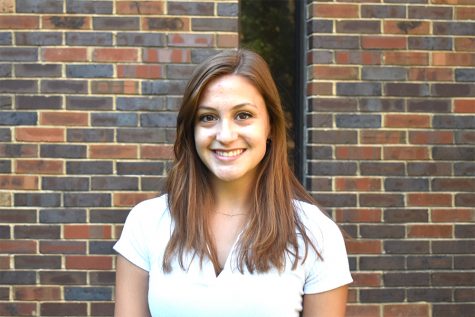 Mira Nalbandian, Managing Editor-in-Chief
Pronouns: she/her

I am a senior, and this is my third year on staff. I joined journalism to earn a CTE credit, but I've found that the Pathfinder...