Nalbandian Nosh: December review
Welcome back to the Nalbandian Nosh. As the weather gets colder and the holiday season quickly approaches, we decided it was time for some good old fashioned comfort food. By that, we mean Asian cuisine. But where to go? Many places we would have loved to go to center on an in-person experience, like the fun of getting food thrown at you at Oishi's. These establishments do offer curbside, but it's really not the same as being there. One restaurant that has always held a special place in our hearts is Hunan Empress. I went there for my 11th birthday dinner and received my third copy of Harry Potter and the Sorcerer's Stone from a very disappointed and much less socially awkward older brother, so you could say I have very good memories associated with it. I won't make you wait any longer; please enjoy our review of this month's selection, Hunan Empress.
The Herbivore's Meal
In the past when I've eaten at Hunan Empress, I've been able to enjoy the many delicious meat options available, to the dismay of animals everywhere. This time around, considering my new diet, I needed to find a good meatless meal that would still be satisfying–something that is not always easy. I was delighted to see that Hunan Empress had many vegetarian options, including a whole section labeled "Vegetables." I was also happy to see that many options included tofu. Look, I know tofu is regarded as the disgusting staple nourishment of the hippie, tree-hugging vegetarian, but it really isn't bad at all if it's cooked properly. Honestly, it has a really mild taste so it blends really well into the flavor of any dish.
Tofu slander addressed, I decided to order the Hunan Vegetarian Delight, as it sounded like a safe bet. The dish consists of basically a truck load of different vegetables, including peppers, mushrooms, baby corn, broccoli, carrots and celery, as well as fried tofu, all in a slightly spicy but savory sauce. I am a big fan of most vegetables–it would be pretty difficult to be a vegetarian if I wasn't–so it was very fulfilling to see the Vegetarian Delight live up to its name. I was wary that I would be presented with a traditional vegetarian meal of a few limp pieces of broccoli and a slab of tofu, but instead I was gifted with an abundant assortment of vegetables. The vegetables ranged from crunchy, like the edamame, to softer, like the mushrooms. The tofu was its usual consistency, and I have no complaints about that, unlike you tofu cowards. Overall, Hunan Empress really impressed me with it's commitment to giving vegetarians not only an actual meal, but one with more than two or three bland components.
As for the flavor, though the dish was marked as spicy on the menu, I refused to shy away. I've been slowly but steadily building up my spice tolerance over the years and I found the Vegetarian Delight a little underwhelming in the spice category. I'm not really sure whether this is a compliment to my progress or a sign that the spice wasn't very strong. Though lacking that truly powerful spice, the flavor was tasty, combining a pleasant mix of savory and sweet. I do admit the dish had a little kick, but nothing I couldn't handle. There was a lot of sauce with the meal, but with the addition of white rice it wasn't a problem.
In minutes I was finished, thanks to a combination of satisfying ingredients, variety of textures, and mouth watering flavor. On a completely unrelated note, I had not eaten anything that day but a cup of low-sugar yogurt—which I swiftly counteract each time by dumping a bunch of semi-sweet chocolate chips into it—and a dozen handfuls of my mother's holiday season chex mix. While that may or may not have added to the satisfactory nature of the dish, I would down this dish very quickly no matter the day's eating habits. 
The Carnivore's Meal
In the time of COVID-19 I'm certain that one of our staple dinner items has been take-out Asian cuisine; in our house it is a favorite. Hunan Empress is one of the few Asian restaurants in West County that still offers the full restaurant experience. They are not just a fast food or quick serve type of place, but rather offers one of the nicer atmospheres in which to dine. When they are able to open the dining room you'll be greeted by a warm smile and attentive service that includes a hot pot of tea on your table and real linens, that are becoming passé these days in many corners of our community. My grandparents often took me here when I was younger and I can remember coming in on Christmas Eve with them from time to time (yes, we had reservations and yes, it was always packed).
One of my favorite Asian dinner items is the classic Crab Rangoon and these are among the best I have tried. They are crispy and light, having been fried in peanut oil and they are full of real crab meat, unlike many frozen versions that add crab flavoring and food color. Likewise, the BBQ Spareribs are perfectly grilled and come with a house made Korean style barbecue sauce–not the bottled version that often comes in a bright red color. They are a large portion and each stick is at least 3 ounces of tender steak, as most versions of this dish generally are.
Finally, for my entrée I chose a staple of mine, the Empress Shrimp. (They also offer a beef and chicken version of this dish.) It is a meat and vegetable combination of red and green bell peppers, onions and sauce. The meat is coated in a light tempura batter, an Asian dipping batter made of rice flour, cornstarch and cold water. Next, the shrimp is deep fried in peanut oil until light and crispy, then it is coated with a sauce that is a combination of Korean style BBQ with a more pronounced citrus overtone: orange and a hint of kumquat. These are all combined with the vegetables and generously sprinkled with sesame seeds for a touch of crunch. Like all entrees it is served with sticky rice and is beyond delicious. 
The only thing that would make this a better experience would be the enjoyment and memories of dining in the friendly dining room, but hopefully this will soon come again. As a way to say thank you for supporting them through COVID-19 restrictions, they will sneak an order of egg-drop soup into your bag at no extra charge. Now you just can't beat that.
Leave a Comment
Your donation will support the student journalists of Parkway West High School. Your contribution will allow us to purchase equipment and cover our annual website hosting costs.
About the Contributor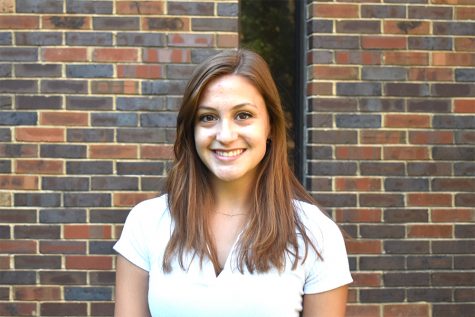 Mira Nalbandian, Managing Editor-in-Chief
Pronouns: she/her

I am a senior, and this is my third year on staff. I joined journalism to earn a CTE credit, but I've found that the Pathfinder...