WPO fundraiser sparks questions about inclusivity
The West Parent Organization (WPO) sent an email Nov. 2 to students and parents announcing their new holiday wreath fundraiser running through Nov. 15. This email included a digital order form of products from Rose Wreath, LLC.
The WPO runs many events each year to fund class graduation parties, teacher wishes, scholarships and more. This most recent fundraiser, however, raised questions about the secularism of selling red and green wreaths, evergreen crosses and Christmas trees. 
"On the one hand, if you're going to have a fundraiser selling Christmas wreaths and [decorations], then just call it a Christmas wreath fundraiser. [In that case], I wouldn't have even opened the email. My question is, why are you calling it a holiday wreath fundraiser if [Christmas] is not everybody's holiday?" parent Brigitte Rosenberg said. "Even though Christmas has become Americanized, it is very much a religious holiday, so calling it a holiday [fundraiser] just makes it feel like we're bringing religion into a public school, into a public space."
The majority of families in our community do, however, celebrate Christmas, a holiday of giving. Scheduling a fundraiser around this major philanthropic holiday could help support the WPO's efforts to fund activities for students and faculty. Every WPO position is filled by a volunteer, and the more money an event might raise, the more efficient it would be.
"We're trying to do the best we can. We are a group of volunteers volunteering our time to help raise money for our students and our faculty," WPO President Laurie Graves said. "We're having to adjust very quickly [due to COVID-19] to help support our school. We're doing the best we can to raise funds for our school and create a positive environment for the student body [and] the faculty."
While selling Christmas-themed items might more easily support activities and grants for students and faculty, it can also exclude students and families of the community who do not celebrate the religious holiday. This is not exclusive to fundraisers. One year, the bulletin board in the math department was decorated with Christmas presents.
"December is a time when people who don't celebrate Christmas [can] feel very lonely [because] the majority of our country [is] celebrating a holiday and you don't," Rosenberg said. "There weren't any other holiday options. They could've done [one] for Thanksgiving, or they could have done one with blue or silver ribbon for Hanukkah. A fundraiser like this means you're guaranteeing that not everybody is going to participate in it."
The WPO is taking steps to explore, represent and promote the diversity in our community. One of these steps included creating a Cultural Liaison role last year.
"We realize that there is a lot of diversity at West and it's not always represented," Graves said. "It takes a community to help bring all that together so we're appreciative of the fact that May [Shiaa, our Cultural Liaison,] is stepping up and helping us with that. We have a lot of ideas that I'm not sure how we're going to move forward with at this point, just because of [COVID-19], but we're trying to help promote all the different views in the community."
This is one example of how the WPO is pursuing progress in matters of diversity and inclusivity, and the questions raised by the community hope to give rise to more examples.
"I don't think anybody meant any harm to anybody, it's more of a 'could we stop and think about all the students and families in the school that don't celebrate this particular holiday and what might it be like for them?' My hope is just that in the future it'll be considered," Rosenberg said. "I do wish the parent organization luck and wish that they have a successful fundraiser. I just hope that in the future there [are] opportunities for all families to potentially be involved."
This presentation shows selected items for sale on the WPO's holiday wreath fundraiser order form.
Leave a Comment
Your donation will support the student journalists of Parkway West High School. Your contribution will allow us to purchase equipment and cover our annual website hosting costs.
About the Contributor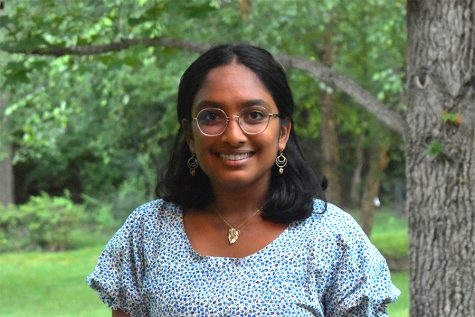 Brinda Ambal, Conceptual Editor-in-Chief
Pronouns: she/her

I am a senior, and this is my fourth year on staff. The Pathfinder has helped me push myself independently, build a supportive community...