Senior Ryan Caton reflects on his running career after his final season is postponed
After three months of preparation and running more than 500 miles during the off-season, senior Ryan Caton is one of many spring athletes seeing their final season slip away due to the COVID-19 pandemic. Parkway officially announced April 9 that all schools and athletics, including track and field, were postponed, in a statement released by the athletics director. 
As a junior, Caton became one of the top runners in the state of Missouri, placing 45th at the Missouri State meet in cross country. He ran all four years on the cross country team and also spent three years on the track team with the final season being postponed.
"I was very upset about the cancellation of the [track] season; however, I am still running, and I will continue to because I can't just give up," Caton said. "The only thing I can do now is to stay positive and look forward to my future. I chose to not dwell on the track season and to keep my head up on training for what's next."
Caton's passion for running all started when he was a freshman as he decided to try something new by joining the cross country team. 
"I joined because I knew I wanted to do a sport in the fall, and I was pretty good at running. I ended up joining the cross country team. I actually went into high school wanting to do baseball. After the first cross country season, my teammates ended up changing my mind, and now, I absolutely love track," Caton said. "I am so glad I chose track because now I have developed a reinforcement to improve my running overall, making me a better [runner]."
During each offseason, he spent large portions of time running and logged more than 2,300 miles. 
"Running is a hard sport, and without all the extra training, I would be going nowhere. I am very happy and grateful that I'm able to run as well as I am now," Caton said. "Looking back at all the work I have done, I know that it absolutely paid off, after improving my race times. Practicing was totally worth it, and the best part was being able to make strong bonds with my teammates."
Caton sees track and cross country as much more than just running.
"This sport means a whole lot to me, and it is almost a part of me. Many people see the sport of cross country only as running. I think running is just half of it. Working with the team and having relationships [with] teammates, whether it's at school, practice or elsewhere, is the other half," Caton said. "I think I am definitely a stronger person physically and mentally because of the constant goals and hard work I put in. The effort in [cross country] is just as if you were to put work into school. Getting good grades is no different than putting work into running, and you can [develop] great friendships, become more physically and mentally fit and [have] an overall confident mindset." 
Some of Caton's favorite cross country memories include his experiences at the 2018 Stan Nelson meet and 2020 District Cross Country meet.
"The Stan Nelson meet was a notoriously muddy race, and it brought new challenges for us to get around, like running through a foot of mud. It was fun at the end, just being able to see the amount of mud that got on us. A teammate even ended up losing a shoe," Caton said. "The most impactful race was [during] my senior year at the district race. [We] really showed our team's true colors after the previous loss we experienced. It brought us together even more and fueled me to be ready for the next race. That day truly changed our team's mindset for the best."
Another aspect of Caton's running career was being able to achieve new personal records. 
"During last year's track season, I ran the district mile race. It was a very cold and windy day, and I kept calm, especially with the support of Coach [Kevin] John and Coach [Dale] Shepherd," Caton said. "I ended up with a very big personal record, a 4:36 mile time. Hitting these new personal records lets you know you're improving and keeps you on the right track."
After learning various lessons along the way, Caton was able to accomplish his own strategy of pacing during the state meet, allowing him to place in the top 50.
"The intensity level was very high. It was my first and last high school state race, and I was thrilled but scared in some ways. The best thing to do is to keep your cool at the start of the race and to go out quickly but not tire yourself. In big races, I like to start picking off people one by one and move up into a good position," Caton said. "The team tried to race in packs, but we weren't all on the same page, which happens sometimes. Always working to move up is my way to get good times during races."
"
This sport means a whole lot to me, and it is almost a part of me. Many people see the sport of cross country only as running. I think running is just half of it. Working with the team and having relationships [with] teammates, whether it's at school, practice or elsewhere, is the other half, "
— senior Ryan Caton
Throughout Caton's running career, his team had a unique spirit that kept him going. 
"Unfortunately, districts did not go as planned. Only four of us went on to sectionals, and three went on to state, but the team was all still supporting us. Even if they weren't running, they still cared not only for the sport but for us," Caton said. "That really helped me perform better because no one on the team is in it for themselves; they're in it for the team. That's something I can't thank them enough for." 
Throughout his career, he has looked up to people that were supporting him along the way, including alumnus Nathan Stucki.
"A student who really has inspired me was Nathan Stucki. He was always positive every time I saw him and did things on the team that showed we could always do better," Caton said. "He ended up running 1000 miles over a few months, and everyone was very shocked as it showed us how we can do anything."
After the postponement of the track season, Caton is ready for his future education, as he recently decided to commit to Missouri S&T and plans to run for the school.
"I'm always going to continue running and to remember my high school team. I am going to visit in the years to come, and I've got all my bibs and medals to hold on to," Caton said. "I feel very good about the team at Missouri S&T. I know some people on the team already, and I've talked to the coach and they seem very enthusiastic and nice."
View Comments (3)
Your donation will support the student journalists of Parkway West High School. Your contribution will allow us to purchase equipment and cover our annual website hosting costs.
About the Contributor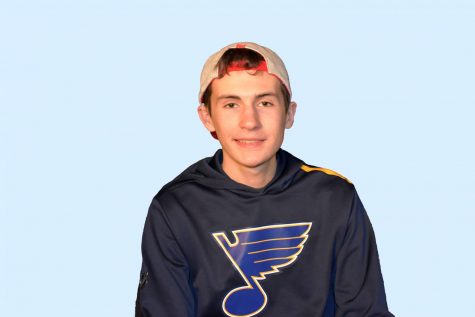 Jacob Stanton, Staff Writer
Grade: 10

Years on Staff: 2

What's your coffee order? Pike roast with vanilla

What song describes you best? Legend by The Score

What is the...