Freshman Martin Franciscus overcomes diabetes through basketball passion
Freshman Martin Franciscus catches the ball and shoots a three-pointer, banking it in off the glass as the crowd erupts and the players on the bench get to their feet, yelling Franciscus' name. Franciscus managed the boys freshman team and, after working hard all season, he was able to play in the last game.
"It was incredible to play and score. That was by far the best day of 2019, if not the best day of my entire life. I will never forget that moment," Franciscus said.
When Franciscus was in fourth grade he received a shocking diagnosis of type 1 diabetes.
"I was stunned. I didn't really know what diabetes was. All I knew was that it was serious, but I was just thinking 'what am I going do now?'" Franciscus said. "I'm worried most days that if my blood sugar goes high, I'll feel bad and could end up in a hospital at any point in time."
Courtesy of Hudson Ribble
Franciscus discovered a love of basketball after he was diagnosed and has not looked back since.
"When I first started playing, it was mostly pickup games with my friends, and I was just looking to get better and improve my game," Franciscus said. "Everyone I play with completely understands my condition and totally accepts it and understands it and lets me take breaks when I need them."
When high school basketball tryouts came along, Franciscus fell just short of a spot on the boys freshman team, but he decided to stick around and manage.
"I wanted to stay and manage, so I could continue to play and still be in the program and to learn more about the game," Franciscus said.
He practiced with the team every day, putting in hours of training to show he had full commitment to the game he loves.
"Martin works as hard, if not harder, than the team in practices. He went 100 percent no matter how tired he was, and he never slowed down," freshman player Michael Lolley said. "On days we didn't have practice, Martin was the only guy that was disappointed, and even Coach Bethany thought he was crazy."
Franciscus' work ethic and dedication to the game was noticed by freshman coach Melvin Bethany who decided, after a season helping the team on the bench, Franciscus would be able to contribute on the court during their last game.
"I wanted to give him the memory, just to say he touched the floor his freshman season and get that experience after how hard he worked with the team," Bethany said.
After not playing a single game this season, Franciscus was able to score five points during his debut in the last game. His contribution made an impact on him and his teammates, who will cherish that memory on the court.
"When he was finally able to play in our last game, it was an amazing feeling," Lolley said. "When he hit that shot, the bench just exploded and that was the loudest the gym was all game. It's something I will remember for a long time."
Franciscus plans to play next year and have basketball still be a part of his everyday life. He will always remember his accomplishments with the team.
"I had an amazing experience this season, and it helped me to realize that even if you don't play on the team, it doesn't mean you can't help them succeed," Franciscus said.
View Comments(1)
Your donation will support the student journalists of Parkway West High School. Your contribution will allow us to purchase equipment and cover our annual website hosting costs.
About the Writer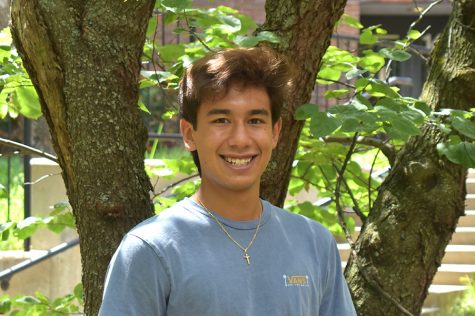 Drew Boone, Staff Writer
Pronouns: He/Him

I am a senior and this will be my fourth year on staff. I look forward to newspaper everyday because it allows me to work at my own...