Athlete Spotlight: Vickey Karl
New sophomore band manager marches—and manages—to the beat of her own heart
For sophomore Vickey Karl, summer meant memorizing six pages of music on a vibraphone and learning her performance part for the 2017-2018 season of band. Summer also brought about the sudden news that after weeks of learning her part in the performance, she would not be able to perform.
"The week before band camp, I went and got a physical, and they heard a significant heart murmur," Karl said. "They said to me, 'you can't do band because the effort of it could result in sudden death from the potential of your heart overbeating.' They called it a three out of six, which is a significant murmur."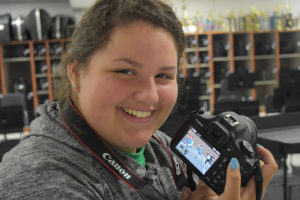 While other signs showed themselves early, the diagnosis of the heart murmur was unexpected.
"I have hypertrophic cardiomyopathy, which is the leading [cause of] death of teen athletes," Karl said. "The signs and the way the disease works is that it's genetic, you have it when you're a baby, but it only shows signs in teenage years. And it's a good thing that I went to get my physical, because otherwise we wouldn't have heard the heart murmur, which is how the disease shows itself."
While hypertrophic cardiomyopathy is treatable, the disease cannot be cured. After both of Karl's parents were tested and showed no signs of the disease, Karl's diagnosis was declared a genetic mutation.
"It's been very scary, emotionally, because [the doctor] said 'you can't [perform] sudden bits of movement or you [could] collapse and die', which is scary to think about," Karl said. "It's just scary to think that I should probably always be aware and with someone. If I'm walking somewhere, I shouldn't be alone."
To fill her role in the show, Karl taught her part to another student. But the loss of her part by no means meant the loss of her participation in band; this season, Karl has taken the position of band manager.
"It's sad to teach my part, but now that I'm the manager, I carry around a backpack, I'm the first aid person, I'll talk people down from having a panic attack when that happens—which happens, that happens sometimes. I don't mind, it's just kind of disappointing. I also commit to Winter Guard, and I can't do Winter Guard [now], so hopefully I'll be a manager of that, too," Karl said.
Although performance is no longer an option, Karl has found plenty of other ways to assist the band program. Popular with parents is Karl's talent in photographing the band, thanks to her knowledge of where the 'safe points' lay on the field as students march around her.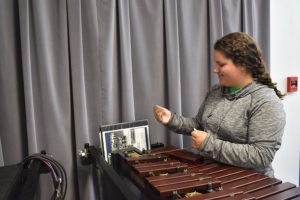 "Parents love when I'm the photographer on the field because I know where the march dots are, so I know where not to get run over. It's nice because I can get those facial reactions, I can get the passion of performing from all the kids on the field," Karl said.
Moving from one spotlight to another, Karl hopes to share her knowledge and passion with the program to benefit her peers.
"I live to perform. I love attention, I'm that person who will get in front of the camera, and no matter what, I'm going to keep trying. So, as a manager, I just promote 'hey, you guys gotta get hyped, you gotta get excited, I want you you to do your best.' Just like I'd do my best," Karl said. "The number one thing we say in band is 'put it all out on the field'. When you walk off, you should be exhausted."
Despite being set back due to her heart murmur, Karl has no plans to lessen her involvement with the program.
"As a manager I want my will to perform to seep into all of them," Karl said. "I want them to be excited to perform and to be all they can be on the field."
About the Contributor
Hannah Hoffmann, TECHNICAL EDITOR-IN-CHIEF
Grade: 12

Years on staff: 4

Life soundtrack: "With Any Sort Of Certainty" by Toh Kay.

Most passionate about: "Disorders and...