Artists celebrate Inktober
With the growing evolution of social media, it's easy for artists around the world to share and compare art. In 2009, artist and children's book creator Jake Parker created an initiative called Inktober, a way for artists to strengthen and share their drawings online.
"I came up with Inktober when I got a new brush pen," Parker said "I wanted to get the community involved and give them an excuse to practice everyday so they could really get better at drawing."
Parker posts a list of 31 prompts every year for artists to follow if they choose. He has a variety of other things on his website such as videos talking about art and a  list of the supplies he uses with descriptions and a link for where to buy them.
"I use Pentel ballpoint pens and Micron pens for outlining," junior Zachary Whistle said. "Copic and Prismacolor markers are great if I need shading or color added."
Parker encourages artists to post their art on social media platforms such as Instagram so they have a place to get feedback from friends and fellow artists using #inktober and #inktober2016.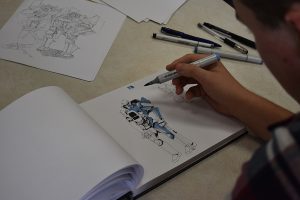 "Social media isn't about how many followers you have, it's about building relationships with your followers," Parker said "those who take the time to comment feedback and tag their friends are the best kind of feedback you can get from posting your art."
Thousands of artists participate every year to show off their art online.
"I think that artists participate every year for the same reasons that I participated this year," sophomore Maame Kyei said. "It's sheer fun working with and getting to know a medium that you are not used to."