Girls cross country recovers from iron deficiencies to start season strong
After the 54th Hancock invitational on Sept. 24, the girls varsity and JVcross country team remains undefeated.
"The race went well, I was a little worried because it was at 11:30 [a.m.] so it was pretty warm on Saturday. We haven't really caught a break so far, we have had either heat or rain," head coach Charlie Cutelli said. "We talked about going out patient on the first mile because it was going to be so hot. Unfortunately, a couple of the teams I thought were going to be there only ran kids in the junior varsity race. So that was a little disappointing because I don't think we have been challenged yet this year."
The varsity team was led by sophomore Natalie Butler, who placed second overall in the race with a time of 20:14.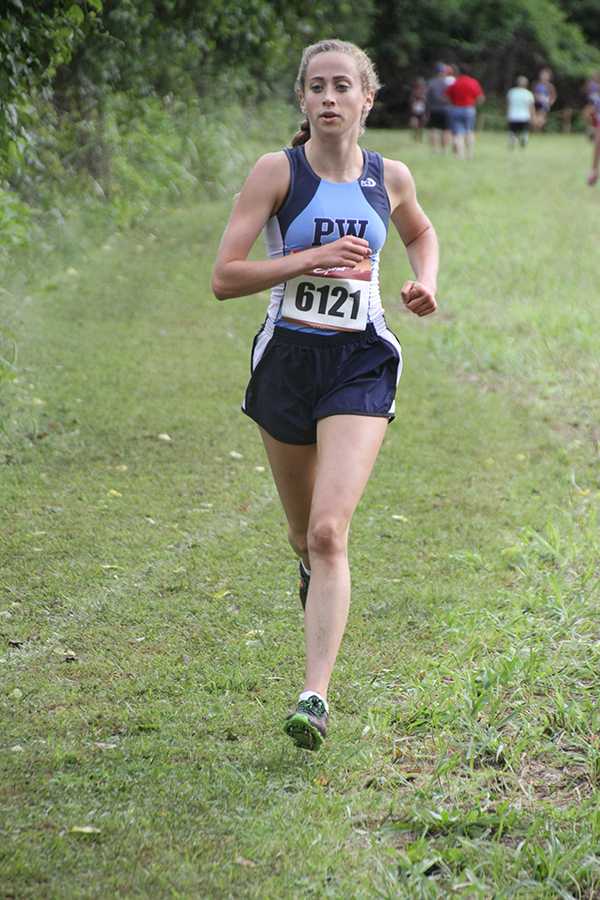 "I came into the race a little intimidated because the girl I was racing with was ranked No. 2 in the state," Butler said. "I just tried to stay with her as long as I could, but then she surged and I didn't. I feel like I could have stayed with her but I just wasn't able to."
Leading into the Hancock invitational, Butler had won all three of the girls preceding meets: the Parkway Quad, Stan Nelson invitational and Sioux Passage invitational.
"I practiced a lot over the summer, I think I ran 340 miles over the summer," Butler said. "I was also on swim team and I went to the Nike Smoky Mountain Running Camp running camp, in North Carolina, over the summer, which was helpful. I went with my friend Emily Dickson. We learned about running techniques and got these charts that based on our mile and 800 personal records, it showed where we should be in our 5k. And it said that I would be in like the 18s or something. So it helped me realize what I am capable of."
At the race on Saturday, Butler was followed by  Dickson, seniors Rikita Saunders, Natalie Rath, Maggie Morse, junior Lauren Calvin and sophomore Hannah Rushing, who placed fourth, eighth, ninth, 13th, 14th, and 22nd respectively.
"Team wise we have a really good front runner. Someone who can get in the top five of any meet that we go to. We surround her with an awesome top seven or eight after that," Cutelli said. "That's the cool part about it, if someone is a little off their game, we have three or four other girls who can come up. Case and point this past weekend Chloe Hershenow was out of town so we pulled Hannah Rushing up, who had been winning all the JV races. She stepped up, and everyone else on varsity stepped up and moved up where they needed too. I am impressed with is the depth that we have."
Five runners face low iron levels, something Butler has struggled with her freshman year.
"In the district race last year, my iron was really taking a toll, and I had just found out about it and at that point there was not much I could do," Butler said. "So at districts I was running and felt really out of it, and I passed out for a quick second but I got up and finished."
Butler, along with other girls on the team, suffers from low ferritin levels, which is a medical condition where red blood cells are unable to provide the body with sufficient amounts of oxygen.
"It's like adding a 25 pound weight to a kid and having them go run a 5k. It doesn't really show itself during workouts or practice, but it will really show itself at the end of a race. So we have had quite a few girls at the end of races look really pale, sometimes if they are really low they get dizzy," Cutelli said. "We have girls running two or three hundred miles in the summer and if they are not careful, then they go into the season not running very well. So my first thought is you might want to get your iron tested because you put in a lot of training and you would expect to see result from someone who does something like that."
There are various treatments for having low ferritin levels.
"I had to take iron pills three times a day over the summer but my iron levels didn't go up," Dickson said. "So at that point we went to an iron speciality doctor and I got an infusion of ferritin directly into my bloodstream. Ever since I have been feeling much better, and have been running much better. I can feel a huge difference in my workouts."
Despite the difficulties of low iron levels, Cutelli is hopeful that the team can succeed in the post season.  
"We want to get on the podium at state," Cutelli said. "Step by step to get there. We obviously haven't won a district title in a long time. There are some other good teams, but I think we have a shot at doing that. Same with the sectional championship. I think there are some good teams in the sectionals but I think we have a chance. And then finally, I don't think we have been on the podium since the mid 90s, so getting in the top four at the state meet would be cool. And I think the girls kind of understand that and are hopefully thinking about that."
About the Writer
Grant Aden, SPORTS EDITOR
Grade 12. Interests include running, cross country, track, sleeping, eating, fantasy football, and not wasting time.

"Speak softly and carry a big stick."
-...