Boys cross-country speeds up the season with Brooks Memphis Twilight Invitational
With multiple personal course records at the Parkway Quad on Aug. 27, and a varsity score split unrivaled by any team last year, coaches are considering the Parkway West boys cross country team a strong contender for the state title. The team's next stop is Memphis, TN.
The boy's varsity cross country team will compete in the Brooks Memphis Twilight Invitational on Sept. 3. The meet hosts middle school, high school and college teams across the midwest on a flat course with live music and a stadium finish line.
"The meet is big, with lots of teams from all over the midwest," cross country coach Kevin John said. "It's run on a golf course and it's run at night, so they all get to run under the lights and there will be a huge crowd cheering them on."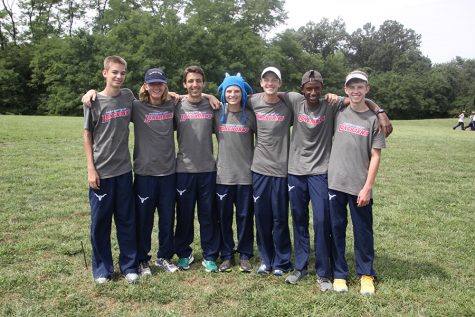 Preparing for races by running threshold workouts up to three times a week and running on the roads, the varsity boys team can clock up to 40 miles in a single week. Junior and cross-country runner Kyle Andersen, who will be on the varsity team at Memphis, says this preparation puts them ahead of other competitors.
"We run in a pack, and we have a bunch of young talent," Andersen said. "With this meet, we can compare ourselves to better teams from other states, compared to us just racing the same teams around us."
Due to the competitive nature of the meet, John decided to take only the varsity boys team and one alternate to Memphis, totalling nine runners. A special feature of the invitational is the allowance of eight runners instead of seven for the varsity team, giving JV runner Austin Corteville a chance to run up.
"He's bringing me and Grant [Aden] off of JV," junior Austin Corteville said. "It's going to be a lot more competition than our first meet, the Quad, which is just going to catapult us into the new season."
After winning the state title in 2015, Lafayette boys cross country coach Sean O'Connor recommended the Memphis invitational to John and the Parkway West team to add some competition to the beginning of the season.
"Really it was just a reward for them, for their hard work this summer. I challenged them that if the team was improved from where we were last year, then I would take them, and I feel like they've done that," John said. "They've always gotten plenty of competition in St. Louis, but I feel like this year they could benefit from racing some other teams."
The team leaves on Saturday morning and races at 8:40 p.m. West fans can find real time race results, athlete interviews and other coverage of the Brooks Memphis Twilight Invite on FloTrack.
"Plus, it's in the barbecue capital of the United States," Corteville said. "It's going to be sick."
About the Writer
Emily Dickson, CONCEPTUAL EDITOR-IN-CHIEF
Grade: 12
Years on staff: 4
Life soundtrack: "Ohio - filious remix" by Damien Jurado.
Most passionate about: "Equal opportunity education for children...