Junior Angela Sanfilippo trains with discipline
Junior Angie Sanfilippo started taking martial arts in second grade, after her father and brother joined.  Due to her busy schedule, Sanfilippo was kept from the mats for almost 10 years.  Sanfilippo trains at ATA Martial Arts, in Chesterfield, MO.
"I just wanted to try it out because it seemed different from what other people were doing," Sanfilippo said. "Instead of just moving your legs to run, I'm using them in a form of self-defense."
Sanfilippo spends most of her time training to compete in competitions, but is also catching up on skills she has missed and forgotten.
"
People have misconceptions about martial arts. Some people don't even consider it a sport, and confuse the stuff they see on T.V. with the reality of it."
— Angie Sanfilippo
"Being a first-degree black belt, I have a lot of responsibilities and skills that I have to always meet. It's weird seeing all of my friends from that long ago so far ahead of me, because if I hadn't left I would've been the same belt as them. It was tough having lower belts look up to me when I couldn't even remember the stuff they knew," Sanfilippo said.
"I missed all of my friends because some of the closest friends I have take martial arts. Not a lot of people understand the stuff we do, so it's nice sharing it with people like me and around my age. We have a lot of adults who do it along with teenagers. A lot of them go to different schools in Rockwood and other Parkway schools."
Though she enjoys doing martial arts with her friends, Sanfilippo finds it hard to openly share it with others in the school community.
"Many people have misconceptions about martial arts. Some people don't even consider it a sport, and confuse the stuff they see on T.V. with the reality of it. It can be irritating when people mock the sport I play. Sometimes, they even have that stereotype of the 'kind of person' who would do it too."
Despite what people may think, Sanfilippo finds that majority of the students who do attend her dojang are younger than the age of 10, yet there's a large majority of the students who are teens (13-18)  and adults.
"There's a wide range of ethnicities at taekwondo school, creating an extremely diverse atmosphere," Sanfilippo said.  
Sanfilippo practices three to four times a week, learning self-defense and training her mind and body. Her favorite events to work on before competition are sparring and poomsae.
"I have to keep an open mind to the things we learn and train because it's all different. Staying engaged and focused are important because I don't want to get hurt. People don't take martial arts to learn how to attack others. Unlike some sports, they don't teach that," Sanfilippo said.
Through self-defense classes, Sanfilippo learns how to protect herself with hand-to-hand combat and weapons practice.
"Sometimes you don't feel comfortable near a guy or girl. You hear stories about people who get abused and attacked, and it makes me want to try even harder to know I can not only protect myself, but other people as well. I feel that what we learn is how to protect rather than attack," Sanfilippo said."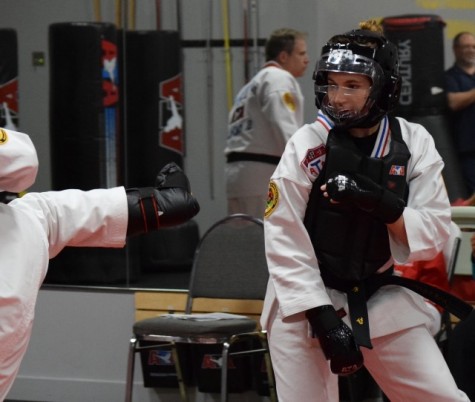 Sanfilippo plans on continuing her martial arts through college, and encourages others to join. She hopes to earn her second degree black belt before she graduates high school, and to compete in more tournaments.
"The adrenaline rush from Taekwondo is amazing, and I really look forward to the competitions and new friends I meet through it," Sanfilippo said.
Local TKD schools:
ATA Karate for Kids- 17361 Edison Ave, Chesterfield, MO 63005 
Y. S. RHO Martial Arts- 47 Chesterfield Center, Chesterfield, MO 63017
Park's Taekwondo- 1334 Clarkson Clayton Center
YMCA Taekwondo team- 16464 Burkhardt Pl, Chesterfield, MO 63017
About the Contributor
Maddie Cooke, STAFF WRITER
Grade:  12

Years on Staff:  4

If you were a fictional character, who would you be?  Barry the Bee

Does the toilet paper go over or under on...