Throwback Thursday: Casey Holland, English teacher
Pathfinder: Where did you go to high school?
Holland: I went to Diamond High School, a small high school in Southwest Missouri by Joplin, MO.
How was high school similar/different to high school now?
This high school is way bigger than my high school where I graduated with 40 kids in my entire class.'
Were you involved in any sports or clubs? What did you like about it?
I was on the Yearbook staff. I played basketball, baseball, football and golf for a couple of years. I really enjoyed playing basketball. It was fun. All the sports were fun. Me and my best friends grew up from kindergarten to high school and we all played together on every team and it was the best part.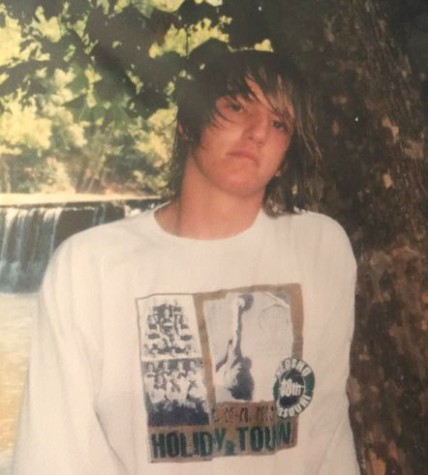 What were your least and favorite subjects in high school? Why?
My favorite subjects in high school was History and English because I really enjoyed both of these subject. I enjoyed my teachers and the work that we did in class. My least favorite subject was Math because I really struggled in this class. I did like the teacher, but I really struggled with the concepts and that was my mistake.
How would your peers describe you in high school?
I tried to be class clown and I never took school too seriously. And so they would probably say that I was jokester and I was shocked that I am a teacher right now.
How do you teachers describe you in high school?
They would say that I was rude and a jerk, and that I wasn't hardworking.
Did you have an after school job? If so, what it is?
I did not have a job after school. But I had a job in the summers where we worked for a construction company with my best friend's dad.
What did you do at your job?
We built houses. My friend's dad was a contractor and somebody helped him built houses.
How much did you make in an hour?
I think we made $10.00 an hour. It seems like for the week, he would give us $100.00 I think is how he payed for us.
What type of car did you drive?
I drove a 1979 Jeep Honcho pickup truck. It was 4-wheel drive and got about five miles to the gallon.
It was filled with rust and rats' nests then my dad fixed it up when we first bought it. And we ended up putting a $5,000 paint job on it, and it was blue, flames up on the sides and a gray background.
Did you buy it yourself? If not, who bought it for you?
I did not buy it for myself. My parents did and we paid $200.00 for it. And we tried to fix it up the best as we could until the wheels fell off.
What is your craziest driving moment?
I was driving in the snow on the way to school one day. One of my good friends and I were frustrated that we didn't have a snow day. So we drove to school and the roads were pretty bad but we just to drove to school and it was ridiculous that we didn't get a snow day.