Marketing students travel to New York City
Taking an elevator to the top floor of the World Trade Center, riding on a ferry to see the Statue of Liberty, taking the subway to catch the Nets vs. Trailblazers game in Brooklyn, watching a live television broadcast of 'Live with Kelly and Michael' and making it on national television. These are just a few of the activities that were squeezed in the five days that marketing students spent in New York City.
The students attending the trip met at the airport at 4:45 a.m. on Wednesday, Jan. 13.
"We barely made our flight," junior Olivia Daiker said. "But we boarded just in time and everything was okay. I'd rather be a bit late than have to wait over six hours like we had to do while coming back. We got delayed because of snow."
There were 38 students attending the trip, more than ever before. There was originally a limit of 24 students, but so many signed up to go that marketing teacher Glen Sutton decided to let everyone go.
"I was so happy that I was able to go because I had never been to New York before. It was amazing. This sounds really cliché, but it was everything I imagined it to be and more," senior Audrey Frost said.
The students made three payments of $466, and brought an extra $200-$300 for food and spending money.
"I'd say my favorite place I ate was Bill's Bar and Burger on the last day. I ordered a bacon cheeseburger with a chocolate shake. I didn't get tired of eating out everyday. We went to a lot of great restaurants," junior Nick Wotruba said.
The trip schedule included attending several marketing seminars. The students split into two groups on Friday and went to three different seminars. They listened to an owner of a small hat shop tell her story, to a Sports Illustrated manager talk about the magazine and they went to SHI studios – a fashion design studio, dressed professional models and took photo shoots.
"The one thing I didn't enjoy about the trip was SHI studios. It was confusing and fast paced. We got yelled at a lot," Wotruba said.
The group as a whole attended one last seminar on Saturday. They went to Davenport Theatrical Enterprises, and listened to a professional Broadway director.
"Davenport was the most interesting seminar to me. The director talked a lot about advertising and marketing concepts and it really put things into perspective," Frost said.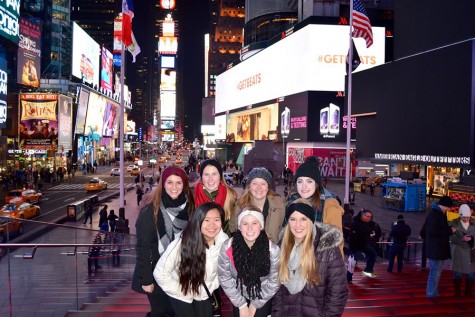 The students also went to Times Square, NBC Studios, Radio City Music Hall, Ellis Island, a Broadway play, the Empire State Building and the 9/11 Memorial Museum.
"Going to the 9/11 Memorial Museum was my favorite thing that we did. There were a lot of artifacts that put you in the position of the people who were there and their family members. It changed my viewpoint on the topic and made me more aware of how it affected the city," junior Ava Larsen said.
With the limited free time they were given, students shopped. On Thursday, they explored Fifth Avenue and on Friday they shopped around Chinatown. They were given a choice on Sunday to go wherever they wanted. About half the students took a subway to Soho and Chinatown and the other half stayed near the hotel and shopped around Fifth Avenue and Times Square.
"It was fun shopping in Chinatown. We bought a lot of fake brands for a cheap price. I bought fake Ray-Bans for $25," Larsen said.
Students were required to purchase a $32 week-long pass for unlimited subway rides. Walking was the main form of transportation, but students rode the subway to get to places that were too far of a walk.
"Definitely the main difference between St. Louis and New York City was transportation. So many people there walk and use subways in their everyday lives. It's insanely different from here," Larsen said.
Frost learned more about 9/11 by starting conversations with strangers on the subway. She would ask them about where they were on 9/11 and what they remembered.
"I learned so much from talking to new people. New York is definitely the melting pot of the world," Frost said. "There are so many different cultures and it is so fast paced."
About the Contributor
Ellie Widowski, Staff Writer
Grade 12. Interests include movies, music, basketball, golf, spending time with family and friends. "I'd rather be hated for who I am, than loved for...