Athlete spotlight: Andrea Gordon
Junior year is the year colleges search for potential athletic scholarship candidates, and for junior Andrea Gordon, an injury may alter her options for higher education. This softball season she tore her labrum muscle in her right shoulder.
"I've had a couple of finger injuries but that doesn't bother me. My arm and my knees hurt just because I am a catcher. This is my only injury that really impacted me: I tore my labrum. It's the biggest [injury] I've ever had," Gordon said.
The shoulder injury occurred during the weekend of Oct. 28 while Gordon was subbing in for a team that needed a guest player for the weekend.
"It was a fake pick-off of first and I slid back face first and my shoulder popped. I've been in physical therapy since November, but it hasn't been helping. I finally got a MRI and it showed that I have a torn labrum, so I have to get surgery and I'll be out for six months. Junior year is your most important year where you'll get seen for college so it sucks," Gordon said.
Gordon attends physical therapy at Physical Therapy Spine and Sports Medicine.
"It's fun; I love it. I love going there. I love my physical therapists; they're awesome. I do a lot of arm exercises but I only use one pound weights right now. I'm weak. They massage it and they ice it there," Gordon said.
Gordon will be getting surgery on her labrum Feb. 19.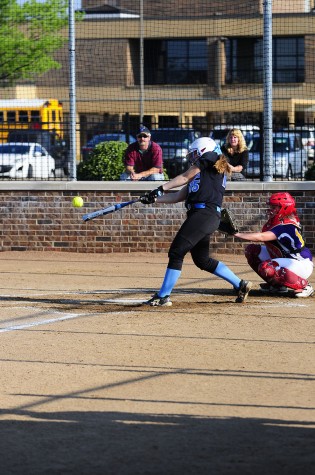 "I'm nervous. I'm afraid something might go wrong. But you have to stay positive. It's going to be a four to six month process, so I'll get surgery and then progressively I will get out of the cast and then I'll do more physical therapy. Then, I will do more activities with my arm and rotate it by throwing," Gordon said.
If the surgery does not go well, Gordon will look onto other passions other than softball.
"I'll definitely be upset but I'll probably just focus on my studies because I do want to be in the medical industry and that takes a lot of work. I want to do something in the medical field, but I don't know what, maybe a dentist," Gordon said.
Gordon has been playing softball since she was in Kindergarten, and she now plays for Gamers Fast Pitch and on the varsity girls team at school.
"I've met so many people from around Missouri. I know people from Farmington and you learn each of their lifestyles and it teaches you about how these girls live. I've learned so much from these girls," Gordon said.
As a catcher, Gordon is in the middle of the game at all times.
"I'm always involved in every pitch. I think I have ADHD, so I never stay focused, but but I am focused when I'm catching. I love being in control of the game behind the plate," Gordon said.
She plans to work past the injury and play in college.
"I want to play at a D2 school or a small D1 school. But I know I want to go to a big school. I've been looking at Miami of Ohio and I'm going to look at schools in Chicago. I want to go somewhere where it's big, fun and not all focused on sports because I feel like that will take up my whole life. And I'm not sure if that's what I want yet," Gordon said. "I can still email colleges but they want to see you play. It's impacted me not getting a scholarship for softball. This is my year and by senior year they've already chosen people".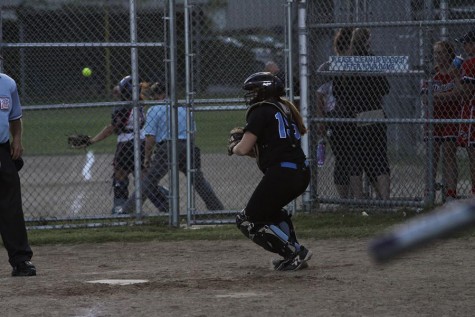 Teammates admire Gordon's perseverance.
"She is very outgoing and she brings up the team. She is a leader. She was a dominant catcher and she could hit the ball like crazy. When we needed a hit, she would just do whatever we needed. It was nice," senior Taylor Scott said.
Gordon's injury impacted the entirety of the varsity team.
"It's difficult when she gets injured because she is the only catcher. I caught one game and it was not fun. I usually play second or short, but mostly second. When she gets hurt, we lose a bat and she's a great hitter so it's kind of hard," Scott said.
Varsity girls softball coach, Jeff Chazen, also appreciates Gordon's dedication to the sport.
"She is an asset because she is one of the best catchers in the STL area.  Her ability to receive and call pitches, block and throw out runners all rank among the best in the area.  Her hitting has also improved over the course of her career at West. She plays year round.  She never misses a practice.  She caught almost every game for us last season including a stretch where she caught five games in three days.  That workload take a toll on the body.  However, Andrea accepts her role and does it at a high level of success," Chazen said.
Her intensity for the game is evident to Chazen, who has been coaching Gordon for three years. Gordon made varsity her sophomore year.
"She is an intense player.  She actually is a different person as a player and student.  When it is not game time, she jokes around and has fun and is very social.  When its game time, she becomes very focused and intense.  Her 'game face' can be very intimidating if you don't know her or know what kind of great person she is," Chazen said.
Despite all injuries, Gordon hopes to continue her career.
"I love it. I always say I hate going to practices but I truly love it. Once I've had this injury, I miss it. Like every time I've said I hated it, it's not true. During high school season I hit six homeruns and I miss that feeling; I miss having fun and playing well," Gordon said. "I want to help my parents out and I do love it. I want to play competitively and I want to play with girls that are at the same level as me. I just want to have fun; it's the game I love."
About the Contributor
Kathryn Harter, Multimedia Editor
Grade: 12

Future / College Plans? Truman State University or Loyola University of Chicago

Swag level (1-10 Scale)? 12/10

Fun Fact: I can touch...