Cliff Amen is awarded Teacher of the Year
The sole Technology Education teacher, Cliff Amen, provides students the opportunity to explore their technological passions. And after 13 years of dedication, he has been awarded Teacher of the Year for 2015-2016.
"Dr. Mitchell led a group of faculty and staff down to my classroom and presented me with a really huge fruit bouquet basket. I was happy, of course, but surprised," Amen said.
Amen teaches Introduction to Engineering Design, Principles of Engineering, Digital Electronics, Computer Integrated Manufacturing, Robotics Technology and Construction Technology.
"I enjoy teaching and I enjoy problem solving with others.This is what we do in every class,"Amen said.
Amen works alongside his students to solve problems and gives them the freedom to explore creativity without direct instruction all the time.
"I like to teach the basic essential concepts of each discipline and call upon the individual to be creative in developing a solution to a problem that is presented to them. This, of course, is in relation to the ability of each student," Amen said. "We very seldom tackle a problem that I have personally solved before because I would have a tendency to help the class too much."
Amen has been teaching for a total of 25 years; teaching runs in his family.
"My family on my mother and father's side were all teachers, principals and superintendents. They all had good happy lives serving others. It was probably inevitable," Amen said.
Last year's Teacher of the Year, theatre teacher Amie Gossett, has known Amen for 12 years.
"I've known Amen since the first day I started teaching; they mistook him for my dad at the first open house," Gossett said.
Gosset, who does work with special needs students and is actively involved in events like Special Olympics, appreciates the work Amen does with special needs students.
"I was excited because he does a lot of work that goes unnoticed. I was glad that it was finally noticed like the work that he does with students with disabilities, students with special needs and at-risk students," Gossett said.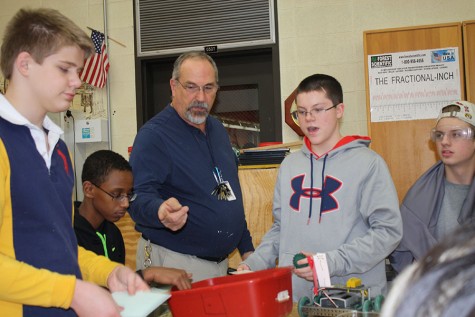 Students support his unconventional, hands-on, teaching style. Junior Grace Gwin was a part of Project Lead The Way, a pre-engineering program supported by Career and Technical Education. She was enrolled in Amen's Honors  Introduction to Engineering Design course.
"It was a lot of computer simulated stuff in the first year and we just figured out the basics of engineering," Gwin said. "He has his own way with the knowledge he is trying to get across but it really does come across. We get to work with our hands and actively do a lot of stuff, which really helps me."
In addition to his knowledge and teaching ability, students also appreciate Amen's personality.
"He's really great; he doesn't have a conventional teaching style. His teaching style is to show you something and then have you be able to build it and work it out yourself," Gwin said. "I am so happy for him. He's great; he's funny. It's awesome."
About the Contributor
Kathryn Harter, Multimedia Editor
Grade: 12

Future / College Plans? Truman State University or Loyola University of Chicago

Swag level (1-10 Scale)? 12/10

Fun Fact: I can touch...