Athlete Spotlight: Andrew Osborne
Head Cross Country Coach Kevin John's opinion of the individual competition aspect of the Class IV State meet is as follows; Only the top three finishers are 'destined' to finish where they do. The other 22 All-State Qualifiers are rewarded directly for the their hard work, and senior Andrew Osborne found himself among those other 22 at the meet that took place on Nov. 8.
"Freshman year, my mom made me run Cross Country to make friends, and it turns out I wasn't too bad at running. I never ran before that. I formed some of the closest relationships on the team through the hard workouts that made us puke our guts out together," Osborne said.
On the 5K Oak Hills Golf Center course, Osborne was followed by senior Evan Wright (16:31), junior Logan Stucki (17:15), senior Philip Aden (17:35) and freshman Blake Selm (17:58). The team score was 257 and the average time was 17:08, placing them 10th as a team.
"I wanted us to make it to State, and I wanted our team dynamics to not be tumultuous," Osborne said. "I gave it my best shot at being encouraging when I could and resolve conflict before it arose. For making it to State, I encouraged everybody and ran as hard as I could."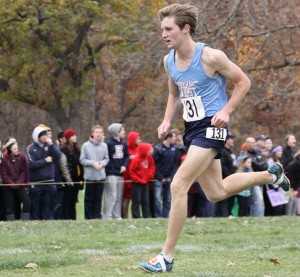 Osborne has suffered from major injuries in five of his seven running seasons: Hamstring Tendonitis (Soph. XC), Achilles Tendonitis (Soph. Track), Sprained Ankle (Jr. XC), Quad Tendonitis (Jr. Track) and Tibialis Tendonitis (Sr. XC).
"My experiences with all of my injuries taught me perseverance, and that made my overall running career more valuable than if I had just been able to sail through uninjured," Osborne said.
Though his personal accomplishments are meaningful to him, Osborne acknowledges the importance of the team's goals that have been accomplished this season.
"Making it past districts as a team was this season's highlights. There was a lot of joy in moving on from there because we had worked hard the whole season and hadn't had much of a team performance to show for it up until that point," Osborne said.
Osborne saw the teams accomplishments in the Missouri Championship Tournament (Districts, Sectionals and State) as a culmination of their talents and abilities because they were unable to continue past Districts at the close of the 2013-14 season; however, he also saw it as an experience for bonding and friendship.
"I really enjoyed the ride home from State with Bobby, Stucki and Evan and dropping sick dance moves in Coach John's car and having him mock us. Again, Philip didn't want to be part of the dancing, so he was trying to sleep. Matt was feeling sick so he slept too," Osborne said. "There was something different about going down with my team; it was a lot more fun because of that. It was exciting to have something we've been working towards for two years come to fruition."
Competing at State three of his four years, Osborne ran 17:06 in his sophomore season, 16:39.
"
My favorite memory is going to sectionals my junior year with James Morse at Central. We were dancing, jamming out in his car, going crazy getting pumped for our race and Philip Aden sat in the back seat staring at us with disdain,"
— Andrew Osborne, 12
"[Sophomore year I ran] with a whole bunch of upperclassmen whom I looked up to. I was nervous and terrified to race at state, so that became a sightseeing trip. It was fun because I was able to race with a bunch of guys I looked up to," Osborne said. "Junior year was unique because just [alumnus] James Morse, the coaches and I went down. It was a lighthearted joking atmosphere, which made it enjoyable. The race was okay: I lost hope during the second mile and stayed in the same spot."
The difference between his 2013 and 2014 performances was 20 seconds and 22 places, all of which he attributes to his change in performance in the last mile of the race from this season.
"One of my favorite memories from my experience overall was the state meet, during the last mile of the race," Osborne said. "I had close friends encouraging me from the side of the race as I decided to run myself into oblivion. My favorite of these encouragements was when someone said, 'This is the last of your senior season, don't mess it up now' as I went up Firehouse Hill. It was my second favorite race of my career."
His favorite race took place the week before, the sectional meet at Engler Park in Farmington, where he ran 16:06, his career personal best.
"My  personal goals were to remain uninjured, heal myself and break 16:30. I did a copious of amount of stretching and physical therapy exercises, and I swam on my recovery days for cross training," Osborne said.
As a senior, a team captain and an active varsity competitor, Osborne still believes that the program has left an impact on him more than he has left an impact on it.
"First and foremost, Cross Country taught me how to make friends. It also taught me how to push myself through discomfort and discipline myself because whenever I'm out of season I don't do my homework with as much regimented and I don't get as much sleep and my life becomes less organized," Osborne said.
Although Osborne is one of five non-returning varsity members, he sees potential in future seasons.
"I think we have some killer personalities on the team this year who will be seniors next year. It is possibly going to be the most fun cross country season in the history of Parkway West," Osborne said. "As far as talent goes, we have one returning senior Varsity runner, a solid JV core and plenty of really talented freshman. I think Blake Selm [9] will go all State his junior year and Kyle Andersen [9], Andrew Lofgren [9] and Matyas Csiki-Fejer [9] to go all State at least in their senior season."
At his last team banquet on Nov. 21, he plans to speak about what he has learned in his experience on his team.
"My advice for future runners is give it your all. Have fun with it. It's not Cross Country if it's not fun. Don't be nervous because racing is supposed to be fun," Osborne said. "The most important thing about it is the people you spend time with, not the miles you run or the places and times you receive."
About the Contributor
Jacob Cupps, Editor-in-Chief
Grade: 12

Future / College Plans? Music Schools (which means being broke).

Swag level (1-10 Scale)? Kyla Hatton.

Fun Fact: I got a dumb haircut...