Save the Last Dance
Senior Anthony Ruffner ran down the track wearing a green sports bra and a pair of vintage sports shorts. In his hands was a rolled up poster that he had made the night before. Ahead of him was the Girl's Cross Country Team, shagging their second lap around the track as they warm up. Joining the group, Ruffner singled out Julia Hatzigeorgiou and unfurls his poster.
"I was a little nervous. There were a lot of teams practicing in the stadium that day. After I asked her though the boys Cross Country started clapping. It was really cool," Ruffner said.
Despite his success, Ruffner had originally had other plans for asking Hatzigeorgiou to Homecoming.
"I came up with the idea a week before I asked. I was originally going to ask her at one of her meets but I had to take the ACT on the same day," Ruffner said.
Even though he came up with the idea himself, Ruffner had support as he asked Hatzigeorgiou.
"My friends Riley Critchfield and Charlie Huff came along to watch," Ruffner said.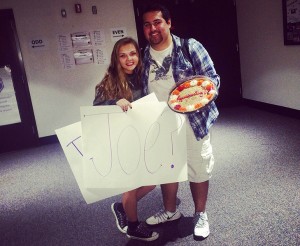 Junior Sidney Baker also brought along friends when she asked her date to Homecoming.
"I asked Joe Guccinoe before his after school rehearsal for Greater Tuna with a cookie cake that said "Homecoming?" and two of my friends, Leigh Barnett, sophomore, and Kate Sullivan, senior, who each held a poster. One of the posters said "Joe" and the other said "Homecoming?"," Baker said.
For Guccinoe, the question was less of a surprise than for other couples attending Homecoming.
"He knew I was going to ask him; but I wanted to ask him anyway just for fun. The guys always do the asking so I wanted to switch the gender roles," Baker said.
Like Ruffner though, Baker was nervous before asking.
"I've known him for three years and done five straight shows with him, but I was still anxious," Baker said.
Freshman Matthew Dixon has also known his date for a long time.
"I've known Sophie Vietor since sixth grade and we were good friends all the way through middle school. I wanted to ask her to Homecoming as a friend," Dixon said.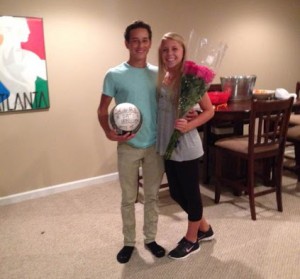 Knowing Vietor so long allowed Dixon to be a little more personal is his way of asking her to Homecoming.
"I bought roses and a soccer ball, since she plays soccer wrote 'Will you score a date to Homecoming with me?' on it," Dixon said.
Dixon had lots of help from his friends in organizing the event, like Baker.
"I was encouraged by and got help planning it from our friends Kennedy Silverberg, Brandi Beaubien and Julia DeFrank," Dixon said.
Sophomore Nick Wotruba also got his inspiration from friends when he asked sophomore Grace Folkins to Homecoming.
"Grace loves Harry Potter. I got the idea to buy her a stuffed owl and write a reworded "acceptance letter" to Hogwarts from her best friend, Hope Sandford," Wotruba said.
Unlike the other couples, Wotruba and Folkins are more than just friends.
"She was expecting me to ask her because she is my girlfriend," Wotruba said.
Whether you are going with a date or simply a group of friends, Homecoming remains an anticipated event as it is one of two school dances and a tradition that has spanned the generations.