'Greater Tuna' Review
Four cast members. 15 characters. 36 costume changes. On Friday, Sept. 26 at 3:00 p.m. and 7:00 p.m., as well Saturday at 7:00 p.m., the Parkway West Theatre Department takes the audience through a day in the life of Tuna, Texas – particularly, the day of the death of County Judge Rosco Buckner. On this day, all of the town, who already might be related, come together in a random series of meetings and scenes that make up Greater Tuna.
Adapted to have four main roles from the original casting of two, seniors Joe Guccione, Macky Kavanaugh, Drew Silverberg and junior Kathryn Harter each played a handful of the fifteen characters and showcase ability to act and, more importantly, be comedic outside of their gender, age, region and potentially comfort zone. Each cast member brings the show to life with their particular strengths, Harter's vocal acting abilities carry the Southern feel of the play. Silverberg's prop comedy and memorable quotes like "I, the Reverend Spikes, recommend him" and "The on again off again production of my fair lady is… on again!" leave the audience in hysterics, Kavanaugh's ability to create a believable persona in both genders supports the play throughout its entirety and Guccione's unremitting sass makes him a powerful presence no matter what role he plays.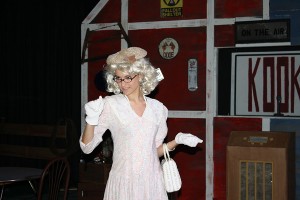 Although the cast is strong in these areas, Tuna as a whole lacks a sense of cohesion that is driven further apart by the fact that each individual cast member played a set into roles that ended up seeming all to similar to the other characters each of them played. Without all of the costume changes, each character would be an indeterminate Southerner with a few lines here and there.
In part, this is due to the play as it is written overall: with a lack of direction. Although Tuna is full of redemptively subtle humour, it dries out with overbearingly obvious exposition coupled with no legitimate sense of direction in plot. As an audience member, I have no reason to care or connect with the characters, and at times, it seems to be just offensive joke followed by offensive joke.
Most of Tuna's first act is an uphill battle, but the cast and crew does a great job of resiliently rolling with the punches. The cast and crew have no control over the choice of the play and very little over the material and despite these two realities, they do an excellent job accommodating the play to the school audience. Be back in your seat right before the end of intermission because, after moving through a majority of the jokes about old age, racism and dead dogs, the second act is full of what we all came to see – Comedy.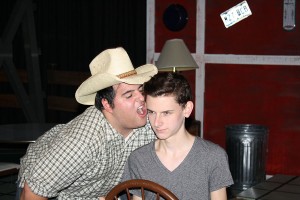 Act two kicks off with one of the three scenes that are the highlights of the play: Sheriff Givens (Guccione) interrogates Stanley Bumiller (Silverberg) about the death of the county judge, and we the audience witness one of the better exchanges between characters of the play. This trend continues with Elmer Watkins (Harter) goes on a rant about the ineffectiveness of Agent Orange and Charlene Bumiller (Guccione) recites poem he/she wrote "My Tuna."
All in all, the Parkway West Theatre Department rose above a lot of challenges presented in script, plot, acting and writing. Moving past edgy and offensive material, Tuna showcases not only unique talents and abilities of the four cast members, but the talents of those working makeup, stage, lights and sound. The miniscule occasional difficulties with lights and sound are worked out and ready to be performed after the final dress rehearsal. If you are looking for a comedy that makes you laugh at things you probably shouldn't and realize the little humours here and there, Tuna may be the show and place for you. But, as they say in the show, "if you can find a better place than Tuna, move."
Parkway West Pathfinder gives the Theatre Department's production of Greater Tuna a 7.1/10.
About the Contributor
Jacob Cupps, Editor-in-Chief
Grade: 12

Future / College Plans? Music Schools (which means being broke).

Swag level (1-10 Scale)? Kyla Hatton.

Fun Fact: I got a dumb haircut...