In high school, amidst the shuffling of feet in the hallway, the resonance of basketballs bouncing on the gym floor and the scribbles of pencils on paper in a silent classroom, an echoing question incessantly runs through students' minds: are we doing enough? With college competition on the rise, there is a growing emphasis on not just what happens inside the classroom but also what goes on outside of it. As a result, students are forced to perform a delicate balancing act —- participating in clubs, school sports and volunteer activities, all while completing homework for challenging courses each night. Despite these various activities, sometimes students continue to wonder if all of it is enough.  This concern raises a new question for high schoolers — to work or not to work?
The decision to find employment in high school is one that takes much thought on the student's end about time management, commitment to school and personal availability. Nevertheless, jobs are an inherent part of many people's lives, whether it be in high school or post graduation; consequently, a debate has ensued about whether or not high school students should be expected to work, and there are compelling arguments on both sides about the benefits and drawbacks of student employment. 
The pros of high school employment
The most obvious benefit of employment for high school students, and the main reason why they search for it, is the salary. In the state of Missouri, minimum wage is $12 an hour. Assuming that the average high school part-time employee works about 17 hours a week, they would make around $204 a week, $816 a month and $9,792 a year. That amount of money can be extremely helpful to assist in assuaging financial concerns for students. Junior Nicole Chocheva, who works at Waterway Car Wash, got a job for that very reason — so that she could stop relying on her parents for money.
"I wanted some extra cash because I need to pay for my things. I [also] wanted to save [money] for college too," Chocheva said. "[Normally] I save half of [the money I make] and then I spend the other half." 
At first, Chocheva's parents didn't want her to get a job; they were concerned about her struggling with time management, given that Chocheva is a member of various extracurricular activities such as FBLA, Key Club and Beta Chi Pi.
"My parents told me not to get a job because of school, [but] I can do work in school and [do] other things too," Chocheva said. 
Chocheva's experience is shared by lots of students who decide to work in high school, including junior Gabby Black, part-time Panera Bread employee. Black decided to get a job mostly to support her family and to pay for her own needs.  
"My current situation is not very financially stable, [and] I really want to be in a good financial spot to be able to help [because] I know I'll have to start paying for or helping with mortgages, taxes and bills," Black said. 
However, because of her current financial situation, Black also must work to pay for her own needs comfortably.
"I pay for gas and club volleyball, [which] is anywhere from $1000 to $5000. It's hard because I'm traveling out of state [and] I need gear, like knee pads, and new shoes," Black said. 
But past the surface salary available through employment, working during school cultivates various skills that can be used past high school. American journalist and columnist Pamela Paul's op-ed advocates for the employment of high school students and distinguishes 10 specific lessons she learned from her high school job, including work ethic, social competence, and the value of money. Paul's sentiments are echoed by Black, who, by working, has a newfound acumen for many different psychological competencies. 
"Teamwork [is] definitely a big theme because we work on making food and it's like [an] assembly line," Black said. "[My job is] a good thing to have in my life to keep me disciplined in time management."
Black's job has also allowed her to improve her interpersonal skills and hone her communication with colleagues and customers alike. She uses them to provide the best possible customer service and experience. 
"My personal motto for work is [to] make sure people are happier leaving than when they came in," Black said. "If somebody's having a bad day, I want them to leave with a smile on their face."
More than the monetary and psychological benefits brought by employment, there is a significant feeling of achievement and self-satisfaction obtained when doing work and making money. Productivity in the workplace releases endorphins in the brain that creates a feeling of purpose and drive. Furthermore, happiness is found to increase productivity levels by 12%, meaning that enjoying what you do is critical to the quality of your service. 
No matter what job it may be, from food service to retail and everything in between, personal enjoyment changes productivity. Moreso, your personal level of enjoyment in your job will affect what you eventually get out of it, whether that be money and a stable paycheck, moral fulfillment or something greater entirely.
The cons of high school employment
However, not every aspect of working has benefits. One of the most common reasons why students refrain from finding employment in school is because of the time commitment that jobs take up, which can put a strain on students' ability to complete schoolwork on time. The same 17 hours a week that some students spend working could also be spent on finishing homework or preparing for the next day of school. For this reason, sophomore Mason Moore, who works over the summer at a local family-owned beekeeping business called JDM Bees, cannot work during the school year.
"Every summer I work two to three weeks [for] about eight to 10 hours a day. I can't do [my job] during the school year because I would have to work such long hours," Moore said.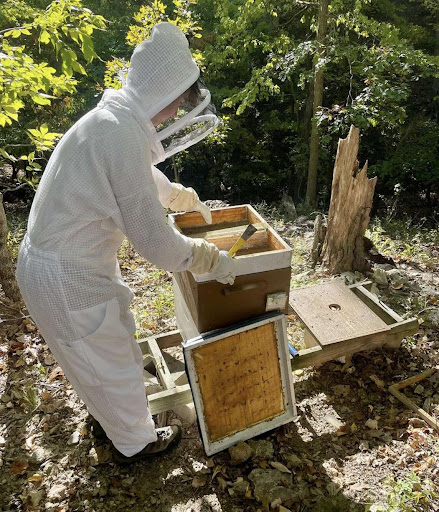 Depending on the rigor of the classes that a student is involved in, having a job also might not be a good decision for them. Jobs can create a restrictive structure and schedule for a student, getting in the way of their academic careers and social lives.
"Currently I'm working about 19 [hours a week]. I'd like to work less just because I need to focus on school; work definitely limits what I'm able to do outside of [it]," Black said. 
Additionally, jobs can add a gratuitous amount of stress on top of an already stressful school year. Between concerns about future college applications—which are more competitive than ever—and worries about current coursework and exams, teen mental health is at an all-time low. Working long hours that includes mass amounts of time separated from loved ones is anything but a solution; however, it is unfortunately the reality for many, including Black. 
"Because of my schedule being [on] Fridays and Sundays, I'm definitely missing out on a lot [of social activities] too," Black said. 
Even working over the summer, like in Moore's case, can be detrimental as students progress through high school and summer becomes busier. Having a job might get in the way of internships, volunteering opportunities, completing summer homework and a host of other activities that students keep themselves busy with. 
Overall, despite the enticing benefits, a high school job can end up taking more than it gives and leave students unnecessarily stressed and restricted from their lives outside of the workplace. 
Finding balance
Having a job doesn't have to be exclusively good or bad for a student. As with many other parts of high school or life, balance is key. Learning how to manage your time wisely and productively can be the key to being successful in school, work and life in general. 
"I don't sit on my phone [when] I'm studying or doing homework because that's how you [get] good time management," Chocheva said. "I would say it's possible [to work in high school], and if you can't, that's poor time management on your part." 
To have more time to be able to work, it's important to maximize productivity during the time that is spent completing homework. Methods like the Pomodoro technique and the blurting/active recall technique can greatly reduce the amount of time spent on schoolwork, thereby increasing availability to do other things. Also, using built-in learning time that the school provides during AcLab — despite sometimes having it taken away — can be beneficial as well. 
"If I have work, then I'll use AcLab to get 95% of my [work] done because I know that I won't have time after school to do it," Black said. 
As always, it's important to make an educated decision based on personal intuition. Take into consideration your course load, commitment to other activities, familial obligations and your own personal enjoyment when deciding whether or not to search for employment in high school. Decide what kind of service resonates most with you because, again, your personal level of enjoyment at your job will reflect how productive you are. Employment is a commitment that might not be fit for everyone's workload and schedule, so make sure that you know just what you're taking on when you hit that 'apply' button. 
"I recommend that [students] find a job only if their situation allows it," Black said. "I want them to find the best fit for themselves.