Needles flying and conversation flowing, members of Yarniacs congregate in special education teacher Alexandra Fehlig's classroom biweekly to share an hour of knitting, crocheting and macramé together. Founded by senior Carlee Priem, the Yarniacs club meets after school and during Academic Lab to practice their craft together.
"A lot of people know that I'm a knitter and crocheter and I enjoy doing stuff like that. My immediate reaction [to Carlee's idea] was absolutely, that's fun. It's fun to teach people a new skill. I think it's a good way to give back to the community," Fehlig said. 
The club officially began in October 2021 when Priem learned that students were able to start their own interest clubs. This inspired her to create a space for people who shared her increasingly popular passion: knitting. 
"I loved knitting and crocheting, even if I wasn't really good at them. The enjoyment that I got from [knitting] led me to try to start a club so that those like me could have a space to talk about something they enjoyed too," Priem said. 
Priem discovered her appreciation for yarn-based creations in fifth grade after developing an affinity for finger knitting — a form of knitting that uses hands and fingers instead of traditional needles. This interest fueled her motivation to learn how to knit and crochet from both her grandmother and free tutorials on YouTube.
"My grandma taught me one afternoon how to knit. She taught me the basics and showed me her projects and I wanted to do things like hers so I spent months afterwards trying to knit. I don't think I would have ever tried this artform that I love [if it wasn't for her," Priem said.
After learning about a discontinued club called "Yarniacs" that fell through after the founders graduated, Priem decided to recommission the club. By sending some emails and getting a sponsor, Priem revived the club. Yarniacs is currently relatively small, and though many people showed up to the introductory meeting, interest dwindled out over time. Sporting four members, including the founder, the club risks being shut down again after Priem and other senior members graduate.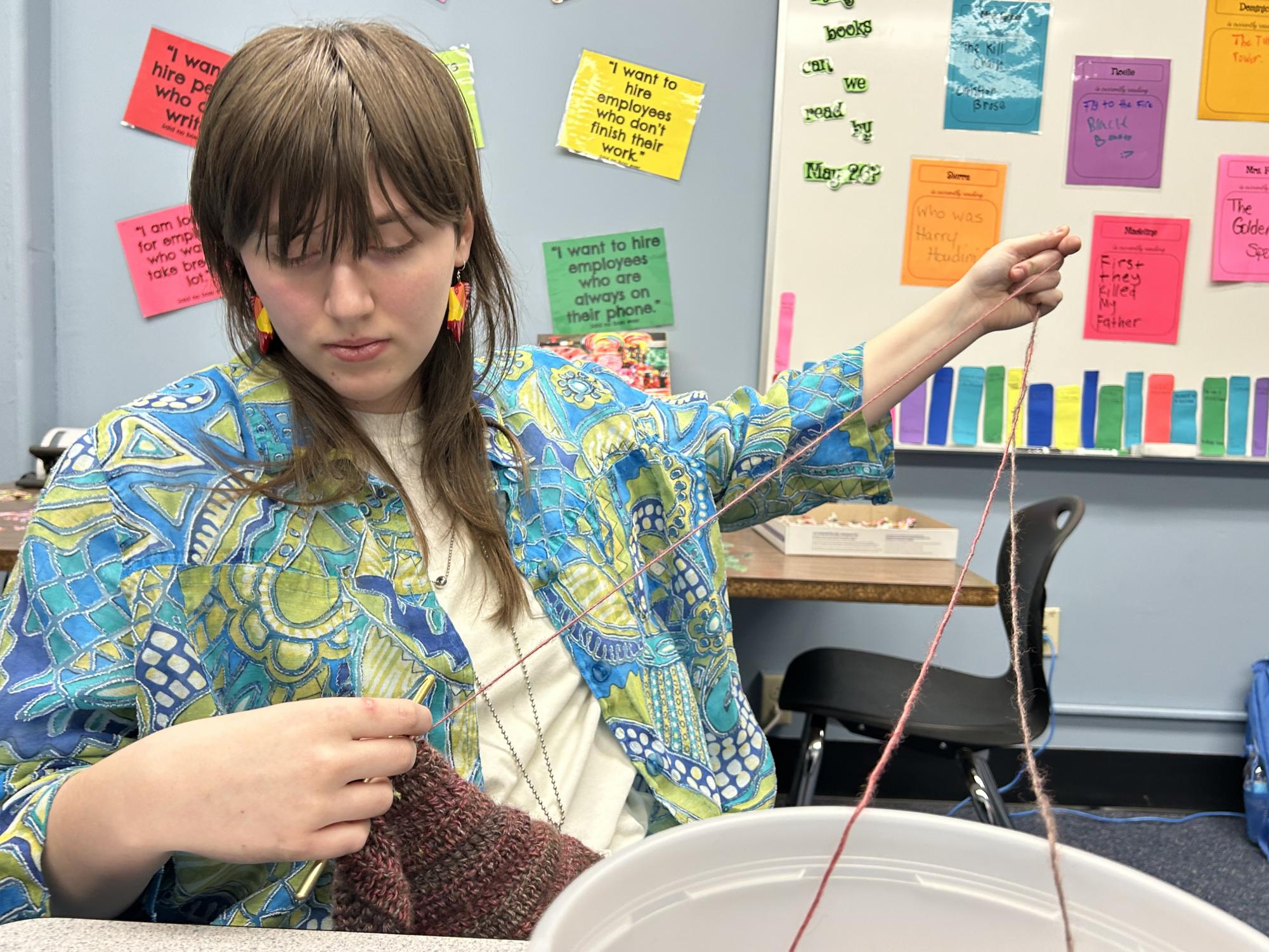 "One of our members is a sophomore, so hopefully they'll be able to take over once I graduate. I'm worried for Yarnaics' current and future members. This next year is going to be the last of Yarniacs if we don't get younger members," Priem said.
Priem suspects that the lack of participants is due to apprehension surrounding a lack of confidence in knitting skills and an ignorance to what the club is about. She emphasizes that the club welcomes beginners and that joining Yarniacs will help progress members' knitting and crocheting skills. Anyone who is interested in becoming a member of Yarniacs is encouraged to join the Groupme.
"There's just not [enough] information about [the club] around the school. There's also nervousness, because the club is filled with beginners, but most people think you have to be experienced first." Priem said. "Three of the four members of the club started out as beginners when they joined. Now some of them have moved on to make full-sized stuffed animals." 
One member who is new to knitting is senior Rachel Borrego, who believes that joining Yarniacs has allowed her to progress her knitting work.
 "I've made a lot of progress since joining Yarniacs. When I started, I could barely make a straight line," Borrego said."Yarniacs is [now] my favorite club at school because, between the company and the craft, every moment is a good time."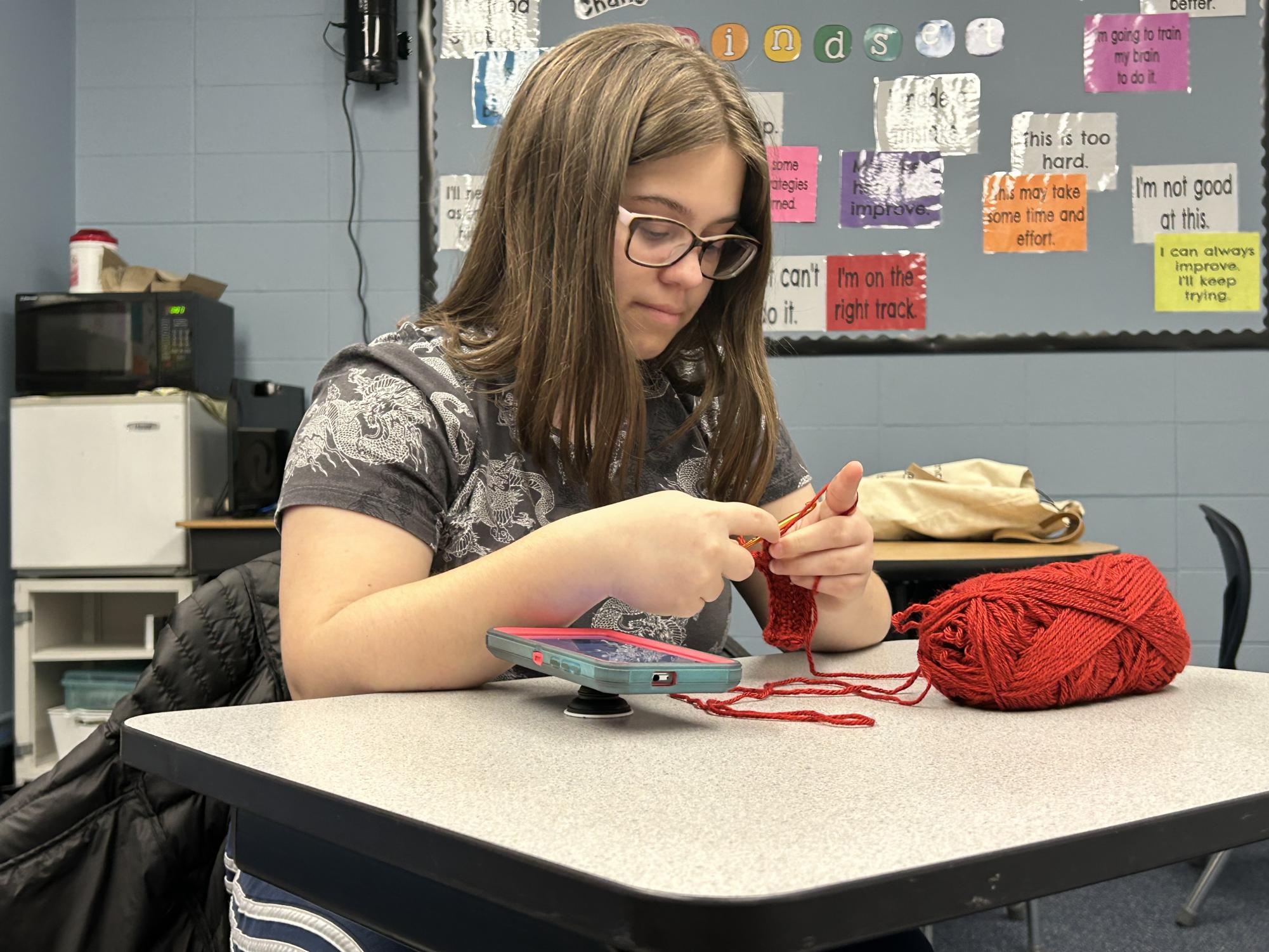 In addition to growing skills, Yarniacs offers free yarn to anyone who needs it, making knitting an accessible hobby. Knitting and crocheting are often considered cheaper hobbies when compared to other mediums of art, such as painting or pottery. Besides being able to develop a new cheap skill, Priem emphasizes the multiple positives that can result from taking up knitting as a hobby.
"[Knitting] helps you learn to enhance your motor skills [and] express yourself through your hand-eye coordination," Priem said. 
Additionally, Priem finds that knitting offers benefits for mental health.
"When I start messing around with the yarn and hooks or the sewing needles, my mind is taken off anything, [and] all the noise in [my mind] stops. It's easier for me to [pay attention] to audio books or movies because [knitting] helps keep my mind focused and on track," Priem said.  
But Yarniacs has more purpose than helping students learn how to knit. Part of the club's mission is to use creativity and art to benefit the community; in October of last year, the club collaborated with the Humane Society of St. Louis to donate handmade toys and blankets to stray animals. Priem is in the process of setting up a similar event with a local hospital. Anyone interested should show up to the next meeting on Nov. 16. 
 "It makes me feel good [to] help those around me feel good because we've created this miniature community in Yarniacs, centered around [creating] art and helping people," Priem said. "Yarniacs means so much to me, as it helps me connect and do creative things with creative people."