The United States Open Tennis Tournament, commonly known as the U.S. Open, was transformational for women's equality nationwide. Competitor Coco Gauff won the women's singles division and earned a $3 million award for her achievement. 
Only 19 years old at the time of her win, Gauff is the youngest American to win the tournament since 1999. Not only has Gauff been widely successful in tennis, but she has used her platform to speak about LGBTQ issues, the Black Lives Matter Movement and equal pay for women. 
"I'm proud of Coco Gauff [for winning the tournament]. It's a really big achievement and milestone set by her for women's tennis," freshman and JV tennis player Sara Ashok said.
The 2023 U.S. Open marks 50 years since the legendary female tennis player, Billie Jean King, swung her racket to beat men's tennis player Bobby Riggs at the Houston Astrodome. This match, commonly known as the "Battle of the Sexes", has received national attention for its trailblazing components. King stomped her feet to demand equal pay for women in tennis. Since 1973, the wage gap in tennis has equalized, but there is still more to be done.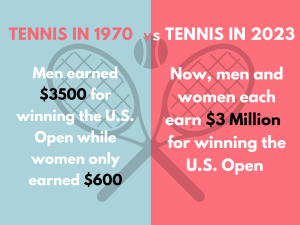 "There is a certain imbalance of equality [in tennis] because guys, stereotypically, are more athletic. In the U.S. Open and other competitions, guys receive more attention in general," Ashok said.
In addition to battling inequality as a woman, Gauff serves as an example for the younger generation because she is part of an underrepresented portion of the community. In recent years, there has been a surge in African-American participation in tennis by about 46 percent; however, minorities still only make up 38 percent of all U.S. tennis players. There is a long way to go for more inclusion of minorities in tennis and sports across the board. 
Like her, Naomi Osaka, a 26-year-old Japanese-Haitian tennis star, has received hate in the media due to her background. In Japan, her birthplace, most are not accepting of her dual nationalities, condemning her for genetic composition. Still, Osaka advocated for racial justice with the Women's Tennis Association and the Asian Americans and Pacific Islander community. Rather than shying away from the spotlight, Osaka embraced her race and advocated for people who have faced racial discrimination in the past.
Like Gauff, King and Osaka, many others have taken stands for justice. Twenty-three-time Grand Slam singles champion Serena Williams has spoken out against injustices in the sports world, advocating for maternal health for new athlete-mothers. From 2019 to 2023, maternal mortality rates among black women rose from 23.8 deaths per 100,000 live births to 32.9 in 2021. Because Williams was personally impacted by pregnancy complications with her daughter Alexis Olympia Ohanian Jr., she has a strong drive for maternal health activism. 
Besides maternal health issues, Williams has faced other controversies in the past. In the media, she has been compared to a monkey, has received inappropriate comments about her physique, and has been told she is a man. As a strong, successful woman, Williams was not given the respect she deserved because she does not fit the common stereotype of an idealistic women's tennis player. However, she continued to advocate for issues she was eager about. To reward her passionate activism, Williams received the Jackie Robinson Sports Award, which is given to athletes who are not only exemplary in their sport but also make an impact in their communities.
"People need to advocate for social justice in tennis because [women's] tennis gets [over]looked compared to [men's] tennis," sophomore and JV tennis player Chloe Ottman said.
While tennis has a myriad of social issues in of itself, other sports such as soccer have recently become a topic of controversy, for there are large pay gaps between women and men, as well as racial issues. In the National Basketball Association (NBA), men are paid, on average, $5.3 million a year. However, women in the Women's National Basketball Association (WNBA), are paid only $130,000 a year, on average. Professional basketball is only one example of a distinct pay difference between male and female athletes.
"On a global stage, [tennis] is just like any other sport. Male sports get a lot more attention than female sports. There's a lot of growth that needs to happen and there's still a long way that we need to go," varsity girls and boys tennis coach Katelyn Arenos said.
Like King, Osaka, Williams and Guaff, young athletes should advocate for equality and justice in sports. It is vital to establish fair play for people of all genders, races, and backgrounds in the sports world because there are currently many injustices within the system. 
"We should try to achieve equality for everyone in tennis and in other sports," sophomore and JV tennis player Kate McCammon said. "It is important that we make sure that everyone has equal opportunities in any sport."