Coming to America (venant en Amérique)
The story of a foreign exchange student coming to America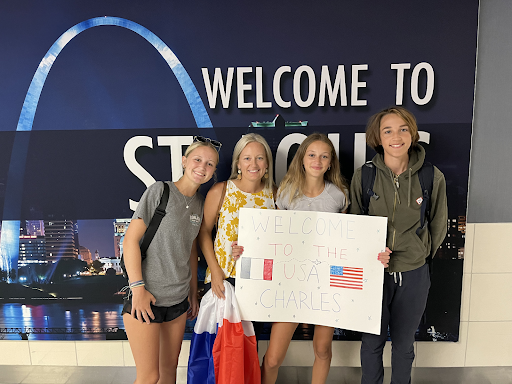 Ever since sophomore Charles Leleu was born, all he has known has been his home in France. Now, he has to adjust to a whole new world in America. 
Leleu began searching for a host family last year. Last May, he matched with sophomore Maddy Tarter. After speaking to her volleyball teammate, Tarter's family was inspired to host a foreign exchange student.
"One of my club volleyball teammates was hosting an exchange student at the time, and my parents started talking to them and learning about the exchange program," Tarter said. "A year later, my dad's friend texted him and asked if our family would be willing to host an exchange student for the school year." 
It only took the Tarter family a couple of months to officially become a host family.
"One night when we were out to dinner, we decided it would be a lot of fun and a great experience," Tarter said.
After Leleu arrived, he spent a lot of time with Tarter. They participated in activities together and bonded throughout their fun.
"The most fun thing that Charles and I have done is playing on the same indoor soccer team with all of the other exchange students," Tarter said. "He also really liked to go to the hockey games this winter, so we went to a lot of those together as a small group." 
Although the experience was fun for Leleu and Tarter, they faced some challenges. 
"I didn't speak English at all [when I arrived], so we used Google Translate," Leleu said.
Like Leleu, Tarter also needed help with the language barrier as she adjusted to a new communication system.
"The biggest challenge was his understanding of English. We used Google Translate a ton. We would have our phones with us at the dinner table all the time. When we were hanging out with my friends, he would look at me if he didn't understand something someone said, and I would either translate it or explain it in simpler terms. I didn't mind at all, I just felt bad that he couldn't express everything he wanted to say," Tarter said.
Tarter was also initially afraid of having someone live with her for a year. She wondered if she would get along with Leleu.
"I was afraid he wouldn't want to hang out with my friend group. But now he is best friends with some of my guy friends and plays on the same golf and soccer team as some of them," Tarter said. "He feels like a brother to us, and it is going to be weird when he doesn't live with us anymore."
This experience was especially special for Tarter's dad. Being the only male in the house, Tarter's father enjoyed having a kid that could relate to him.
"After we decided to do it, my dad reached out to the exchange program, Youth for Understanding, and told them we were interested [to do it again]. We knew we wanted a boy, as my dad is the only guy in the house," Tarter said.
Tarter endearingly calls her dad a "WhatsApp Dad" because he constantly texts Leleu's parents about their experiences and activities. 
"He puts himself in Leleu's [parent's] shoes and thinks about what he would want if his kids were worldwide. He said that if we were going abroad for a whole year, he and my mom would want to know everything we were doing," Tarter said.
At the end of summer, Leleu's family will visit the Tarter's lake home in New Hampshire to meet and take their son home. Tarter's family plans to stay in touch with the Leleus and visit them in France at the end of the summer. For Tarter, hosting an exchange student was an eye-opening experience.
"It is one of the best experiences ever. I learned so much about the everyday life of a French teenager, which is cool. Even if you don't understand someone who speaks a different language than you, you can still find ways to communicate," Tarter said.
Leave a Comment
Your donation will support the student journalists of Parkway West High School. Your contribution will allow us to purchase equipment and cover our annual website hosting costs.