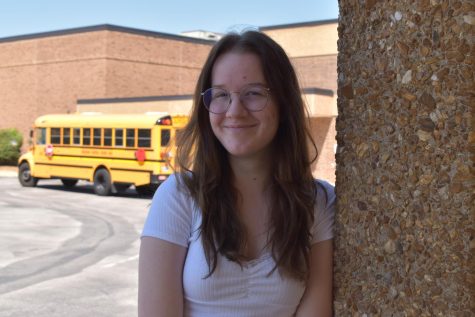 Addie Gleason
I've been a shy person for just about as long as I can remember. While I always completed coursework on time, my teachers often commented that I rarely participated in class. This followed me through my education, up until I received a bright orange letter in the mail inviting me to join journalism. At the time, I had never even heard of the Pathfinder. But somehow, this unexpected letter ended up greatly impacting the next four years of my life.
Though I've had other academic endeavors throughout my time in high school, such as joining the drawing club and winning Battle of the Books, it's safe to say that nothing has been as rewarding — or as time-consuming — as journalism. The skills I've learned surpass high school and college; they will be incredibly valuable for the rest of my life.
During freshman year, I remember being terrified about my first actual interviews. The task seemed daunting, and I was ready to all but quit the entire class. But with time and practice, interviewing slowly got easier, along with engaging with others daily. I watched myself transform into a more social person, no longer afraid to participate in class and talk to my peers.
Most importantly, journalism has given me a voice. I now know that while I am still young, my voice and opinions have a place in the world, and I deserve to be heard. Throughout my journalism career, I have reported on topics I am passionate about, including LGBTQ+ rights, climate change, mental health and more. It is incredibly gratifying to see my words impact my community. Although I will not be studying journalism in college, I hope to continue making this same impact throughout my life.
As I walk across the graduation stage, I will be thankful for all that high school has provided me, but I will also be excited to move on to future possibilities. I've made an incredible amount of growth as a student and human being during high school, and I can now say with confidence that I'm ready to start the next chapter of my life.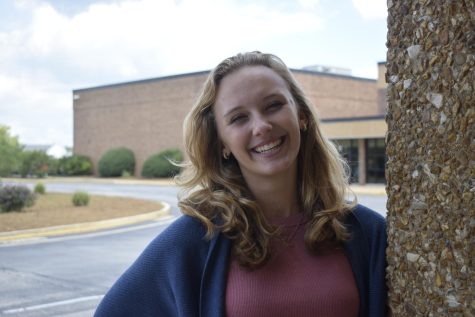 Ashlyn Gillespie
When I came into the program as a freshman, I thought I might be interested in Journalism, but I wanted to write books. Little did I know that I would fall in love with writing articles. The first thing that caught my eye was the idea — which seemed insane to me then — that I could write about whatever I wanted, and practically on my timeline. As an honors kid who was very bored in class and hated waiting for others to finish something before moving on, this idea of independence in a freshman high school class was so far-flung that I couldn't believe it. This was the first time in an academic setting that I felt like I could express myself. I never knew that the community and the importance given to each writer for expressing their ideas would be what drew me back all four years.
The Pathfinder, and the whole journalism program, was the first place I ever experienced the idea of real inclusivity, where all opinions mattered, diversity mattered, and in fact, were each treated as vital to the program's survival. I may not have known it then, but this experience in the workforce is scarce, and the attitude of the staff is priceless. No other life experience has prepared me more to go into the workforce. The professional communication skills developed, and the problem-solving techniques I learned were invaluable, no matter the profession I go into. 
I want to give special thanks to my parents for always supporting me, Mrs. Klevens for guiding me the whole way through, my journalism friends that never failed to make a day fun, my fellow senior journalism grads and my fellow Editor-In-Chiefs for sticking together through the thick and thin, all the way to the end. I also want to say farewell and good luck to the incoming editors and junior journalism class; I know it might seem scary now, but believe me, you won't regret the decision to be a journalist for a second. I'm gonna miss you guys more than I can ever express. To Elizabeth Franklin, Emily Early, Serena Liu and Cindy Phung — now the tears are coming. I got so far into this letter, I thought I could make it all the way through. I love you guys so so much, and I'm going to miss you more than you know. All of you are going places; whatever you put your mind to, I'm sure, will get done. Keep me updated on life and school and everything, please, and I'll do the same. Thank you for always being my home away from home.
Elle Rotter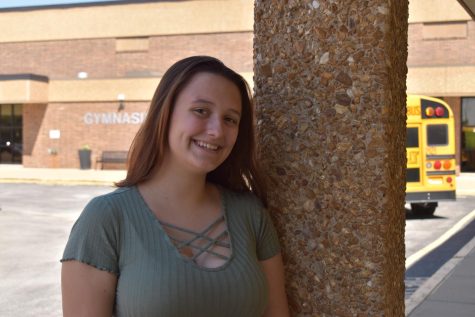 When I signed up to take journalism heading into my freshman year of high school, I was desperate to find any form of writing that could be something I pursue as a job. I have found that a lot of my journalism peers were "encouraged" — or rather forced by parents — to take this class as a freshman because it provides a lot of opportunities to learn life skills. On the other hand, I knew from the beginning that I wanted to be a Newspaper kid. Unlike them, I was running to that little journalism booth in the back of the gym on curriculum night, eager to know where to begin. In fact, my first-ever words to Debra Klevens were, "where can I sign up?" Although I knew walking into the J-room on my first day of school that I would be spending a lot of time here over the next four years, I could have never imagined the life I would build inside these four teal walls. 
Now I sit here, at my desk, inside those four teal walls, fighting tears as I write my senior reflection letter as a former Editor-in-Chief of the Pathfinder. I still cannot believe that as a freshman, I was ambitious enough to apply to the Pathfinder Editorial Board at the end of that year. But in fact, I was the only rising sophomore to be placed on the board for the following year. I state this only to highlight the amount of time I have spent devoted to such a loving program. I have spent four years with this program and three years on the editorial board, and I can only imagine the number of hours I have accumulated to create this part of my high school experience. 
Not a single part of my high school career has had as much of an influence on me as this class. Through the past four crazy years, through the pandemic, through family troubles and friend troubles, there has only been one constant being that I could rely on. Over the years, past staff members came and went, but my one constant was the Pathfinder family. And those are the people I have to thank today. 
To Debra Klevens, the person most constant, our adviser, thank you for pushing me along every step of the way and supporting me through every battle. Thank you for encouraging me to apply to be an editor during my freshman year: I wouldn't have done it without your support. Debra Klevens, thank you for never letting me back down when I faced writer's block, frustrated editors, or frustrating writers. I would have never made it this far without you. To Tyler Kinzy, thank you for being the first person who ever believed in me as a writer. As a naive freshman, I always thought my editors were always out to get me and that they never liked me; you taught me the true role of an editor. 
To Addie Gleason, my partner in crime, who taught me so much about leadership and compassion when I wasn't nearly as level-headed as she was. Thank you for being my sounding board and allowing me to be yours. You don't receive anywhere near the credit you deserve, and I commend you for the endless work you have poured into this program. To next year's Editors-in-Chief, Emily Early, Elizabeth Franklin and Serena Liu, who have always challenged me in my articles and have always improved upon my ideas. Each of you gives me so much inspiration and hope for this publication's future, and I am confident you can do it all. To our readers who make this publication possible. And to a principal who allows us to post our thoughts and contradictions without censorship. 
And finally, thank you to the Pathfinder because, without the resources of a school Newspaper, I fear I would have never found my place in high school. Thank you for being a house to a family who needs a home. And it is with much regret that I inform you that I am ready to move out. Thank you for so many amazing memories and so many challenging obstacles. I wouldn't be Elle Rotter without you.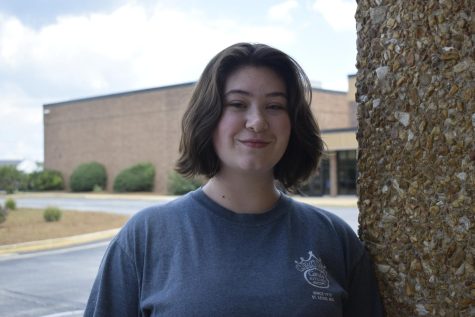 Madi Michjliczenko
When I was young, I always felt I would know everything donning my cap and gown. The magical garments would make me older, wiser, and more . . . adult. But, I now realize with graduation just on the horizon, I will still be me. I will still have memories of the stress of first-time interviews and the soreness after being run over shooting football photos; the boom of Homecoming in the gym and the screams of students at pep rallies; the fear of waiting for college decisions and the melancholy counting of the final days of senior year. These experiences shaped me, and the same me will walk across the stage in a few weeks. 
I will not be changed by raising my cap, nor will I suddenly morph into an adult removing my gown. However, looking back, I have seen growth in myself over these last four years, and I owe it to this program. 
Walking into West High, I wanted nothing but to disappear. Pushing myself to the back of the class, I hid in the shadow of anonymity. But, entering this room, my peers were there to support me in my shortcomings and encourage my achievements. My friends in this program led me to build the self-confidence I needed to apply for programs, scholarships and schools that will drive my future. I no longer stay content in the background. I intentionally make my thoughts known and fight for what I believe in. 
I still have much to learn after high school. Contrary to little me's thoughts, I will never stop learning. But, this program helped me realize the strength I held without knowing. I would like to thank everyone who helped me get through these four years and will continue supporting me through the next four. It saddens me to leave this website and group, but I am more than proud of the new staff members that I have watched grow in their leadership and writing. I may not, or ever, know everything, but I do know this: this program is in good hands, and they deserve to be heard.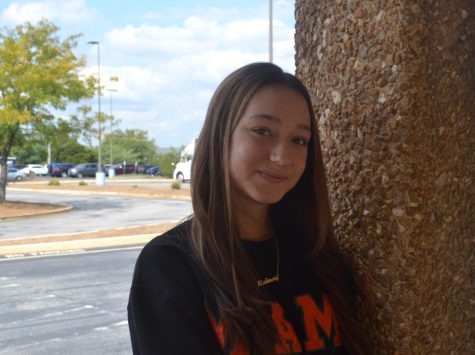 Makinsey Drake
My love for this program all started with a green bean bag. Freshman year, there was nothing I looked forward to more than my third-hour Convergence Journalism 1 class . . . and the huge morphing green bean bags in the back of room 3000. Amid the swarm of accelerated courses, too many clubs and societies to choose from, thoughts of my professional future nearing . . . I had already found some physical comfort in high school. However, my tendencies to overthink and overanalyze created a void of mental comfort. It was until my very first Pathfinder story that the self-interrogations of who I wanted to be and what I wanted to study no longer held so much tension. 
Given the name and number of an alumna broadcast journalist, I made a phone call expecting to follow my pre-constructed sequence of questions. Exceedingly captivated by my interviewee's road to success in her profession, my questions became unscripted and personal. We conversed about the individuality, empowerment and importance of her journalism career. This all led up to the pinnacle of my experience; this is something I want to study. Throughout my four years with the Pathfinder, I've maintained that same drive. I credit this program and these people for my ability to capture, expand on, appreciate and live in the moment. 
Everyone always tells you these years pass in the blink of an eye. But as I see it, those moments between blinks have given me memories and skills that feel like a lifetime. As I click through my story archives on the Pathfinder, that statement becomes more and more real. I scroll from the article that inspired me to pursue journalism, articles covering COVID-19 vaccine preparations and virtual college tours, to my friends' senior year accomplishments and commitments of my friends since kindergarten. It is such a pleasure to share the intensity of graduation emotions with people who have watched me grow from an anxious, scatter-brained freshman to a confident adult with a vision for my future. 
My younger self is truly honored and grateful to have found her interests and voice through this program. And as I set forth my journalism career next year, I'll sink into the pink fluffy bean bag in my dorm and never forget where it all started.