Swatting Speculation: how can we protect our schools from threats?
They say it will never happen to us. Our fears are silenced; worries reassured. But they have scared us from turning our backs in an open room. A loud pop echoes through the halls but is never addressed. The students keep working, hands raised, pencils scratching, brains wracked, and their eyes locked on the door. 
In the first 117 days of 2023, there have been 146 mass shootings, adding up to more than 11,500 people who killed by gun violence since the beginning of the year. There have been 14 school shootings in 2023. 
The impending threat of school shootings has infiltrated every school, and in reaction to this fear, swatting runs rampant. Swatting occurs when authorities are called by a number with no caller ID  reporting a nonexistent threat in a building or against a person. In recent months, swatting has taken the nation by storm with threats targeting high schools and colleges in Oklahoma, Boston, Massachusetts, Illinois, Wisconsin, New York and Missouri. 
Parkway School District joined these schools on March 27, when many high schools received false school shooting threats in an incident of mass swatting calls. Calls to the schools were identical, claiming an active shooter in the building and six students had been fatally injured in a restroom. School Resource Officer Matt Paubel was among the first to respond to the alleged threat against West. 
In reaction to an apparent threat, the school will put out an alert for either code yellow or red. Code yellow activates when a situation occurs near the school requiring police, fire or EMS response; students carry on with their schedules, but all entrances and exits are blocked until the administration confirms the building is safe. On the other hand, code red goes into effect when an intruder threatens or infiltrates the building. Code red is the traditional lockdown drill where students follow the educate, escape, evade and engage protocols. 
"I reported the call to [Principal John] McCabe and spoke with Parkway Central, who received a call first. [Since] we were already aware of the situation, we already had administrators in place. I did a check of the school with another officer; however, our response was slightly different since the administration knew it was a hoax," Paubel said. "Security tried to issue a code red, keeping everyone in their rooms and putting the school on lockdown, but they accidentally activated a code blue: a severe weather alert."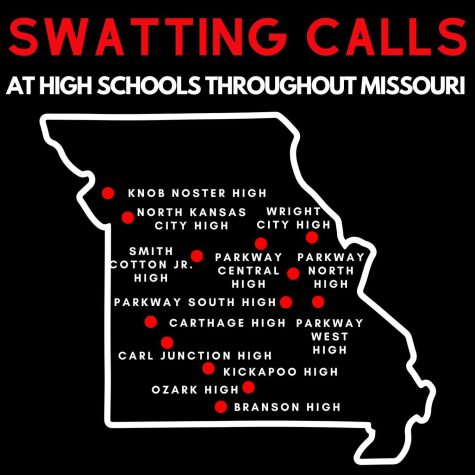 There is a serious danger presented in this problem; the school, in attempting to start lockdown, instead alerted the school of severe weather conditions that only a few took seriously. This mix-up not only caused mass confusion in classes as students looked out windows to see a bright sunny day but also led students into the hallways to begin tornado drills. In the case of an actual shooting, this mistake would have cost lives.
There are multiple proposed methods of protecting schools against shootings. Many people have suggested introducing hardening tactics — metal detectors, increased security and arming teachers — as one of the most popular methods to protect against gun violence. But are they effective? 
In a survey of 500 K-12 teachers following the Parkland school shooting, 73% of teachers opposed the idea of arming staff and felt it would not improve safety. Additionally, there is little evidence to support the notion that metal detectors make schools safer. In fact, studies show that the presence of metal detectors in schools can create a negative environment and hurt students' perception of safety. Even evidence to suggest that while now-normal procedures such as lockdown drills are somewhat effective, they can also create excessive fear of going to school, leading to a poor school environment that affects mental health.
"The first thing we need to do is come to a consensus on what kind of problem this is. We have differing opinions on whether this is a mental health problem or a gun problem. There have been lots of calls for banning assault weapons and expanding gun control, but we also have to understand we need more empirical solutions rather than partisan solutions. No matter what weapon is used, [the problem] is the well-being of the people wielding them. My opinion is that this is a mental health crisis rather than a gun crisis," senior San Kumar said. 
Instead of focusing on these hardening tactics, we should focus on softening tactics. Starting with the psyche, softening tactics work to protect students mentally. A study of school shootings from 2009 to 2018 conducted by the United States Government Accountability Office shows that of 318 shootings, 49% originate from current and former students of the schools. The National Education Association believes pooling school resources to provide more assistance and counseling to troubled students is far more effective in prevention than any of the above-mentioned hardening tactics. 
While softening techniques are a good start, we — the students — must take further action to protect our schools, starting with advocating for legislation changes. Extreme risk laws and raising the age of gun ownership are both policies that students can encourage their representatives to introduce. Extreme risk laws give law enforcement authority to temporarily remove firearms from anyone at an elevated risk of harming themselves or others. 
This legislation has already been proven to help people, with 44% of cases leading the respondent to psychiatric treatment they otherwise would have neglected. Nineteen states already have extreme risk laws  — the first extreme risk law came into effect in May 2014 following a mass shooting near the University of California, Santa Barbara. Extreme risk laws are made to protect the public, including public schools. In four out of five shootings, at least one other person knew about the attacker's plan and did not report it. Extreme risk laws would help to mitigate the number of attacks. 
In addition, we must advocate for raising the age of firearm ownership. The median age of a school shooter is only 16, and 66% of school shooters are under 18. Raising the firearm purchase age will help prevent guns from getting into the hands of the age range most likely to orchestrate a shooting. 
"
I don't feel safe at school, and the environment should feel safe for students. There have been so many school shootings, so the mindset of "if" there would be a shooting turned to "when" there would be a shooting.
— Mikalah Owens
"I think this is caused by what the government is doing. Because Missouri is a Republican state, I've become more worried about the possibility of teachers carrying guns. I've considered dropping out because I do not want to be in this environment. What really matters is students and teachers advocating for themselves and their safety, junior Mikalah Owens said.
To encourage this change, students can contact their state representatives and stage walkouts to gain support. Everytown for Gun Safety is a gun violence prevention organization providing resources for citizens looking to change legislation. They encourage people to use their website to contact their representatives and students to involve themselves in walkouts and anti-school shooting protests. With their guidance, schools nationwide hosted walkouts against gun violence on April 5, in reaction to a school shooting at the Covenant School in Tennessee.
"There is always improvement [to be made] for laws and safety, but you have to work with local council members, lawmakers and government officials to change them. It is a long process for that change. However, I am always advocating if you think there is a law that needs to be changed. I am always willing to help with that," Paubel said. "Students can stay vigilant and report suspicious activity, even if it is small. If you see something that could be dangerous, say something." 
Schools nationwide with similar plans, like the 4E protocols, have been attacked, and too many people have lost their lives. As a community, we must take steps to further protect ourselves from internal and external threats. We should not continue to be naive and believe that this just won't happen to us.
Students must share their voices in this ongoing debate about firearm legislation because we are the population affected by these heinous shootings and threats. Students nationwide who are threatened with gun violence are protesting to make the change. Before the same happens to us, we must proactively change legislation. All students should feel safe in their schools, and seeing as there is a lack of action from current lawmakers, it is our duty to step up and make our voices heard.
View Comments(1)
Your donation will support the student journalists of Parkway West High School. Your contribution will allow us to purchase equipment and cover our annual website hosting costs.