Reviewing the iconic Chips Ahoy! chocolate chip cookies
Chips Ahoy! cookies are bite-sized treats that will fulfill your sweet tooth. They are manufactured all around America and only cost about $4 for a pack of 30. The resealable packaging lets you grab one quickly out of your pantry and bite into a world of chocolate. Chips Ahoy! cookies are produced by Nabisco. 
Nabisco
Producer of: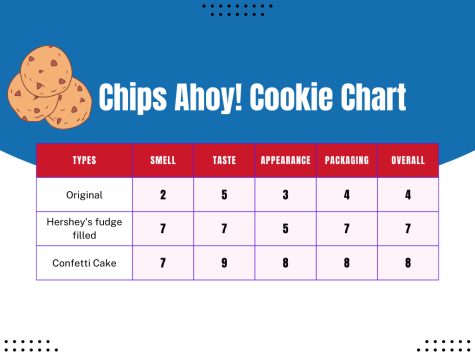 Nabisco, the official home of great brands, is an American manufacturer headquartered in East Hanover, N.J. Founded in 1898, the company produces cookies, crackers, candy and chocolate. Nabisco's 1,800,000-square-foot plant in Chicago stands as the largest bakery in the world. Chips Ahoy! cookies, made by Nabisco, are sold widely in the United States, Latin America, South Africa, Canada, and many more regions. Chips Ahoy! offers the delicious cookie taste America has loved since they were introduced in 1963. 
THE COOKIES: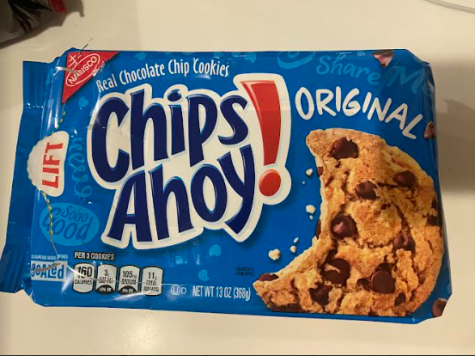 Crunchy Original
I got this 13 oz pack of cookies for $4.19 at Target!
(Annie Deckelbaum)
Of the three Chips Ahoy! flavors I tried, Original was my least favorite. Its "crunch" was a little too much for me. While the cookies are advertised as soft and chewy on the inside with a crispy exterior, that was not my experience. As I chewed the cookie, it was so dry that I was left searching for a glass of milk, and the crumbs left a trail of evidence on my shirt and table. In addition, the cookie smell was quite bland; I expected the delicious aroma of freshly baked cookie dough, but in reality, I smelt just about nothing. Despite the unexciting scent, this cookie left a rich chocolate flavor, and I got the perfect amount of sweetness in every bite. Overall, I rated this cookie a 4/10.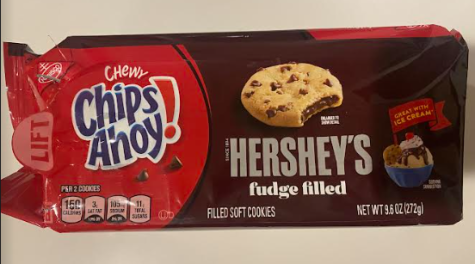 Hershey's fudge filled
While the Original cookies aren't near the top of my list, the Hershey's fudge-filled cookies are up there. Though the cookies are a tad smaller than the Originals, each bite was full of delightful chocolate fudge that had my tastebuds dancing. A cup of milk with this treat is something I could enjoy on the daily. As advertised, the "chewy" marketing matched the product. The cookie had a perfect chew, as the fudge added a smooth texture. A whiff of chocolate deliciousness filled my nose as I tore the package open. However, one con about this cookie was its dull appearance. I would have liked to see something more eye-catching than what looked like a plain chocolate chip cookie. Nabisco, I suggest finding a way to incorporate the "fudge-filled" on the exterior of the cookie to better appeal to consumers. Overall, I rated this cookie a 7/10.
Confetti Cake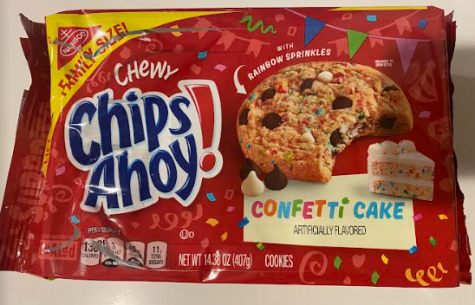 The third and final cookie I reviewed was my favorite, the Confetti Cake cookie. The chewy cookie dough was studded with colorful confetti-shaped pieces that mimicked the appearance of sprinkles on a birthday cake. Each bite of this cookie led to an "mmm" and a grin. With just the right texture, the soft cookie and bits of crunch left me smiling. These cookies were not too filling, as the size is on point. I'd love to see Nabisco make these cookies smell more like my birthday, given I didn't get much of anything. With little to no crumbling, this cookie held together at a strong 8/10. 
Chips Ahoy! cookies are unique in all sorts of ways. Whether it's a crispy or tender cookie, Nabisco gives the satisfaction of sweetness to its consumers. The Confetti Cake received first place; it was very tasty and resembles a birthday cake. Second place was awarded to the Hershey's fudge filled cookie, as this cookie gives a savory fudge taste, though a bare appearance. This cookie needed a tweak of color to acquire a better rating. Finally, the Originals in third place, as I would have liked to see a more eye-catching appearance and a chewier texture, rather than a crispy overload. 
Quiz: Which would you prefer?
Sorry, there was an error loading this poll.
If you need a quick sugar fix after school and don't want to break the bank with a Crumbl run, head to the nearest grocery store and pick up a pack of Chips Ahoy! cookies; they will undoubtedly be a delight in your day.
View Comments(1)
Your donation will support the student journalists of Parkway West High School. Your contribution will allow us to purchase equipment and cover our annual website hosting costs.