Homemade Happiness
Why we're hooked on Clementine's homemade ice cream flavors
Who doesn't enjoy ice cream every day, even if it's freezing? Well, we're no exception. So, to feed this ice cream addiction, we reviewed the new-to-fame Clementine's: Naughty and Nice Ice Cream. This delicious ice cream shop, which fulfilled our ice cream fantasies, was founded in 2014 by Tamara Keefe. Keefe worked with scientists to create the perfect recipe for naughty and nice ice cream, including vegan options. 
So, we took the opportunity to try her handcrafted flavors, including Salted Caramel Cookies and Cream, Vegan Strawberry Crunch, Gooey Butter, Vegan Tahini Chocolate Chip and Vegan Iced Mocha. 
Vegan Strawberry Crunch
This vegan ice cream is ever-growing in popularity and fame. It has a creamy, strawberry-filled taste and a velvety texture. A cinnamon crunch compliments the sweet strawberry with each bite. This ice cream is perfect for all strawberry lovers searching for a vibrant and light flavor, but cinnamon haters should definitely stay away. 
Zoya Hasan:
This ice cream perfectly balanced crunch and strawberry. I didn't like the cinnamon because the intense jolt of flavor seemed off, but boy, did I love the crunch! This vegan goodie perfectly paired the robust strawberry taste with the light creamy richness of classic ice cream. It has a refreshing strawberry kick, but it's not my go-to. For this reason, I gave it a 7/10. For people with a deep hatred for cinnamon, stay away! Overall, it's an excellent option for vegans who love cinnamon and strawberry, and it's an outstanding option for a relaxing summer day because of how authentic the strawberry tastes.
Sophie McCarthy:
I love strawberry ice cream. It has been my holy grail since day one, and I'm not going to lie when I say this wasn't my first time trying the popular summertime ice cream flavor. But this ice cream did not disappoint me and will continue to be my go-to. The strawberry flavor packed a punch with its bright taste, and it was nice to have the contrast of crunch with the thick and creamy base. The crunch pieces in the ice cream also provided a nice undertone of spice that balanced the sweet and overwhelming — in a great way — flavor of strawberry. And what makes this ice cream even better is that it's vegan! The fact that it doesn't use natural cream and milk allows for a fun and unique texture and lightness that isn't always found in non-vegan ice creams. The textural combination was exquisite, and every bite had me wanting more. This is, without a doubt, the perfect ice cream for strawberry lovers or those looking for a new and light strawberry ice cream. With these factors in mind, I give this flavor a 10/10 — and don't kid yourself, I'd go higher if I could!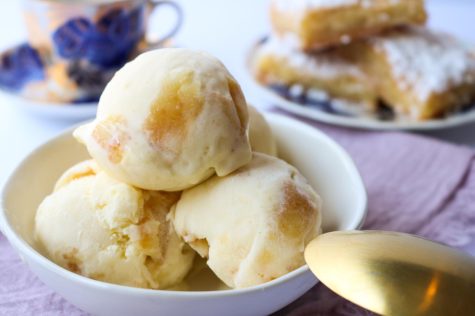 Gooey Butter
Ohhh, the smell of freshly baked gooey butter cookies. Who doesn't love them?! This flavor did an amazing job replicating the exact taste of a gooey butter cookie, leaving no doubt about what flavor this ice cream was supposed to be. The additional chunks of gooey butter cake in the ice cream complimented this dessert's creaminess and gooey texture. This guilty pleasure is a must for all our gooey butter cookie lovers. 
Zoya Hasan
I love gooey butter cookies, and this ice cream accurately embodied one in both taste and thickness. This treat was a delight, but I didn't like how the chunks of cake weren't evenly distributed into the ice cream; however, I was impressed that they didn't get soggy, which was a plus. The ice cream itself was pretty heavy for me, but I still enjoyed the soft crunch and the fluffy, rich texture. This treat was buttery and sweet, but I have to be honest and give it a 7.5/10 because the chunks of cake in the ice cream were a little much. That aside, if you like gooey butter cookies and haven't yet tried this flavor, I don't know what you're doing with your life. 
Sophie McCarthy
This flavor hits the mark in accuracy. It bursts with sweetness, making the texture rich and silky. But what made this ice cream stand out even more? The full-sized pieces of gooey butter cake folded throughout the cream! Gooey butter cakes are iconic, chewy, soft, dense and buttery — how can you go wrong with that combination? They invoke a sense of nostalgia and warmth. So, putting that into an even more popular, chilled dessert has a lot of appeal. The chunks of cake tasted no different than if you had just pulled them out of the oven, a feeling that can't be beaten! I will mention that the chunks were huge, which made some bites have a lot more cake than others. Additionally, this ice cream was very sweet, so if you don't want an ice cream that's too sugary, other options are more suitable for you. Overall, this was one of the heavier ice creams we tried due to the sweetness of both the base and the cake pieces, but I would still give this ice cream flavor a 7.5/10. For our gooey butter cake-lovers out there, this ice cream is absolutely to die for! And those who aren't a fan . . . you'll become one after trying this!
Vegan Tahini Chocolate Chip
Walking into the kitchen to the smell of melting chocolate and brown sugar is the best feeling, a sure sign that chocolate chip cookies were just whipped up. An even better feeling is warm cookies melting in the mouth, fresh out of the oven. Chocolate chip cookies may be old school, but they're a classic that will always hold a special place in our hearts. Clementine's Creamery puts a fun twist on the nostalgic treat using a surprising ingredient called tahini, a sesame paste that gives the thick and creamy dessert a nutty flavor. 
Zoya Hasan
If you don't like tahini, stop reading. This ice cream was thick and smooth, scoring a perfect 10/10 for consistency. I hoped to get a taste of those rich chocolate chips, but I couldn't because the tahini was too dominant. The texture was very chunky but also retained a lightweight and silky quality. To be fair, I am a new tahini club member, so maybe a long-time tahini lover would enjoy this flavor more. I give this a 5/10 because the chocolate chips were brittle, and the tahini was too overpowering. However, this is a must-try for the tahini fans out there because of how strong the tahini is.
Sophie McCarthy
Now, tahini may sound unappealing to some of our readers, but it's one of those things where you can't knock it till you try it. This ice cream had a thick, creamy texture and was a little icier than the Vegan Strawberry Crunch. If you expect this ice cream to taste exactly like cookie dough, you're in for a flavored surprise. The tahini was overpowering, and even though there were chocolate chips, it was difficult to taste them. But, the chocolate chunks added a nice compliment to the nutty and sesame-like flavor and were a necessary addition to help tone down the vibrancy of the tahini. This ice cream flavor kept the sweetness and feel of eating cookie dough while still introducing a fun twist. Overall, Vegan Tahini Chocolate Chip gets a 6/10 from me. If you're vegan or looking for a unique flavor option, I would recommend this fun spin on chocolate chip ice cream!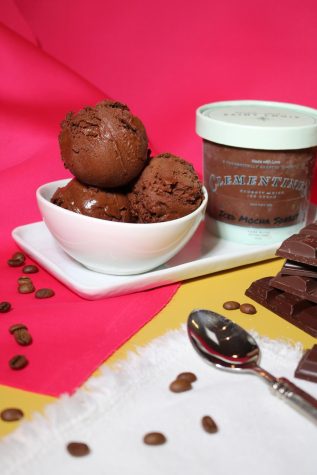 Vegan Iced Mocha
Coffee is an integral part of every morning routine. The iconic, unbeatable, sweet yet bitter flavor of liquid gold is a ride-or-die. As we are among the large percentage of people addicted to this magical beverage, we didn't pass up the chance to try Clementine's new vegan sorbet: Iced Mocha. 
Zoya Hasan
"Stressed, blessed, and coffee obsessed." – Anonymous
I couldn't agree with this quote more! I truly believe coffee is the cure for a bad day. Iced Mocha is the perfect coffee ice cream to lift your mood after a breakup. I loved the jolt of energy I got when I took a bite. It was sweet and resembled the taste of an iced mocha frappuccino. The consistency of the ice cream was yet again lightweight with a lingering taste of espresso, but very icey. If you get brain-freeze quickly, I don't recommend it. For vegans and coffee lovers, this is essential to fulfilling your ice cream fantasies. I have to say it was a little chunky, but the taste of coffee and the ice melting on my tongue silenced my complaints. I give this pleasure an 8/10. Even if you don't like coffee, you should try it because better latte than never. 
Sophie McCarthy
Zoya, I couldn't agree more with that quote. I don't think I could live without coffee. Starbucks is essential to my routine, and I KNOW I'm not the only one who believes that. So, you can believe how excited I was when I walked into Clementine's to see the new Iced Mocha sorbet. I was even more ecstatic by the burst of coffee flavor the second I scooped it from the bowl. It tasted like an Iced Mocha from Starbucks and maintained its flavor as it melted in my mouth. It had a different texture than the other ice creams because it was a sorbet, but in my opinion, the iciness complimented the flavor profile, which also included chocolate pieces. My favorite thing about this sorbet? The fact that it wasn't too sweet at all! This truly allowed the mocha flavor to shine, and it paved the way for the chocolate to contrast the slight bitterness. The coffee flavor was bright and bold, and we found it the perfect pairing for various flavors we tried. And this may sound weird, but it went so nicely with the strawberry crunch. As a coffee lover, I would give this ice cream a 9/10 and return for more!
Salted Caramel Cookies and Cream
If you had to choose to only eat one of these flavors for the rest of your life, which one would you choose? Salted caramel or cookies and cream? I mean Cookies and cream is a flavor that feels like a part of everyone's childhood – whether it's Oreos or those chocolate oreo bars that we all wanted to try. And salted caramel? Rich, sweet, and oh so delicious!  Thank goodness you'd never have to choose because Clementine's famous Salted Caramel Cookies and Cream ice cream exists! 
Zoya Hasan:
Winner! This popular, rich, cookie crumble filled, frozen dessert has been crowned Zoya's go-to flavor of ice cream. Those who love the popular snack cookies and milk should give this dessert a try. As someone who isn't a fan of caramel, I was reluctant to try this flavor, but to my surprise I enjoyed the salty and sweet combination of this dessert together with the not too overpowering and sticky caramel paired with oreo cookie. The ice cream was well blended and not heavy for an ice cream that has not only cookies and cream but caramel too. As soon as I took a bite, I tasted the authenticity of the Oreo and slight crunch of the cookie. The base of the ice cream was a smooth, enjoyable texture, which was not sticky like I thought it would be, and the caramel gave a nice twist of both sweet and savory . . . and that was the key to my heart, a flat 10/10 for me. I would recommend this heavenly combination of salted caramel cookies and cream to anyone who enjoys Oreos, carmel or the sweet and savory combination. Even if you don't, you never know unless you give it a try. 
Sophie McCarthy: 
Mmm mmm mmm . . . it's no secret that Clementine's Salted Caramel Cookies and Cream is a fan favorite, and I agree! Rich, salty, sweet, and exquisite! The consistency and rich texture with the crushed oreos was an absolute joy for my tastebuds. Although this flavor isn't vegan, lactose-intolerant people wouldn't mind paying the price. This delicious flavor was perfectly balanced, between the cream, the cookies and the salted caramel. And the caramel? Don't even get me started on the caramel. I'm not usually a fan, but this made me question that. The caramel was perfectly salted, perfectly creamy and perfectly thick. After taking one bite of this ice cream, all the caramel haters will become caramel lovers. This ice cream delivered what it promised, proven by the high ratings it received from customers. Although the ice cream had a combination of caramel and cookies, I didn't find it too filling at all. It was lighter and creamier than some ice creams but still maintained a rich flavor. I give Clementine's a major pat on the back for incorporating these two flavors — cookies and caramel — together in the perfect way. 
If you couldn't tell already, I give this flavor a 10/10!
All the ice cream flavors we tried were unique, with different qualities that made each one stand out. Clementine's has become an ice cream shop with excellent, handcrafted flavors that deserve their fame and will always be our go-to. They do an excellent job building a loyal customer base, remaining a personalized brand and offering inclusive flavors. Whoever said "money can't buy happiness" lied because money buys Clementine's ice cream, and that's practically the same thing.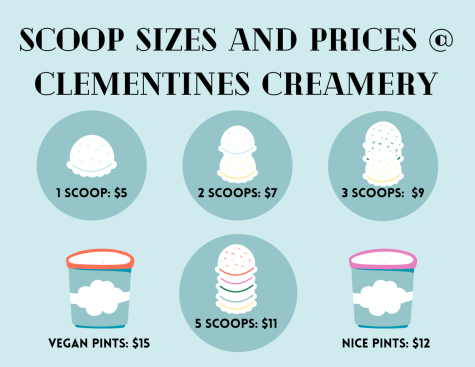 View Comments (1)
Your donation will support the student journalists of Parkway West High School. Your contribution will allow us to purchase equipment and cover our annual website hosting costs.